This vegetarian fried rice recipe is so easy to make and a great dinner idea! It's my youngest son's recipe- a great go-to dinner for any college kid and it's super fast and simple to make, it's so much better than takeout! If you prefer meat in your fried rice, add ham, shrimp or bacon to the rice.
This post may contain affiliate links. Please read our disclosure policy. As an Amazon Associate, I earn from qualifying purchases.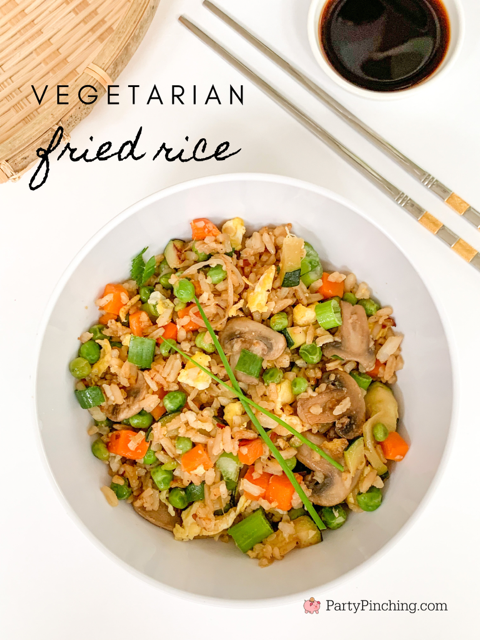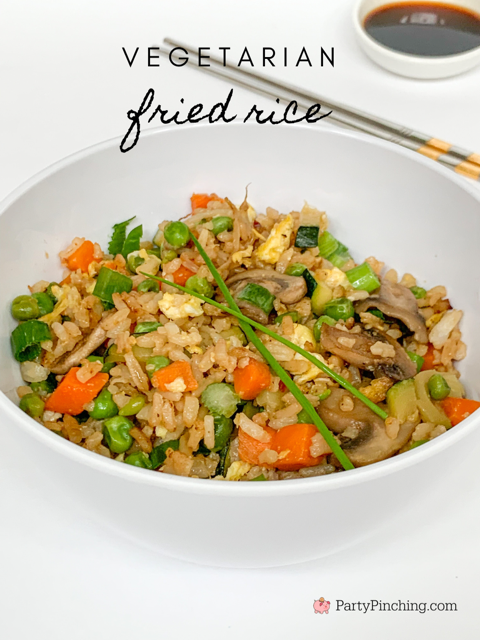 You will need:
2 cups cooked rice, leftover rice is best
2 cloves garlic, pressed
½ medium zucchini cut into 1" sticks
1 cup frozen peas and carrots
3 green onions, sliced
6 white button mushrooms, sliced
1 egg, whisked
½ c bean sprouts
3-4 TB low sodium soy sauce
1 tsp sesame oil
½ tsp crushed red pepper
1/4 tsp onion powder
2 TB butter
Salt and freshly ground black pepper to taste
MY AMAZON PICKS (affiliate links):
DIRECTIONS:
Melt butter in frying pan, cook egg in a thin layer until done, remove from pan and set aside.
Now using the same frying pan, sauté garlic, mushrooms and zucchini until tender.
In a small sauce pan, blanch bean sprouts in boiling water for about 2 minutes. Drain and add to frying pan.
Next, add the frozen peas and carrots and cook until tender.
Mix in the rice, onion powder, sesame oil and soy sauce until thoroughly combined and heated through. Then add the salt and black pepper and more soy sauce if needed.
Finally sprinkle with green onion and crushed red pepper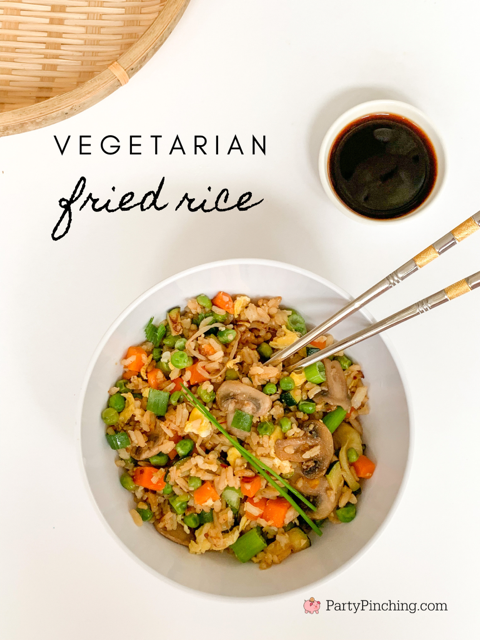 This is the best vegetarian fried rice recipe! When my son came home from college and made it for us, we just raved about it! Budget friendly too! You can always add your favorite meat if you'd like. Chicken, pork or ham works great!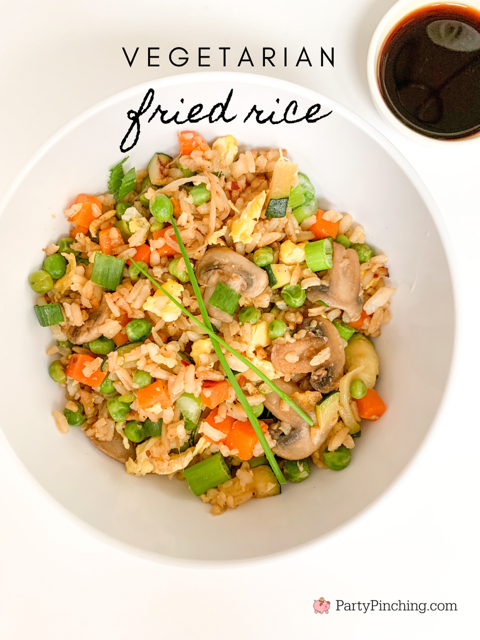 Yield: 2 servings or 1 for a hungry college kid
Vegetarian Friend Rice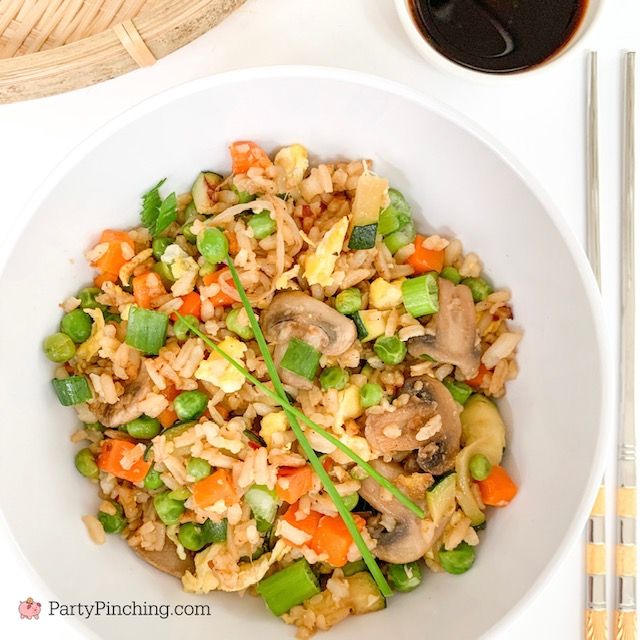 Best vegetarian fried rice recipe ever! So easy to make and comes together in less than 30 minutes!
Ingredients
2 cups cooked rice, leftover rice is best
2 cloves garlic, pressed
½ medium zucchini cut into 1" sticks
1 cup frozen peas and carrots
3 green onions, sliced
6 white button mushrooms, sliced
1 egg, whisked
½ c bean sprouts
3-4 TB low sodium soy sauce
1 tsp sesame oil
½ tsp crushed red pepper
1/4 tsp onion powder
2 TB butter
Salt and freshly ground black pepper to taste
Instructions
Melt butter in frying pan, cook egg in a thin layer until done, remove from pan and set aside.
Now using the same frying pan, sauté garlic, mushrooms and zucchini until tender.
In a small sauce pan, blanch bean sprouts in boiling water for about 2 minutes. Drain and add to frying pan.
Next, add the frozen peas and carrots and cook until tender.
Mix in the rice, onion powder, sesame oil and soy sauce until thoroughly combined and heated through. Then add the salt and black pepper and more soy sauce if needed.
Finally sprinkle with green onion and crushed red pepper