These Spicy Korean Chicken Wings are a family recipe that we have at every special occasion. I've been blessed to have amazing aunts that are awesome cooks and love to feed everyone. They all came together and actually made most of the food for my wedding over 30 years ago and my friends still talk about these Spicy Korean Chicken Wings! They really are the stuff dreams are made of.
This post may contain affiliate links. Please read our disclosure policy. As an Amazon Associate, I earn from qualifying purchases.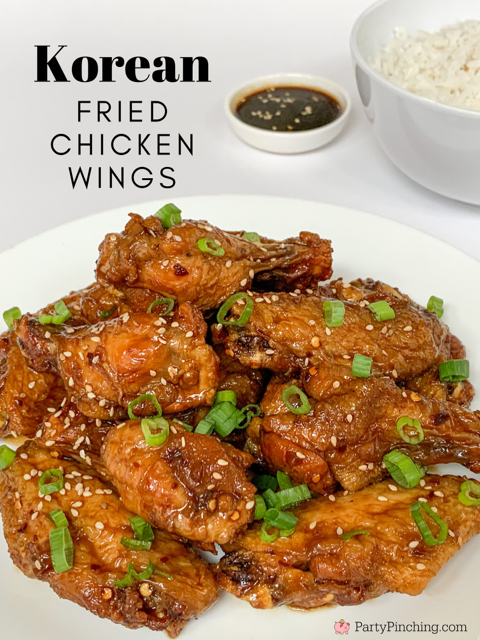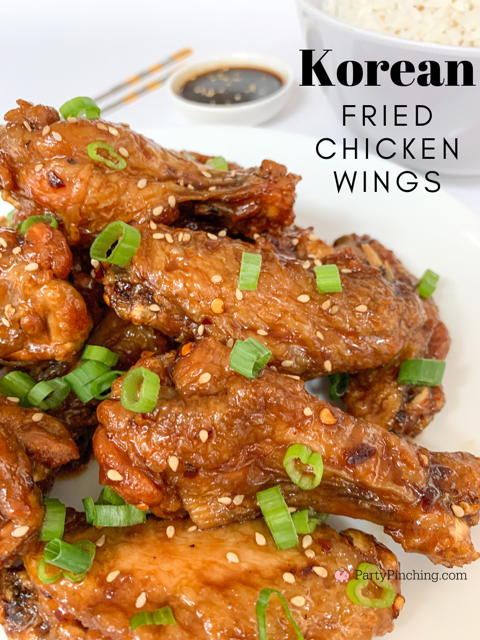 5 lbs chicken wingettes & drumettes
1 TB garlic powder
1 TB ground black pepper
1 TB salt
1 – 1 ½ cup all purpose flour
4 garlic cloves
3 ½ tsp crushed red pepper
2 cups soy sauce
1 cup granulated sugar
Sesame seeds
Chopped green onions
Canola or vegetable oil
MY AMAZON PICKS (affiliate links):
Directions:
Mix together the garlic powder, pepper and salt and coat chicken with mixture.
Then coat chicken with about 1 to 1 ½ cups flour and refrigerate for at least 6 hours or overnight.
The next day, deep fry the chicken the chicken TWICE – in a large pan with canola or vegetable oil fry the chicken in batches for about 7 minutes. Don't overcrowd and drain on rack. Then fry the chicken again until chicken is crunchy, golden brown about another 5-7 minutes until done.
For the sauce, sauté pressed garlic cloves and crushed red pepper in about 3 TB oil. Add the soy sauce and sugar and simmer until the sauce is thickened.
Pour sauce over the chicken and toss. Garnish with sesame seeds and chopped green onions. Now you have the best Spicy Korean chicken wings ever!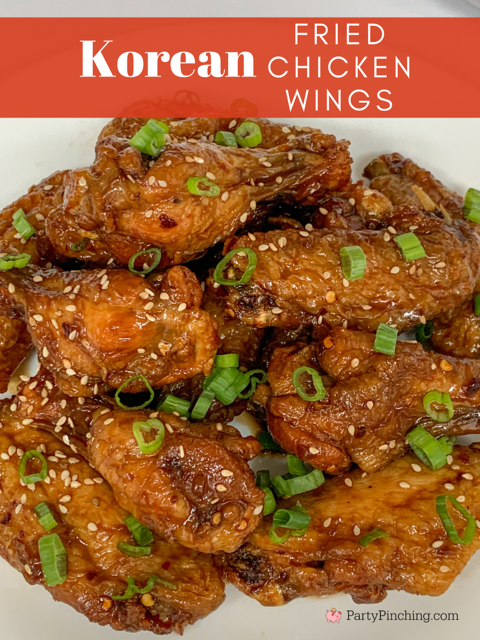 These are the best spicy Korean chicken wings! So authentic and from my aunties' family recipe! I love how they are twice fried for extra crunchiness. The first quick fry renders the fat and the second fry ensures the crunch!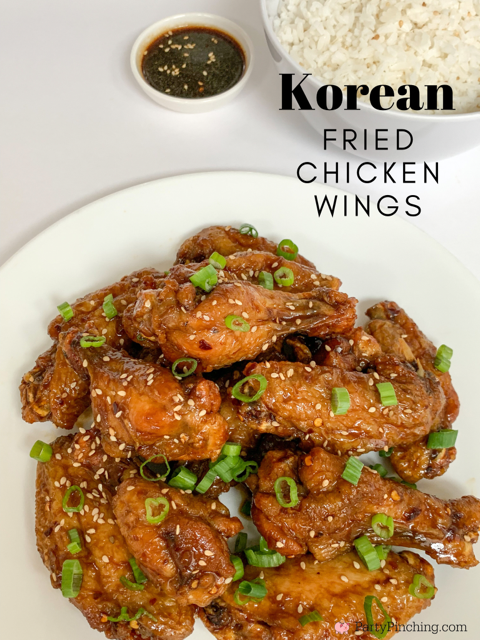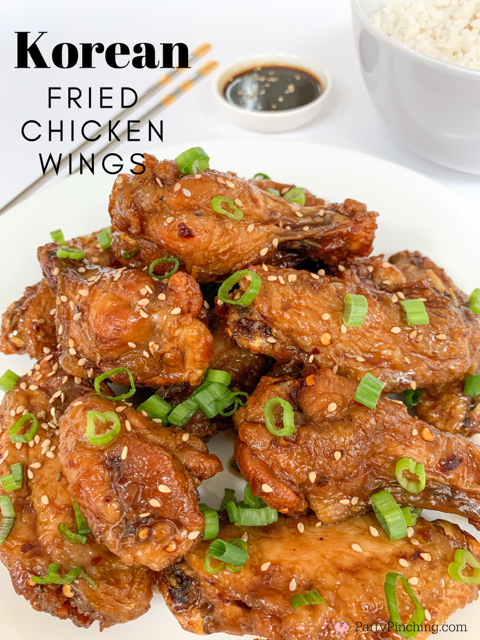 Yield: 10 - 15 servings
Spicy Korean Chicken Wings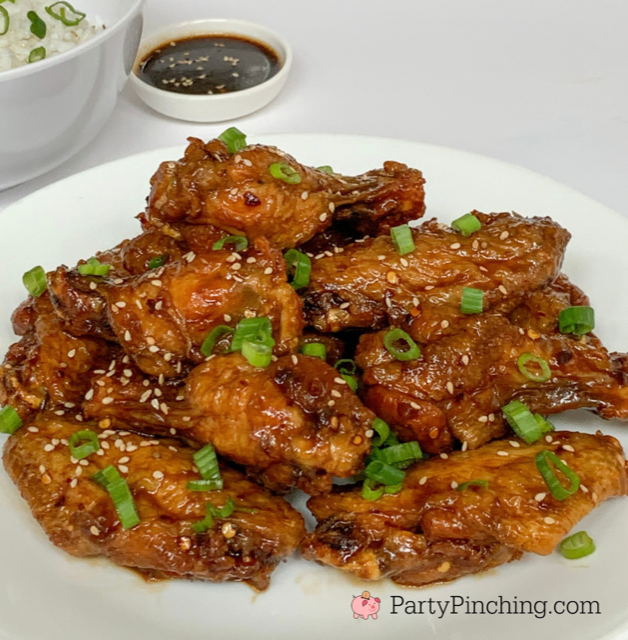 These twice fried Spicy Korean Chicken Wings are so amazing! Crunchy, spicy and sweet, this is my own family's recipe!
Total Time
6 hours
40 minutes
Ingredients
5 lbs chicken wingettes & drumettes
1 TB garlic powder
1 TB black pepper
1 TB salt
1 – 1 ½ cup flour
4 garlic cloves, pressed
3 ½ tsp crushed red pepper
2 cups soy sauce
1 cup sugar
Sesame seeds
Chopped green onions
Canola or vegetable oil
Instructions
Mix together the garlic powder, pepper and salt and coat chicken with mixture.
Then coat chicken with about 1 to 1 ½ cups flour and refrigerate at least 6 hours or overnight.
The next day, deep fry the chicken the chicken TWICE - in a large pan with canola or vegetable oil and fry the chicken in batches for about 7 minutes. Don't overcrowd and drain on rack. Then fry the chicken again until chicken is crunchy, golden brown about another 5-7 minutes until done.
For the sauce, sauté pressed garlic cloves and crushed red pepper in about 3 TB oil. Add the soy sauce and sugar and simmer until the sauce is thickened.
Pour sauce over the chicken and toss. Garnish with sesame seeds and chopped green
onions
These spicy Korean chicken wings go great with my Aunt Song Ja's Korean Pancake recipe here