This easy chicken pot pie recipe is the first thing my youngest son asked for every time he came home from college. His friends would come over and the pie would be gone in an instant so I would have to make at least 2 when he came home! Needless to say it's a favorite at our house and it's so simple to make. Comfort food at it's best!
This post may contain affiliate links. Please read our disclosure policy. As an Amazon Associate, I earn from qualifying purchases.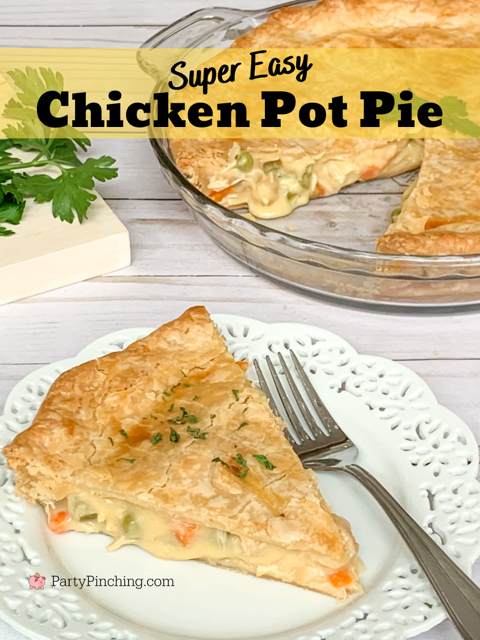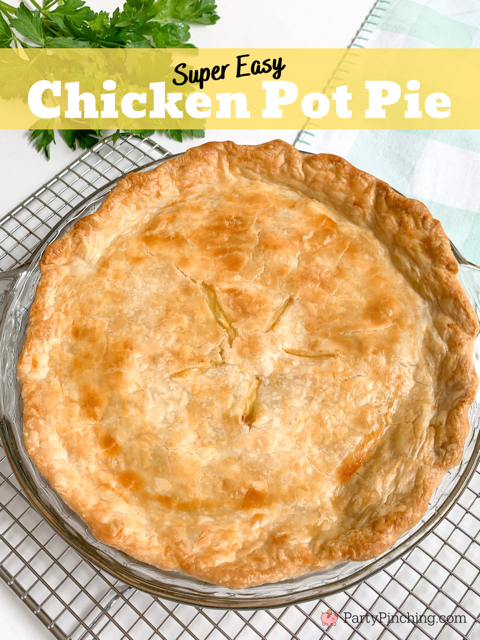 You will need: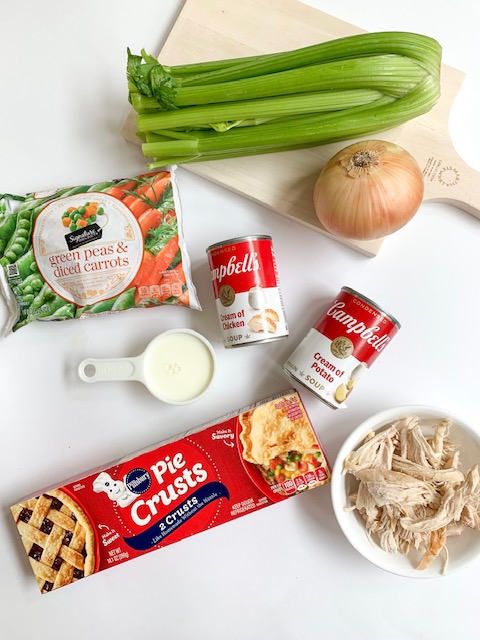 1 box refrigerated pie dough (2 crusts)
2 celery stalks, sliced
¼ c onion, chopped
3 TB butter
1 (10.5 oz.) can cream of chicken soup
1 (10.5 oz.) can cream of potato soup
1 cup milk
2 ½ cups diced or shredded cooked chicken
1 cup frozen peas and carrots
¼ tsp garlic powder
¼ tsp onion powder
¼ tsp fresh ground pepper
1 egg, whisked
1 TB water
9″ pie plate
MY AMAZON PICKS (affiliate links):
Sauté celery and onion in butter in a large frying pan until tender.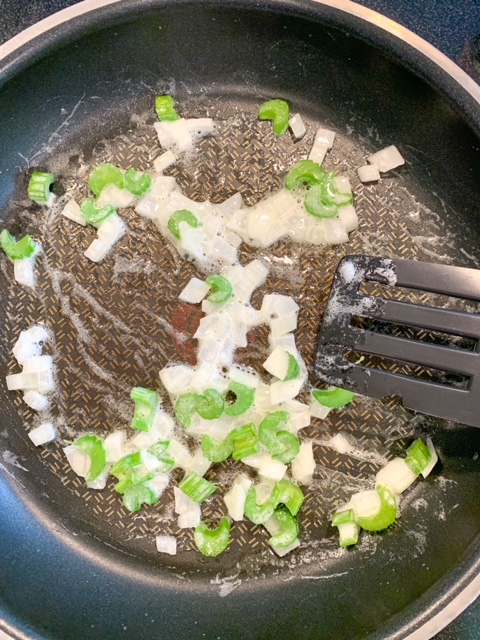 Add in the cream of chicken and potato soups, milk and peas and carrots. Heat until warm and bubbly.
Stir in the chicken, garlic powder, onion powder and pepper.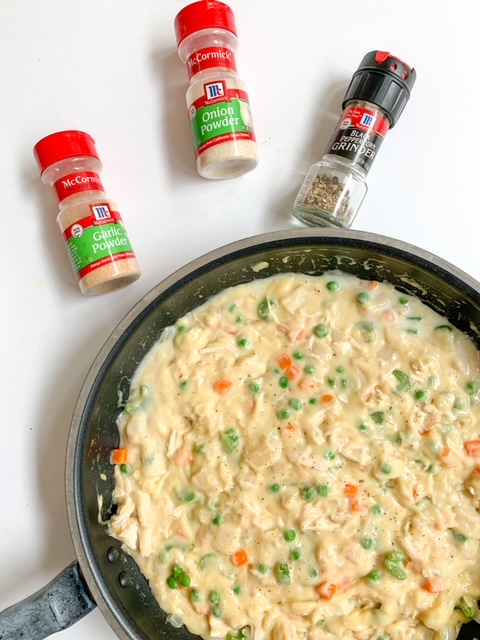 Place one pie crust in the bottom of the pie plate. Spoon filling in the pie crust and spread evenly.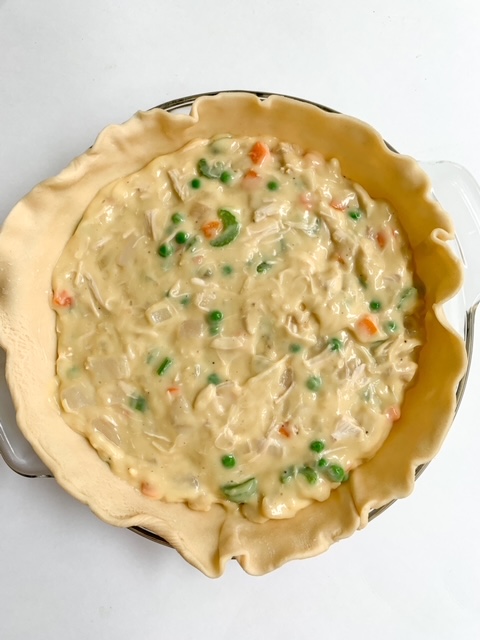 Next, top with the other pie crust and crimp edges. Cut a few slits in the top of the pie to vent.
Now whisk together the egg and water and brush the egg wash on top of the pie crust.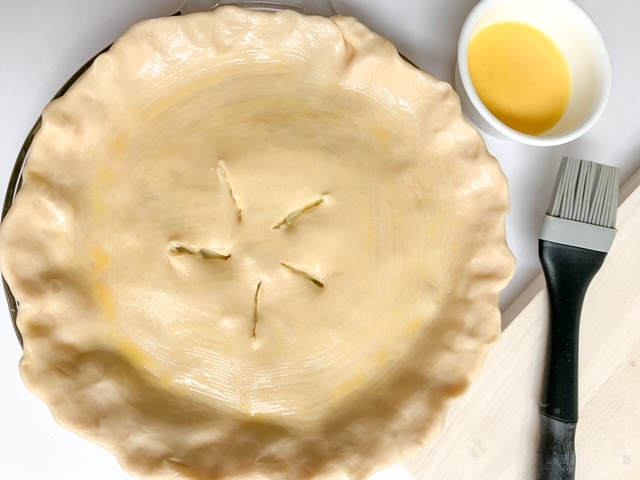 Then bake at 425 degrees for 30 minutes checking your pie after 20 minutes to see if it is getting too brown. If it is, cover the edges with aluminum foil and continue baking.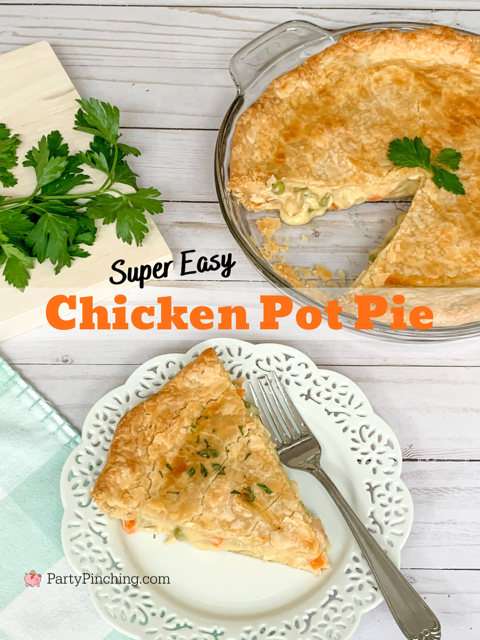 This easy chicken pot pie is truly so simple to make and the perfect weeknight dinner or Sunday supper! Feels like a big hug!
Yield: 8 servings
Easy Chicken Pot Pie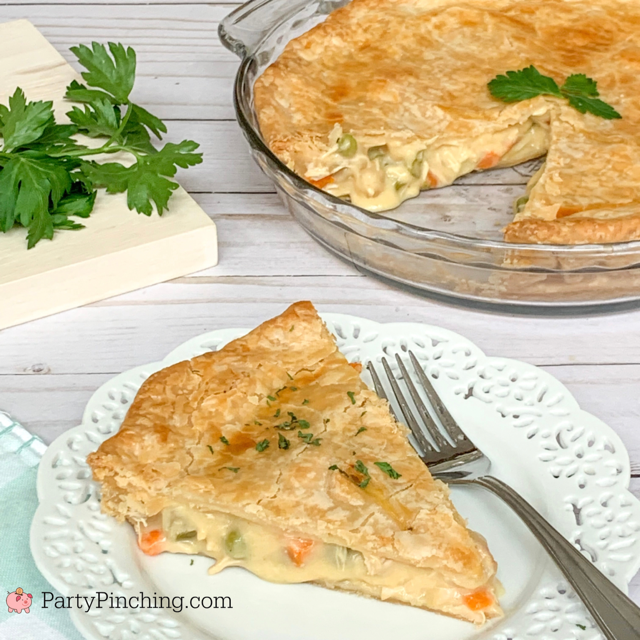 Super easy and delicious Chicken Pot Pie recipe! Great easy dinner idea. This is my most requested family meal, it feels like a big hug. Ultimate comfort food.
Ingredients
1 box refrigerated pie dough (2 crusts)
2 celery stalks, sliced
¼ c onion, chopped
3 TB butter
1 (10.5 oz.) can cream of chicken soup
1 (10.5 oz.) can cream of potato soup
1 cup milk
2 ½ cups diced or shredded cooked chicken
1 cup frozen peas and carrots
¼ tsp garlic powder
¼ tsp onion powder
¼ tsp fresh ground pepper
1 egg, whisked
1 TB water
9" pie plate
Instructions
Sauté celery and onion in butter in a large frying pan until tender.
Add in the cream of chicken and potato soups, milk and peas and carrots. Heat until warm and bubbly.
Stir in the chicken, garlic powder, onion powder and pepper.
Place one pie crust in the bottom of the pie plate. Spoon filling in the pie crust and spread evenly.
Top with the other pie crust and crimp edges. Cut a few slits in the top of the pie to vent.
Whisk together the egg and water and brush the egg wash on top of the pie crust.
Bake at 425 degrees for 30 minutes checking your pie after 20 minutes to see if it is getting too brown. If it is, cover the edges with aluminum foil and continue baking