My Aunt Song Ja makes the absolute BEST Korean Vegetable Pancakes! I remember as a kid loving her pancakes so much and when she finally gave me her recipe I knew they were going to turn out great because as soon as the batter hit the pan the smell from my childhood came rushing back!
This post may contain affiliate links. Please read our disclosure policy. As an Amazon Associate, I earn from qualifying purchases.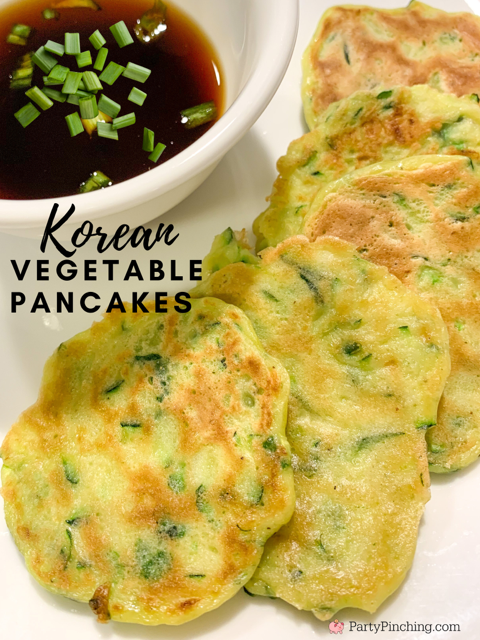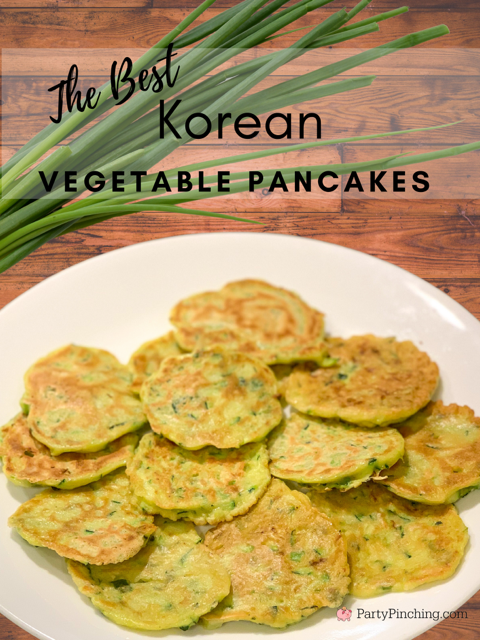 You will need:
1 medium zucchini
2 green onions, chopped
1 egg
5 TB flour
3 TB corn starch
½ tsp salt
Canola oil for frying
Sauce:
1 TB soy sauce
1 tsp rice vinegar
½ tsp hot chili oil
1 TB water
Green onions
½ tsp granulated sugar
MY AMAZON PICKS (affiliate links):
Using the large coarse side of a box grater, grate zucchini and place in a small bowl.  Add salt and wait for 15 minutes until the liquid is drawn out.
Squeeze the grated zucchini and reserve liquid in the bowl.
Add the egg to the reserved liquid and mix well. Next, mix in the flour and corn starch. Then add in the zucchini and green onion.
If the batter is too thick, add a little water
Place about 2 heaping Tablespoons of batter in a frying pan with Canola oil over medium high heat and spread it out a little.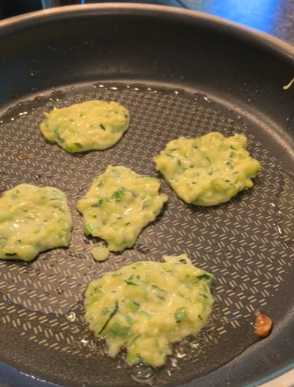 Fry the pancakes for about 2 minutes each side.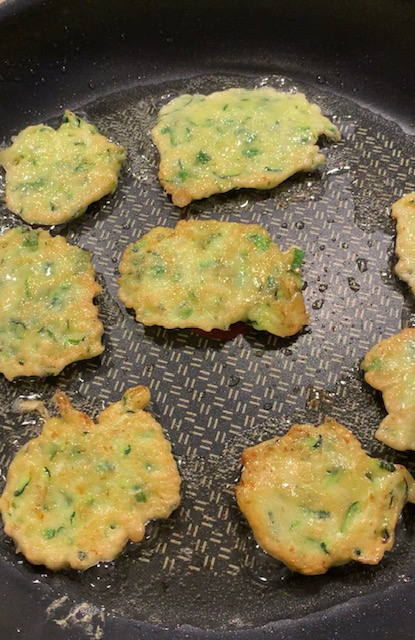 For the dipping sauce, mix all sauce ingredients together until sugar dissolves
I was so nervous for my cute little Aunt Song Ja to try the pancakes I made! She inspected them first and said, "Looks good!" Then she tasted them and said they were "just right!" I've never been so happy to have her approval. I can't tell you how much I love and admire this amazing woman.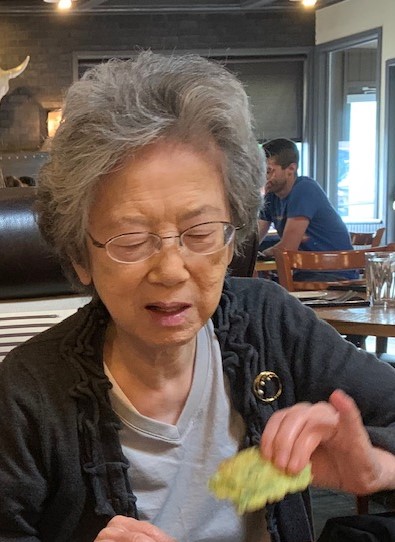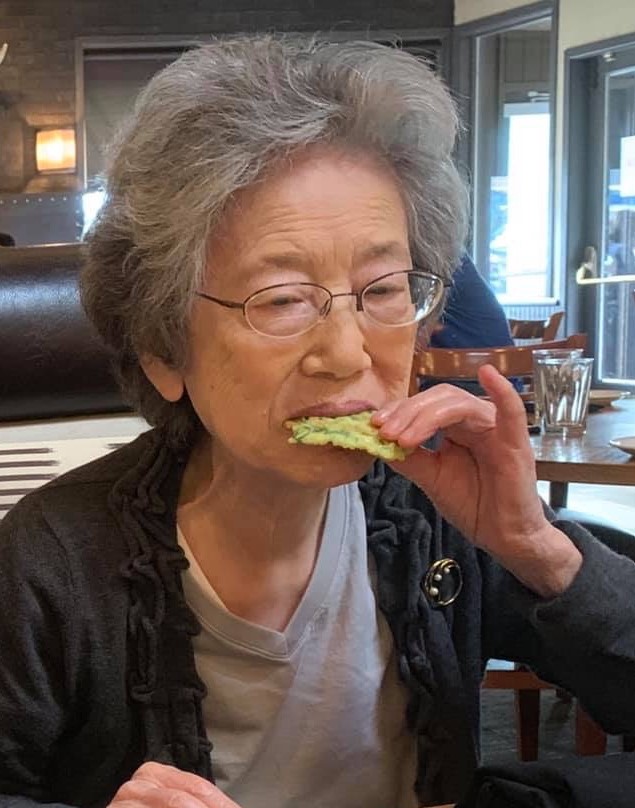 These Korean Vegetable Pancakes are the ultimate comfort food. I know you'll love my Aunt Song Ja's recipe as much as we do! They are so easy to make and the perfect side dish. You can even make a large pancake by pouring all the batter into the frying pan and then cutting it like a pizza into individual servings.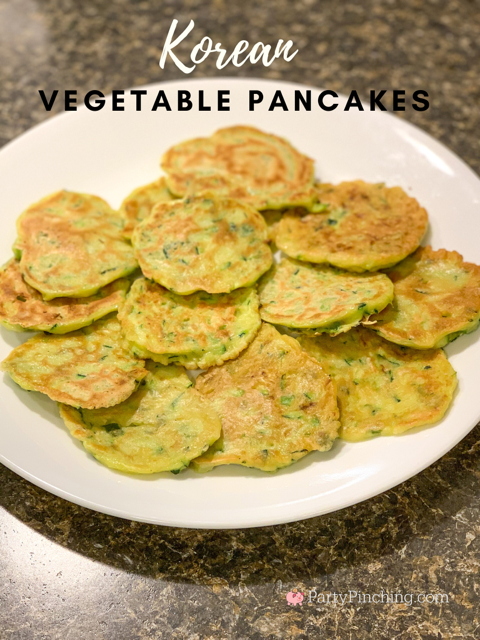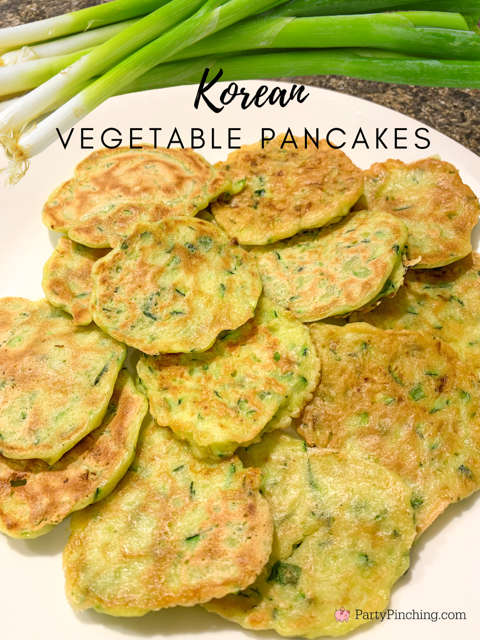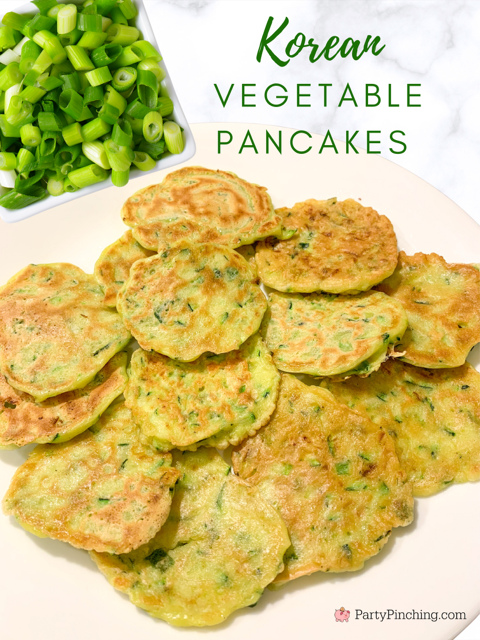 Yield: 12 -14
Korean Vegetable Pancakes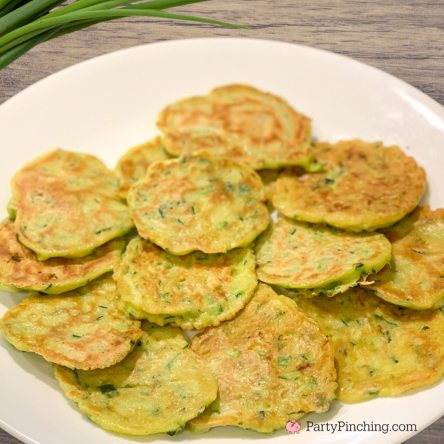 The absolute BEST Korean Vegetable Pancakes! So easy to make and approved by my Aunt Song Ja!
Ingredients
1 medium zucchini
2 green onions, chopped
1 egg
5 TB flour
3 TB corn starch
½ tsp salt
Canola oil for frying
Sauce:
1 TB soy sauce
1 tsp rice vinegar
½ tsp hot chili oil
1 TB water
Green onions
½ tsp granulated sugar
Instructions
Using the large coarse side of a box grater, grate zucchini and place in a small bowl. Add salt and wait for 15 minutes until the liquid is drawn out.
Squeeze the grated zucchini and reserve liquid in the bowl.
Add the egg to the reserved liquid and mix well. Next, mix in the flour and corn starch. Then add in the zucchini and green onion.
If the batter is too thick, add a little water
Place about 2 heaping Tablespoons of batter in a frying pan with Canola oil over medium high heat and spread it out a little.
Fry the pancakes for about 2 minutes each side.
For the dipping sauce, mix all sauce ingredients together until sugar dissolves