This Easter Snack Board with R.M. Palmer candies is so fun and easy to make, everyone will love it!
This post is sponsored with product and/or monetary compensation by R.M. Palmer. All opinions are my own. (This post may contain affiliate links and we may make a small commission from the Amazon links below at no extra cost to you).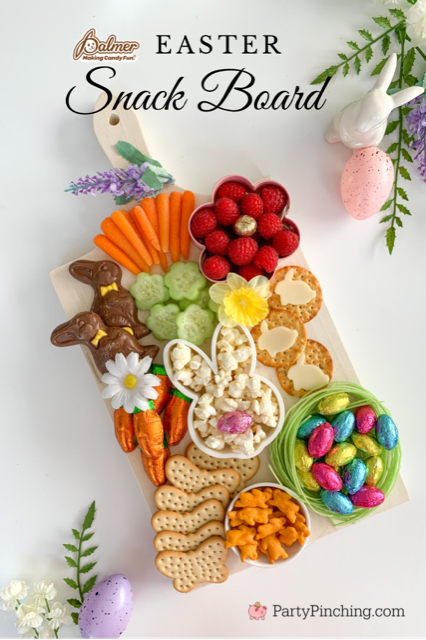 You will need:
Cutting board or tray
Large flower and bunny cookie cutters
Small flower and bunny cookie cutters
2 – R.M. Palmer Little Beauty solid chocolate flavored Easter Bunnies
1 package of R.M. Palmer Milk Chocolate Flavored Eggs
1 package of R.M. Palmer Parsnip Pete's Bunny Treat foil carrots
1 package of edible Easter grass
Raspberries
Cucumbers
Baby carrots
Butterfly crackers
Round wheat crackers
Provolone cheese
Cheddar cheese bunny crackers
Popcorn
MY AMAZON PICKS (affiliate links):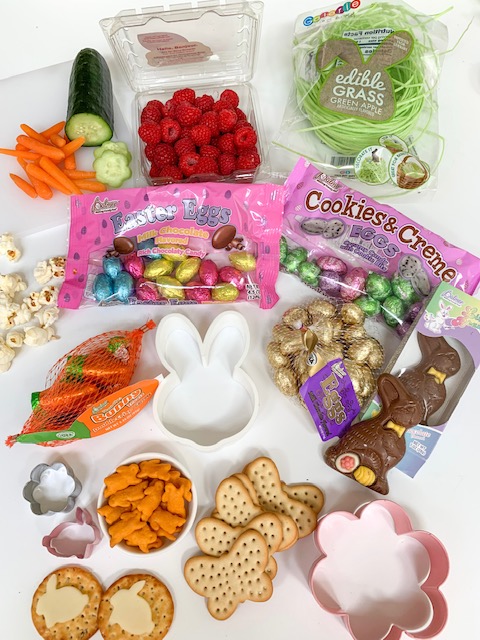 Place large bunny cookie cutter in the middle of the board and the large flower cookie cutter on the upper right hand corner and make a nest out of the edible Easter grass by shaping it into a small circle. Place the nest in the bottom corner of the Easter snack board.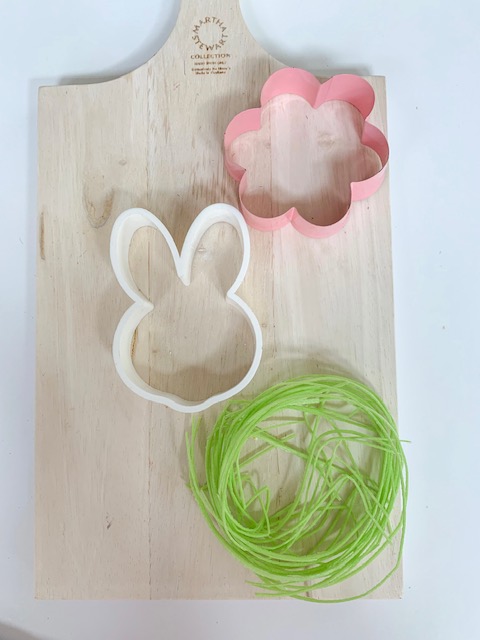 Next, fill the flower cutter with raspberries and the bunny cutter with popcorn. Place the foil chocolate eggs in the middle of the nest.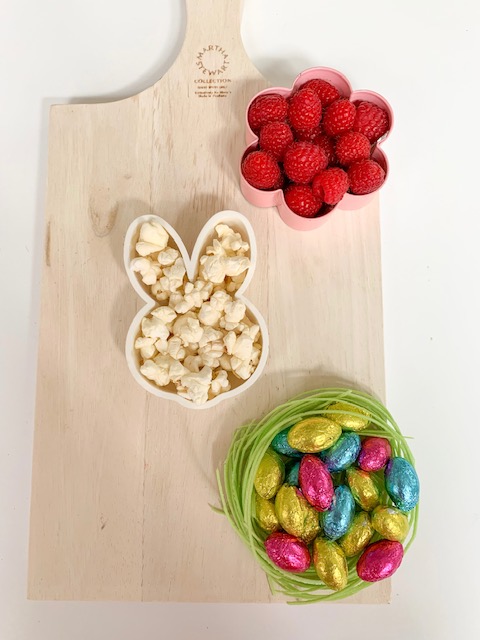 Then, place a pink foil egg in the middle of the bunny for the nose and a gold foil egg in the middle of the flower cutter. Add the chocolate bunnies and the chocolate carrots wrapped in foil.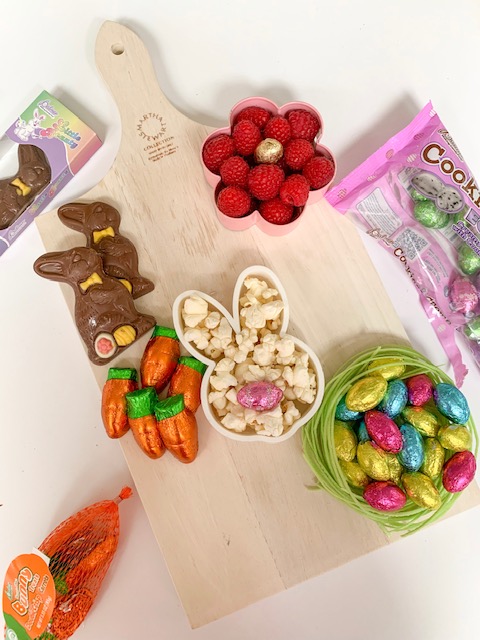 Now, slice the cucumbers and cut out flower shapes using small flower cutter.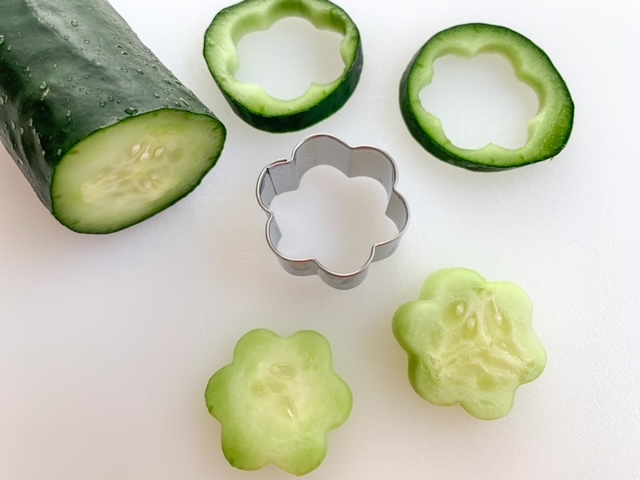 Next, cut out bunny shapes out of the cheese by using small bunny cutter and place on top of round wheat crackers.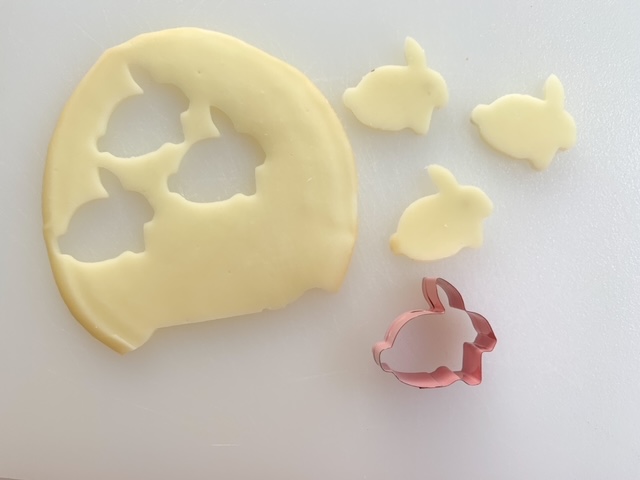 Then, add the fresh vegetables to the board.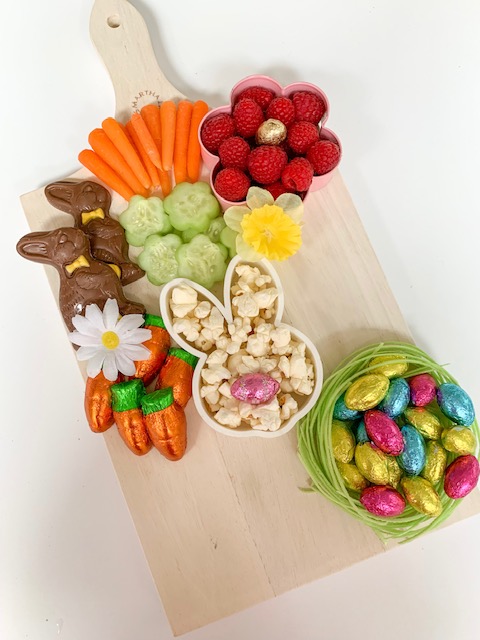 Finally, arrange the crackers on the board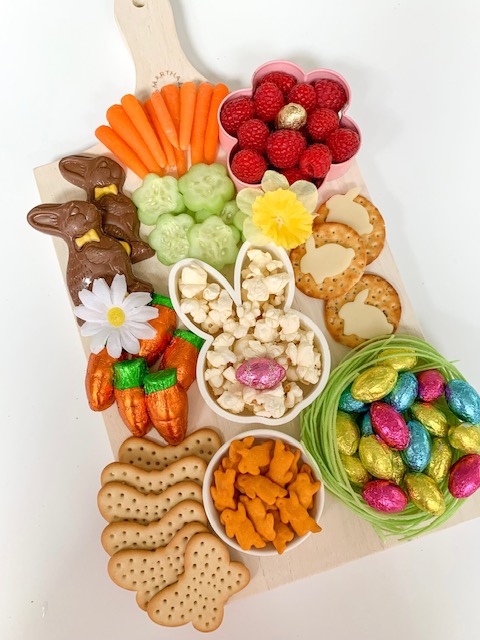 Every bunny will love this Easter Snack Board! It's so Char-"cute"rie!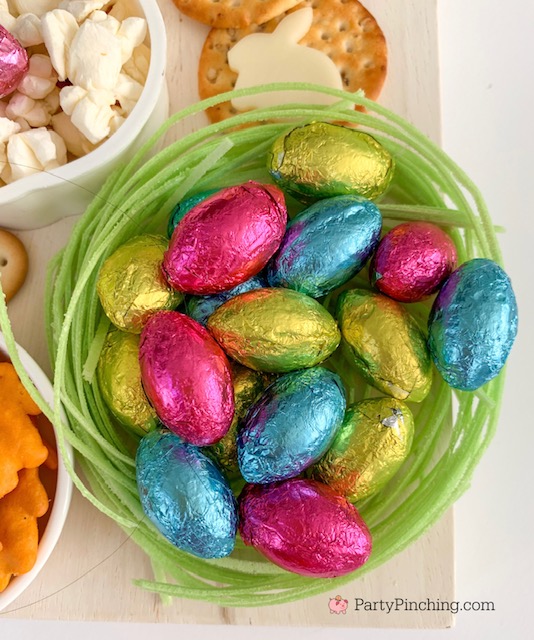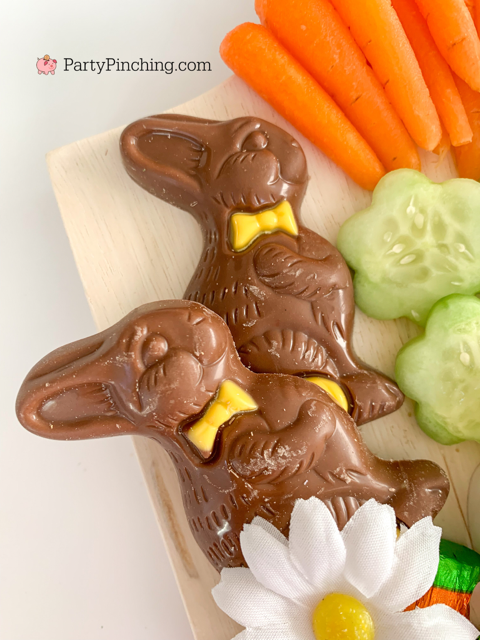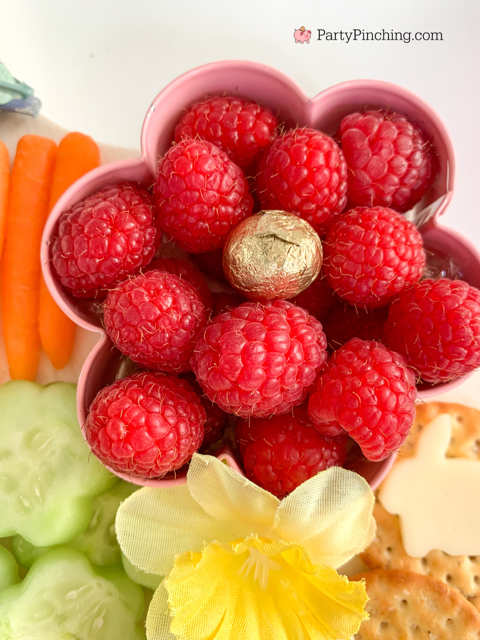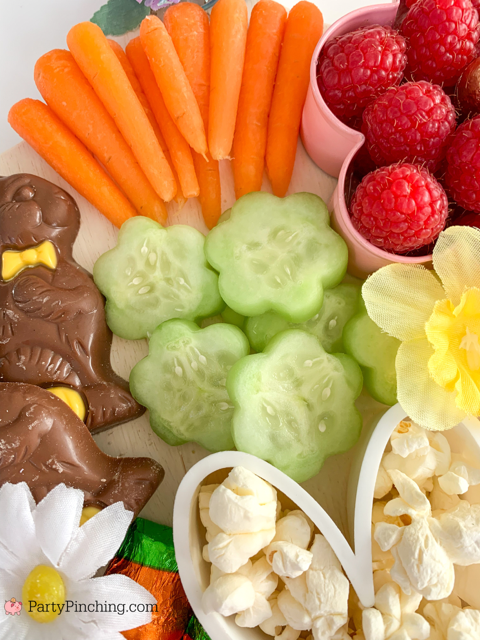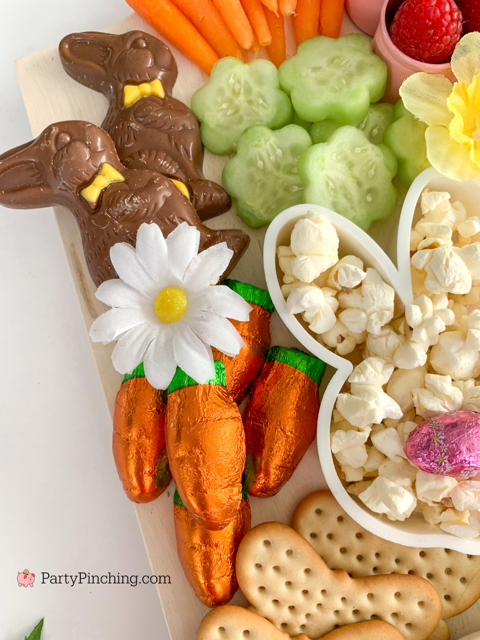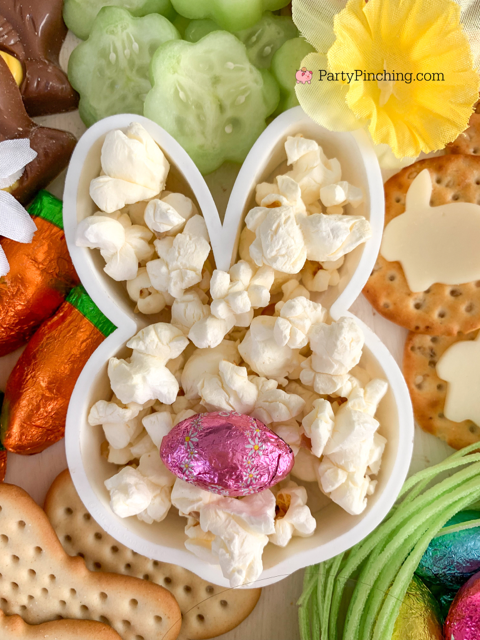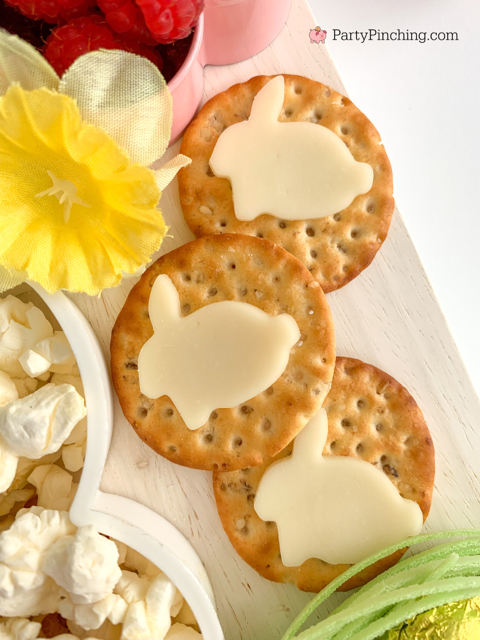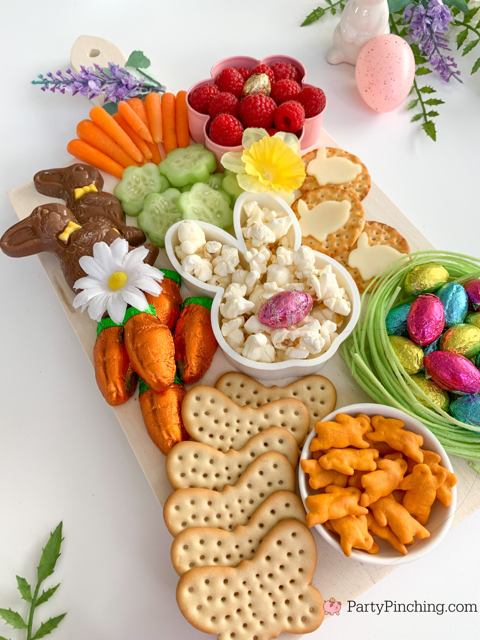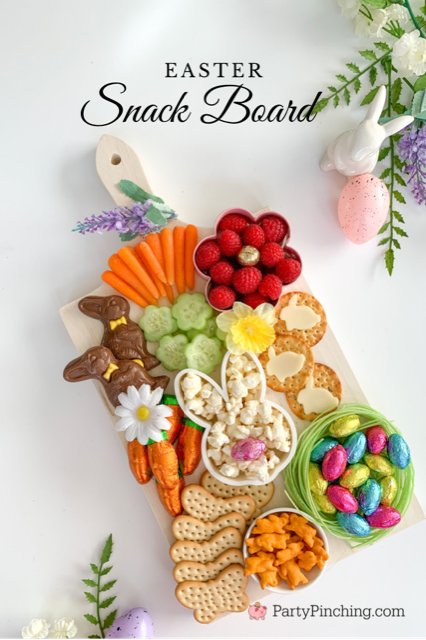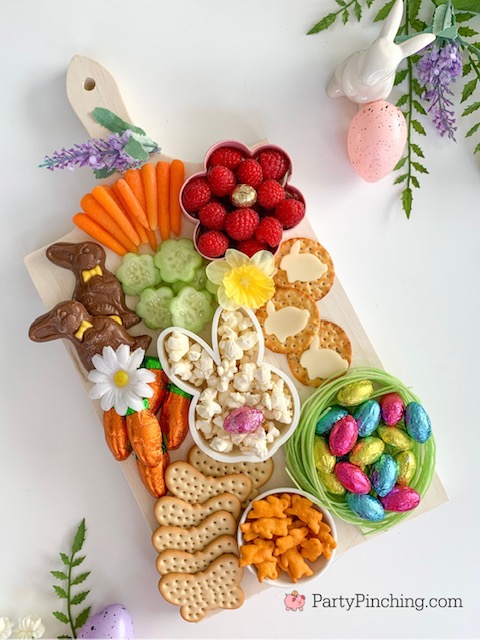 For more great Easter ideas, click here
Yield: 1 snack board
Easter Snack Board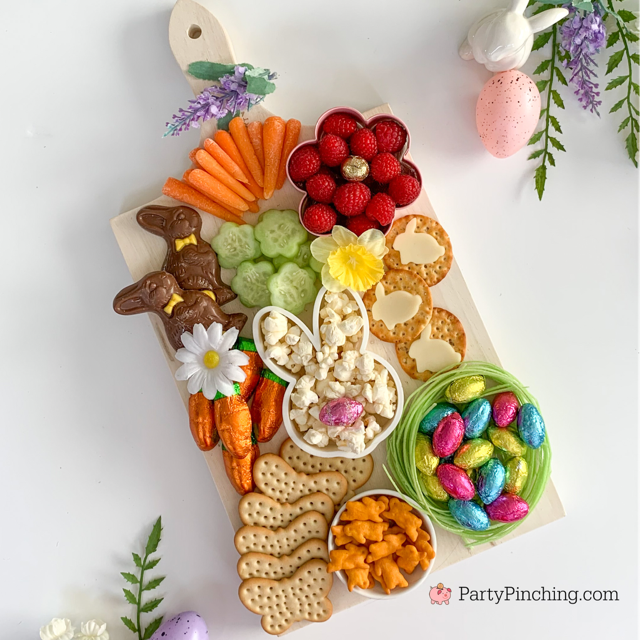 The best Easter Snack board! Lots of fun treats for everyone - cutest Easter charcuterie ever!
Ingredients
Cutting board or tray
Large flower and bunny cookie cutters
Small flower and bunny cookie cutters
2 - R.M. Palmer Little Beauty solid chocolate flavored Easter Bunnies
1 package of R.M. Palmer Milk Chocolate Flavored Eggs
1 package of R.M. Palmer Parsnip Pete's Bunny Treat foil carrots
1 package of edible Easter grass
Raspberries
Cucumbers
Baby carrots
Butterfly crackers
Round wheat crackers
Provolone cheese
Cheddar cheese bunny crackers
Popcorn
Instructions
Place large bunny cookie cutter in the middle of the board and the large flower cookie cutter on the upper right hand corner and make a nest out of the edible Easter grass by shaping it into a small circle. Place the nest in the bottom corner of the board.
Next, fill the flower cutter with raspberries and the bunny cutter with popcorn. Place the foil chocolate eggs in the middle of the nest.
Then, place a pink foil egg in the middle of the bunny for the nose and a gold foil egg in the middle of the flower cutter. Add the chocolate bunnies and the chocolate carrots wrapped in foil.
Slice the cucumbers and cut out flower shapes using small flower cutter.
Cut out bunny shapes out of the cheese by using small bunny cutter and place on top of round wheat crackers.
Add the fresh vegetables to the board.
Next arrange the crackers on the board