This budget-friendly Sweet 16 party for a girl is pink, pretty and oh so sweet!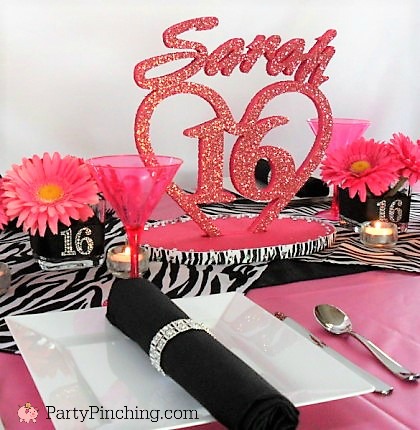 A sweet table setting can be fun and affordable – filled with the birthday girl's favorite like pizza, cute finger foods, adorable mini appetizers!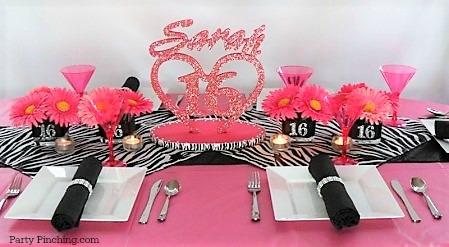 All a teen girl really wants is to feel super special on her 16th birthday. A great idea is to have her invite a few of her closest friends out for a spa day. They can get their nails done and feel pampered and after that, have a fun girls' night in!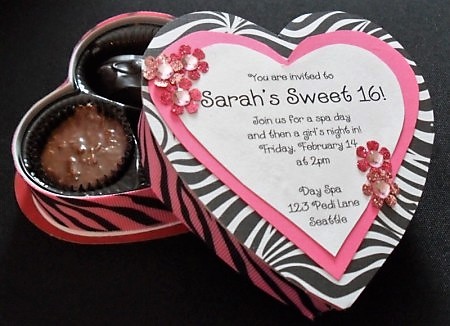 Since Sarah's birthday is in February, there was no problem finding little heart boxes filled with candy. I just redesigned the front of the box, keeping the candy inside for a special treat for each invited girl.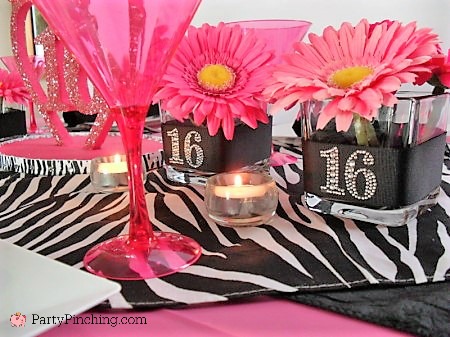 I set a stylish table in her favorite color combination of pink, black and a zebra print.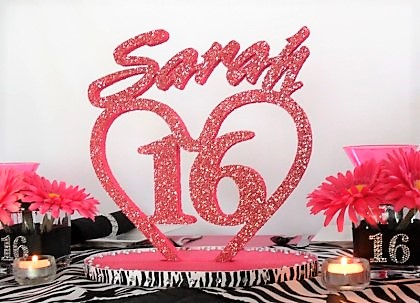 Sarah's Sweet 16 centerpiece is custom made from Design Cutters, and can be made with any name you specify. They will also paint and glitter the centerpiece for a small fee. All of the girls loved seeing her name cut out of Styrofoam in script and thought it was "super cool!"
The plates are white plastic and the black linen napkins are wrapped with a rhinestone bracelet as a holder for each guest to take home. The pretty vases (Dollar Tree) were just wrapped with simple black ribbon and a rhinestone "16" sticker (Michael's) was attached in the center.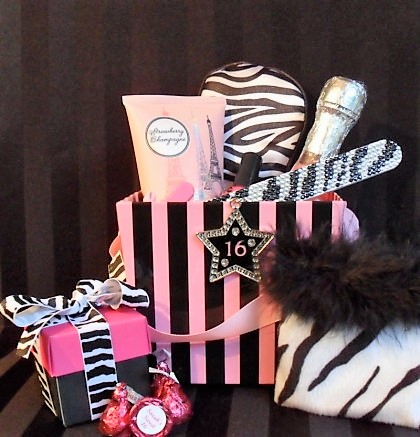 Fill the goody boxes with lotion and bubble bath (all from Target) and a cute manicure set from Dollar Tree, a zebra striped eye mask and rhinestone nail file from Pier One and a Sweet 16 keychain from Party City. Include a zebra coin purse, a box of personalized Hershey Kisses. (You can create your own stickers to personalize the Hershey Kisses by using round stickers made by Avery and go to their website to personalize them, or there are various sites on the web that will custom make them for you.)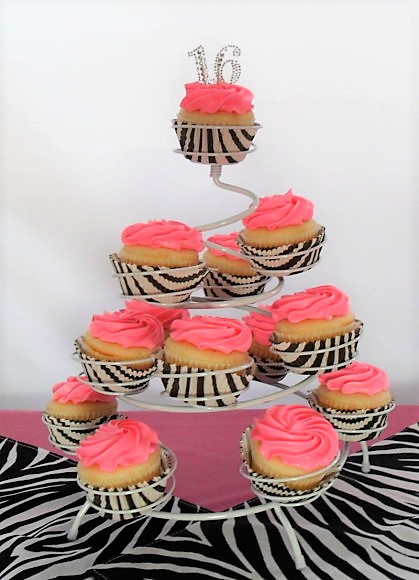 I baked cupcakes and used cute zebra patterned cupcake cups I found at Michael's. All of the girls had so much fun, loved the goodies they went home with and the birthday girl loved her party!