16 is Sweet – a BOY'S Sweet 16 party! My inner party planner really came out with my son's 16th birthday. "Mom, I don't want a girly sweet sixteen. No pink, no bling. I'm a guy." So I took off to the party store, excited to start my planning. Pink. Everywhere. There was NO 16th
birthday stuff for boys!

The party store left me totally uninspired so I turned to the internet for ideas, which left me equally depressed. What to do when everything is pink for sweet 16? Boys don't want pink! They want their license – ahhhhh, bingo! I started with his favorite colors, orange and blue and took it from there.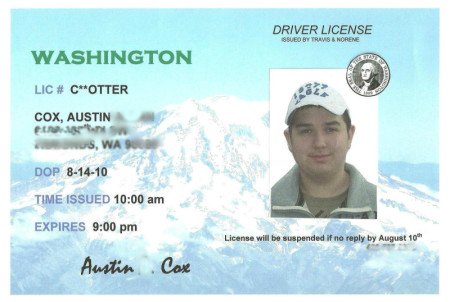 I created his invitation by making a fake drivers license using Microsoft Word. You don't need a fancy program; I used a photo I had of a mountain and set it as a watermark for the background, played with a few fonts and cut and pasted his picture on it. Disclaimer: I'm not in any way telling you how to make fake ID's. These are party invitations, so don't even start with me!
The centerpieces were easy since I just sliced a bunch of oranges and I have a big hydrangea bush out front that usually blooms around the time of his birthday in August. I ordered the silver 16 spray online from Wrap With Us.
I placed pictures of my son on the table from every one of his birthdays ages 1-15 in silver frames that I picked up at Dollar Tree.
Napkins were printed for the occasion with his name in his favorite colors from For Your Party, and everyone loved the personalized license plates with each guest's name on them! The great thing about these license plates is that you can have ANY name printed on them, they are not made of cheap plastic, but metal, and there is no minimum. Unbelievably affordable at Blue Sabre.
The candy buffet was a big hit! It was budget friendly since I already had most of the clear glass containers and picked up a few more at Dollar Tree or Michaels using a 50% off coupon. The candy I bought in bulk at a local grocery store in his favorite colors.
Don't forget to personalize the cake – I took the invitation I made into my grocery store bakery department and they made an edible image out of it.
Never too old for goody bags, I included a DVD I had made on my computer of my son growing up. His friends and family were featured in the video and I set the photos to his favorite music. Everyone at the party loved it! Labels for the DVD can be personalized with anything you can dream of and the instructions on how to do it are in the label package. They are actually CD labels by Avery and are available at any office supply store. Also in the goody bags were fortune cookies with the fortune reading, "Happy 16th Birthday Austin" from My Lucky Fortune. One of the biggest splurges was the M&Ms with his name and photo on them. Totally worth it though, you can design your own on My M&M's. A mock "Car and Driver" magazine cover with his photo on it completed the goody bag – only $5 for the downloadable cover from Fake Magazines.
It was a great, affordable party. Best of all, my big, tall, sixteen year old son, kissed me on the cheek and said, "Wow Mom, thanks. I love you." Can it ever get any better than that?