I love Nanaimo Bars. I love Canada. In fact, my husband will often say, "I kinda feel like a Timbit right now" and next thing I know we're heading for the border.
But can you guess what I love even more than Tim Horton's white hot chocolate? I love Nanaimo Bars. And I've come up with the BEST gluten-free Nanaimo Bar recipe ever. AND it's so easy to make!
This post may contain affiliate links. Please read our disclosure policy. As an Amazon Associate, I earn from qualifying purchases.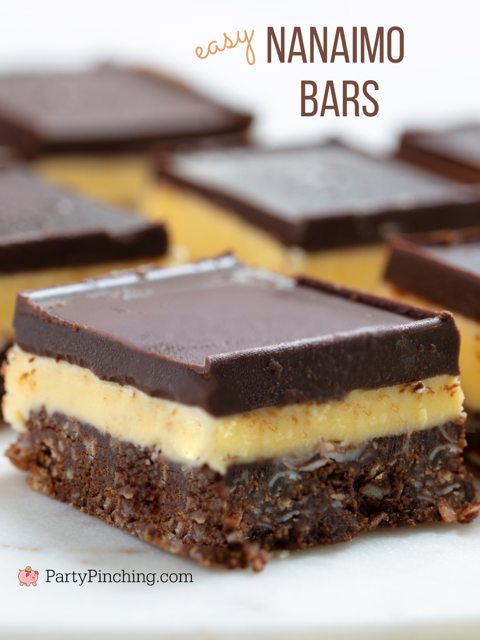 These Nanaimo Bars are gluten-free and you can certainly use regular graham crackers if you don't need to be gluten-free, but I do prefer the gluten-free ones by Schär – they are amazing! And no I'm not sponsored by them, I just seriously love them.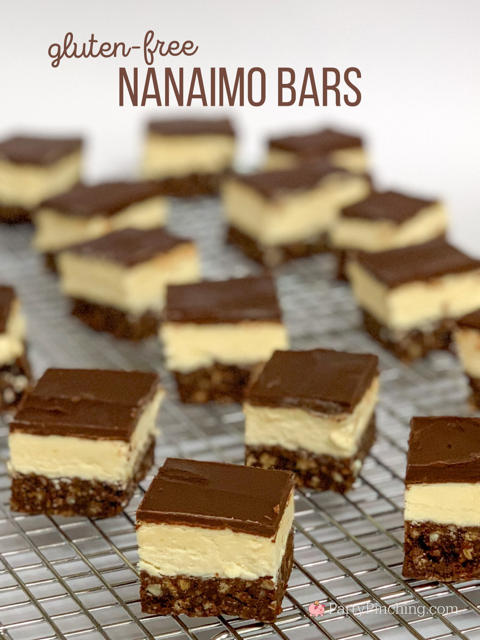 MY AMAZON PICKS (affiliate links):
You will need: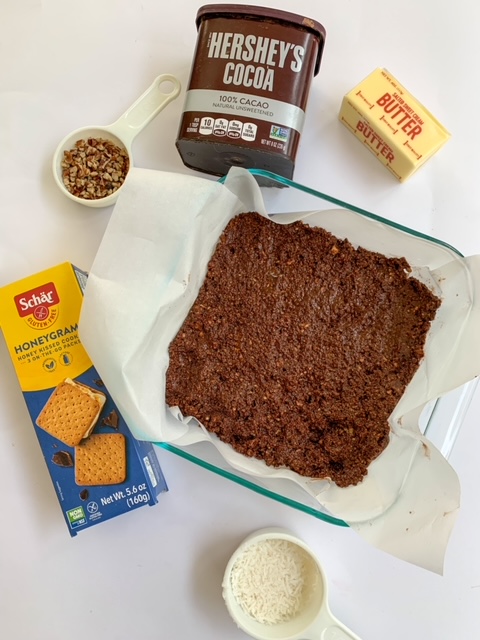 For the base:
½ cup butter, melted
½ cup granulated sugar
5 T cocoa powder
1 ½ cups finely crushed graham crackers (I love Schär gluten-free)
½ cup finely chopped nuts (I prefer pecans)
½ tsp vanilla extract
1 beaten egg
1 cup shredded coconut (optional) – I'm not a coconut fan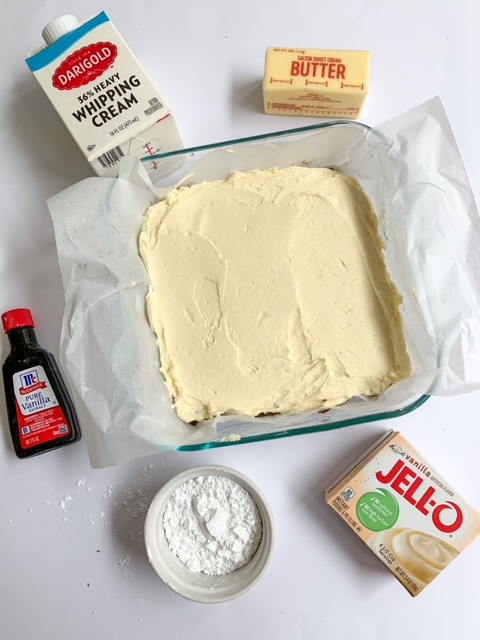 For the filling:
2 cups powdered sugar (sifted)
½ cup softened butter
3 T instant vanilla pudding powder
3-4 T heavy cream
½ tsp vanilla extract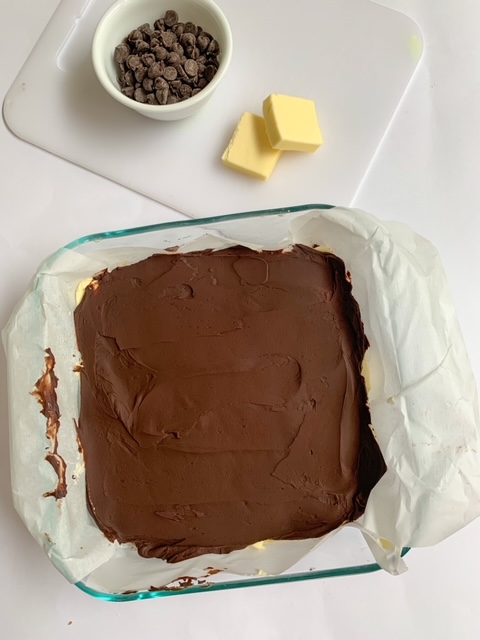 For the Topping:
¾ cup semi-sweet chocolate chips
3 T butter
Line a 8×8 pan with parchment paper, letting the parchment paper hang over the side for easy removal.
In a medium bowl, mix together the finely crushed graham crackers, cocoa powder, granulated sugar and finely chopped nuts (and coconut if desired)
Add the egg, vanilla and melted butter and mix until thoroughly combined.
Press the mixture evenly into the bottom of the parchment lined pan.
Bake in a preheated 350 degree oven for 10 minutes. Let cool completely.
To make the filling, beat the softened butter with a hand mixer and slowly add the sifted powdered sugar. Beat in the heavy cream, vanilla and the pudding powder until smooth and frosting like consistency.
Smooth on filling on top of the base layer with an offset spatula. Refrigerate for at least 2 hours to set.
For the topping, melt together the chocolate chips and the butter over a double boiler or in the microwave at 15 second intervals, stirring between intervals until smooth.
Pour over the filling layer and smooth with an offset spatula.
Return to refrigerator for at least an hour.
Carefully cut into bars (it helps to score the top layer first with a knife before cutting so the top layer doesn't crack).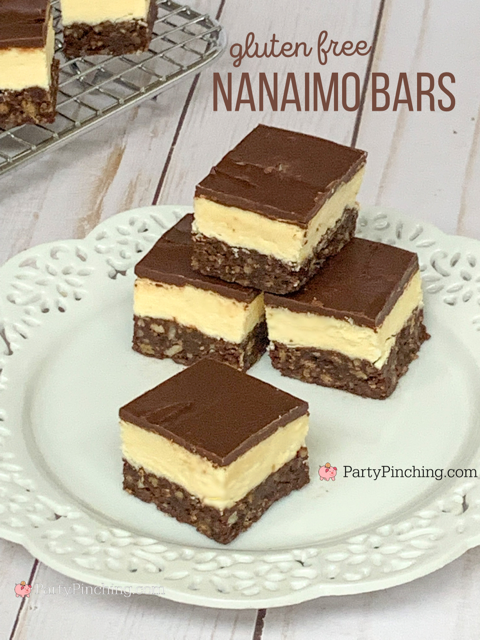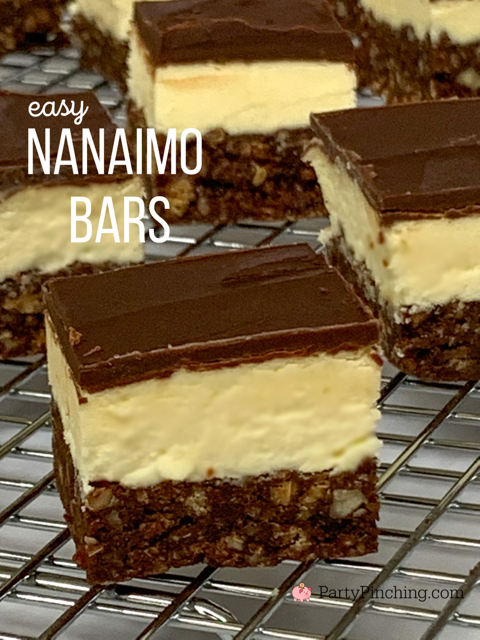 I know that that the traditional Nanaimo Bars have walnuts and shredded coconut in them and if you want to use those ingredients, that's perfectly fine. I substituted pecans and omitted the coconut altogether with no adjustments for my batch (yes I made an entire batch for myself) and it turned out amazing!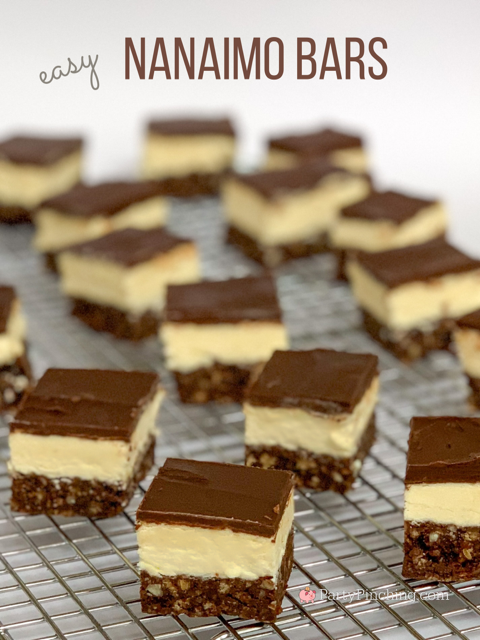 Everyone will just rave about these bars, they are so good!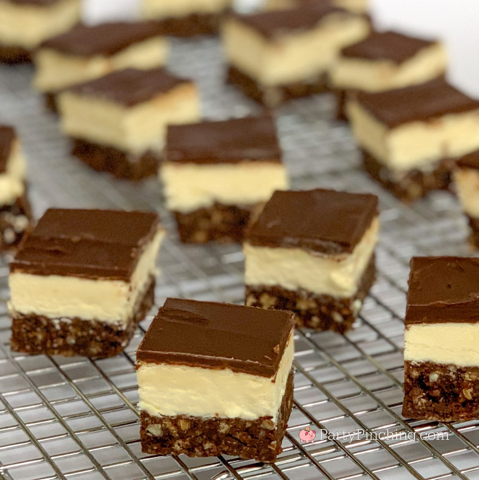 These are the best Nanaimo Bars ever! They are so easy to make AND they are gluten-free!
Total Time
4 hours
30 minutes
Ingredients
For the base:
½ cup butter, melted
½ cup granulated sugar
5 T cocoa powder
1 ½ cups finely crushed graham crackers (I use gluten-free)
½ cup finely chopped nuts (I prefer pecans)
½ tsp vanilla extract
1 beaten egg
1 cup shredded coconut (optional) – I'm not a coconut fan
For the filling:
2 cups powdered sugar (sifted)
½ cup softened butter
3 T instant vanilla pudding powder
3-4 T heavy cream
½ tsp vanilla extract
For the Topping:
¾ cup semi-sweet chocolate chips
3 T butter
Instructions
Line a 8x8 pan with parchment
paper, letting the parchment paper hang over the side for easy removal.
In a medium bowl, mix together the finely crushed graham crackers, cocoa powder, granulated sugar and finely chopped nuts (and coconut if desired)
Add the egg, vanilla and melted butter and mix until thoroughly combined.
Press the mixture evenly into the bottom of the parchment lined pan.
Bake in a preheated 350 degree oven for 10 minutes. Let cool completely.
To make the filling, beat the softened butter with a hand mixer and slowly add the sifted powdered sugar. Beat in the heavy cream, vanilla and the pudding powder until smooth and frosting like consistency.
Smooth on filling on top of the base layer with an offset spatula. Refrigerate for at least 2 hours to set.
For the topping, melt together the chocolate chips and the butter over a double boiler or in the microwave at 15 second intervals, stirring between intervals until smooth.
Pour over the filling layer and smooth with an offset spatula.
Return to refrigerator for at least an hour.
Carefully cut into bars (it helps to score the top layer first with a knife before cutting so the top layer doesn't crack)


For more great dessert recipes, click here