These Crumbl Pink Sugar Cookie Cupcakes are just what you need! Love Crumbl's Chilled Pink Sugar Cookie? Love Cupcakes? NOW YOU CAN HAVE BOTH!!! I've come up with the BEST of both worlds, CRUMBL PINK SUGAR COOKIE CUPCAKES! Yes! I'm shouting!
These cupcakes are so easy to make and you can either top them with a cookie from the Crumbl store or you can make them yourself from my easy recipe here! They taste just like the original Crumbl Pink Sugar Cookies!
This post may contain affiliate links. Please read our disclosure policy. As an Amazon Associate, I earn from qualifying purchases.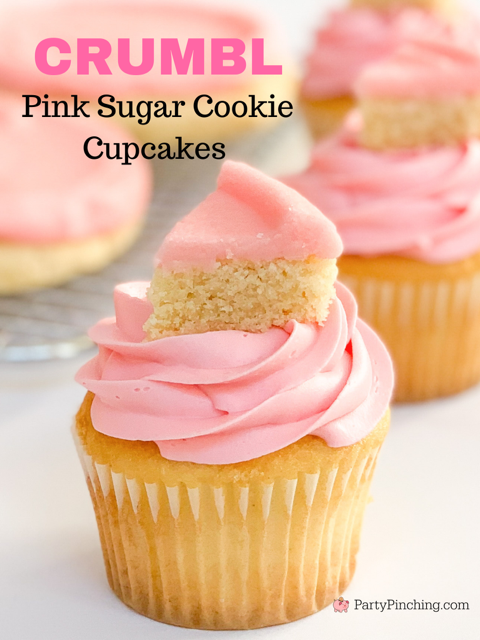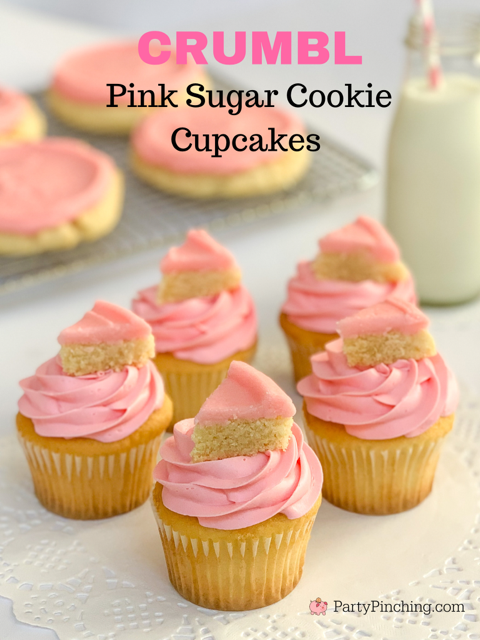 You will need:
For the cupcakes:
1 – (16.25) oz. box white cake mix (I used Betty Crocker)
½ tsp vanilla
3 eggs
1 cup water
1/2 cup vegetable oil
For the frosting:
1 c softened butter
4 c powdered sugar, sifted
4 T heavy cream or milk
1 tsp almond extract Pink food coloring
1M piping tip
Disposible icing piping bags
MY AMAZON PICKS: (affiliate links)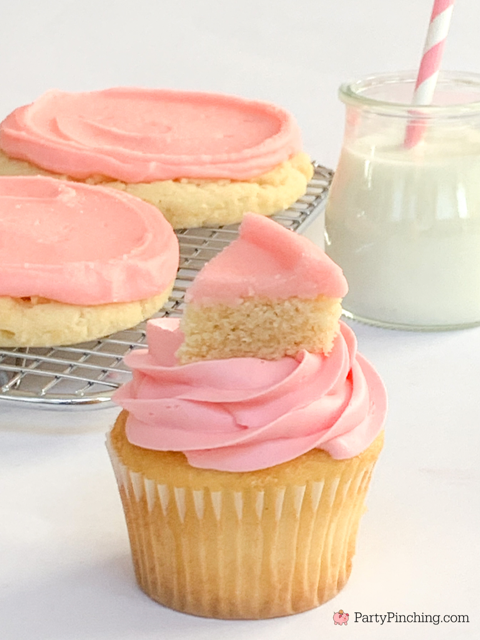 In a large mixing bowl, combine all of the cupcake ingredients.
Using a hand mixer, mix together the cupcake ingredients on medium speed for about 2 minutes.
Place 16 -24 cupcake liners in a muffin tin and bake according to package instructions. Let cool completely. (I fill my cupcakes a little more so I have about 16 cupcakes.)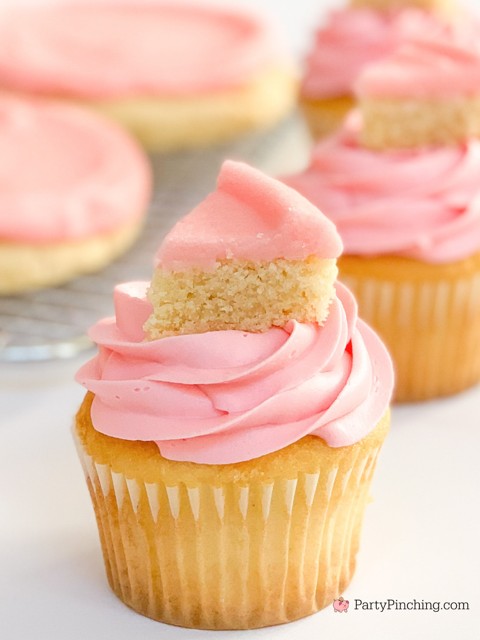 For the frosting:
Cream butter until with a mixer until fluffy,
Beat in powdered sugar a little at a time until fluffy and completely incorporated.
Mix in almond extract. Add in the heavy cream and a few drops of pink food coloring and beat until fluffy and smooth about 3 minutes.
Place frosting in a disposable icing bag fitted with a 1M piping tip and pipe the frosting on top of each cupcake.
Top with a wedge of Crumbl Pink Sugar Cookie – get my easy copycat recipe here – they taste just like the original (my family likes them BETTER than the original!)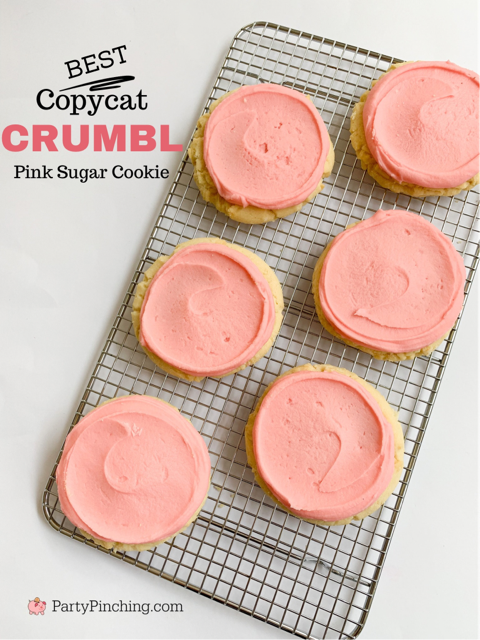 Now you have the best Crumbl Pink Sugar Cookie Cupcakes Ever!
Yield: 24
Crumbl Pink Sugar Cookie Cupcakes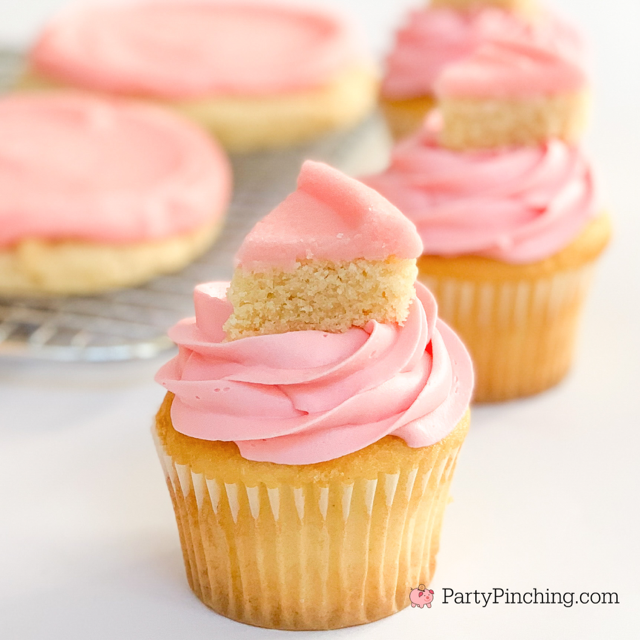 Crumbl Chilled Sugar Cookie Cupcake! It's the best of both worlds! Yummy almond cake topped with a Crumbl sugar cookie and pink almond frosting! So easy to make using a box mix!
Ingredients
For the Cupcakes:
1-(16.25 oz.) box white cake mix (I used Betty Crocker)
½ tsp vanilla
3 eggs
1 cup water
½ cup vegetable oil
For the Frosting:
1 c softened butter
4 c powdered sugar, sifted
4 T heavy cream or milk
1 tsp almond extract
Pink food coloring
1 M piping tip
Disposable Icing Piping Bags
Instructions
For the cupcakes:
In a large mixing bowl, combine all cupcake ingredients.
Using a hand mixer, mix together the cupcake ingredients on medium speed about 2 minutes.
Place 16- 24 cupcake liners in muffin tins and bake according to package instructions Place 16 -24 cupcake liners in a muffin tin and bake according to package instructions. Let cool completely. (I fill my cupcakes a little more so I have about 16 cupcakes.)
For the frosting:
Cream butter until with a mixer until fluffy,
Beat in powdered sugar a little at a time until fluffy and completely incorporated.
Mix in almond extract. Add in the heavy cream and a few drops of pink food coloring and beat until fluffy and smooth about 3 minutes.
Place frosting in a disposable icing bag fitted with a 1M piping tip and pipe the frosting on top of each cupcake.
Top with a wedge of Crumbl Pink Sugar Cookie – get my easy copycat recipe here