This is THE BEST copycat version of the Cracker Barrel Hashbrown Casserole! It's a go-to casserole for Christmas morning along with my Blueberry Pancake Casserole and Eggs Benedict Casserole! Great way to prep the night before so I can enjoy the holiday along with everyone else!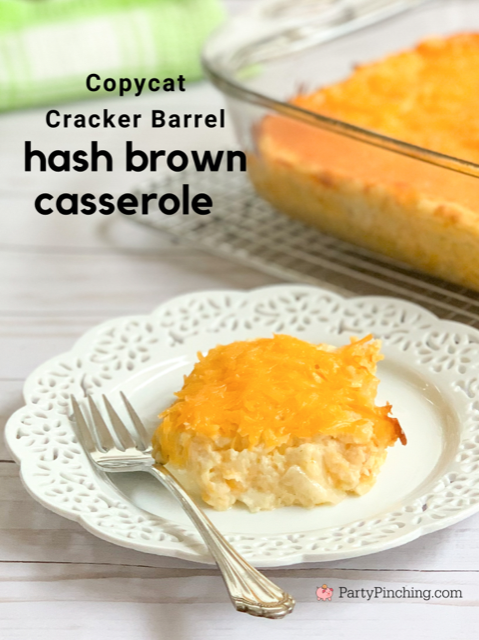 Everyone loves this cheesy casserole, packed with lots of flavor and compliments any breakfast or dinner! Kids and adults alike really love this side dish. Great along side grilled ham, bacon, sausage or really anything. It's always the first dish to disappear the fastest!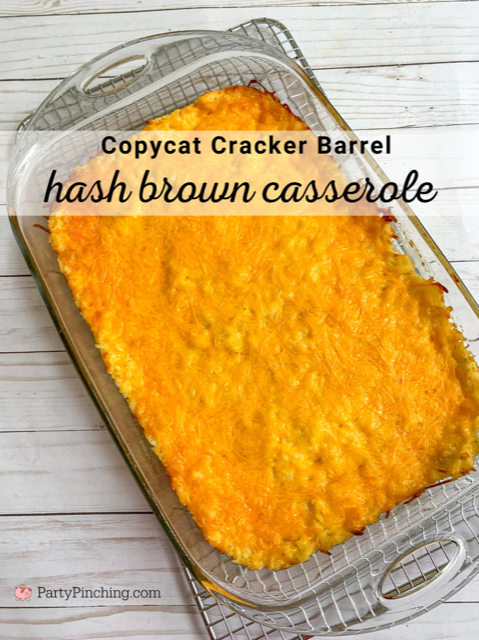 You will need:
cooking spray
1 bag (30 oz.) frozen shredded hash browns, thawed
½ cup butter, melted
1 can cream of chicken soup, undiluted
1 small onion finely chopped
12 oz. Colby cheese, shredded, reserve 1 cup
1 tsp salt
½ tsp freshly ground black pepper
1 cup sour cream
MY AMAZON PICKS (affiliate links):
Preheat oven to 350 degrees
Grease a 9×13 baking dish with cooking spray.
In a large bowl, mix the onion, sour cream, soup, salt, pepper and cheese, reserving 1 cup cheese
Mix in the hash browns and melted butter, combine thoroughly.
Place in casserole dish and top with the 1 cup of reserved cheese.
Bake for 45-50 minutes
You can also make this the night before! Just let it sit out for about a half an hour before putting it in the oven.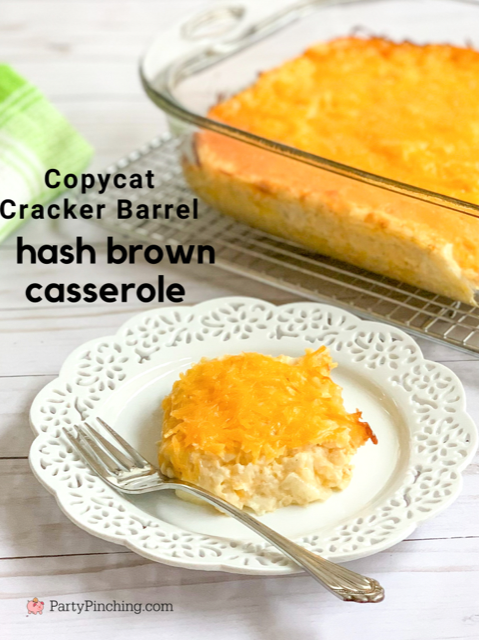 This copycat Cracker Barrel Hashbrown casserole is just the best addition to any holiday brunch, breakfast or dinner! We always have this along side my Blueberry Pancake Casserole!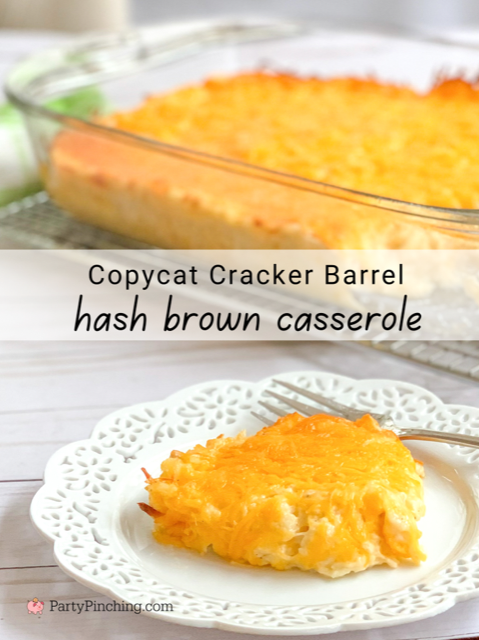 This casserole is a family favorite and a crowd pleaser! Great comfort food for a party or a potluck! Everyone raves about this and I always get asked for the recipe – it's a great go-to dish that's super easy to prepare.
Yield: 16 servings
Cracker Barrel Hashbrown Casserole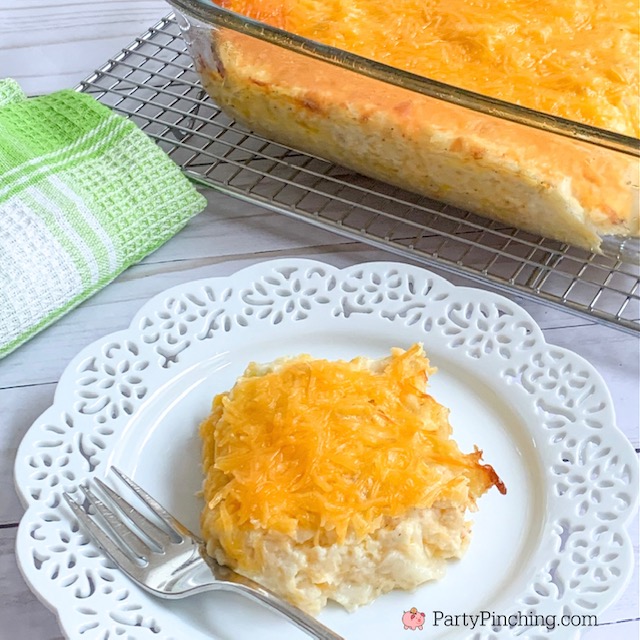 This is THE BEST Cracker Barrel Hashbrown Casserole copycat recipe! It's so easy to make and can be prepped the night before!
Ingredients
1 bag (30 oz.) frozen shredded hash browns, thawed
½ cup butter, melted
1 can cream of chicken soup, undiluted
1 small onion finely chopped
12 oz. Colby cheese, shredded, reserve 1 cup
1 tsp salt
½ tsp freshly ground black pepper
1 cup sour cream
Instructions
Preheat oven to 350 degrees
Grease a 9x13 baking dish with cooking spray.
In a large bowl, mix the onion, sour cream, soup, salt, pepper and cheese, reserving 1 cup cheese
Mix in the hash browns and melted butter, combine thoroughly.
Place in casserole dish and top with the 1 cup of reserved cheese.
Bake for 45-50 minutes
For more yummy breakfast casseroles, click here