There's nothing better than a Christmas Movie Marathon. Hunkering down with your favorite Christmas movies is something everyone loves to do so why not make it even more special by making some fun food? I picked a few of my favorites – I had a hard time narrowing it down to just five, but next year I think I'll create some fun treats for A Christmas Story, Home Alone, oh there's so many more!
(this post may include affiliate links)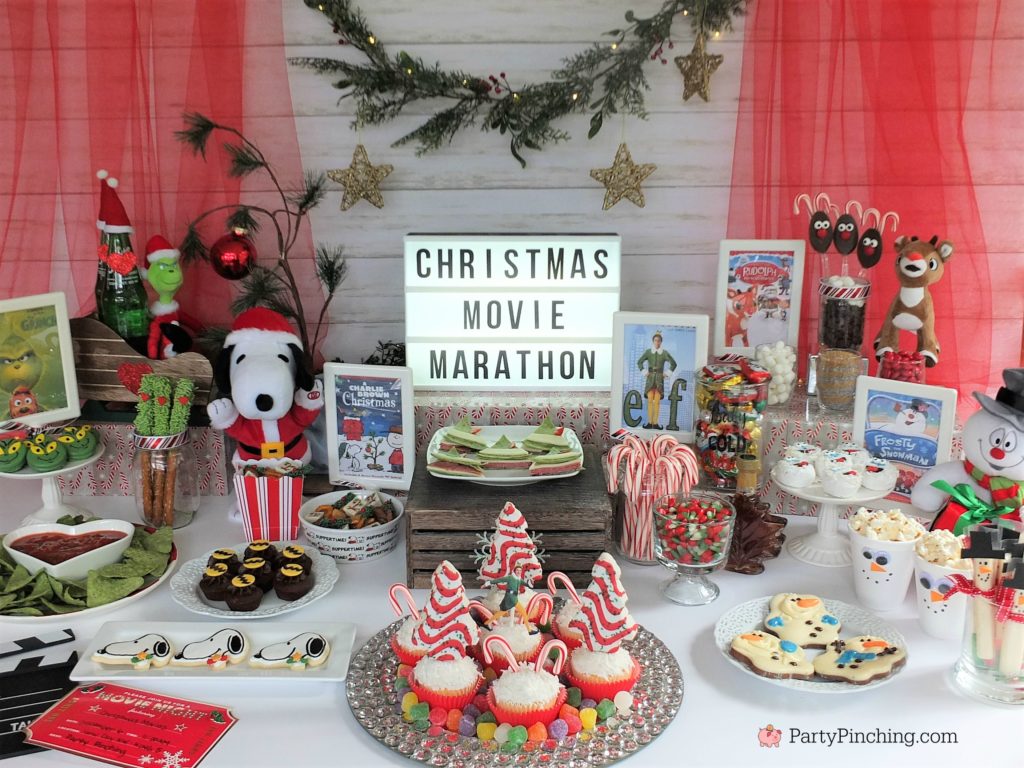 Keeping the food simple is the key – I chose snacks that were our favorites and easy to make!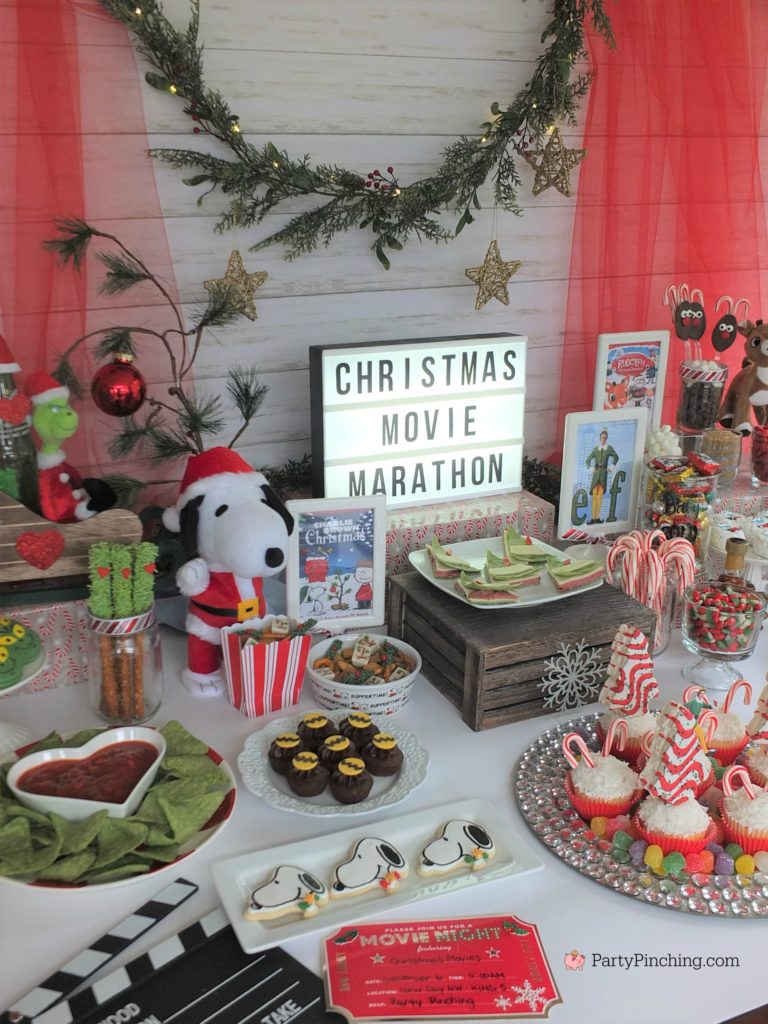 Here's the line-up for this year's Christmas Movie Marathon:
Grinch
A Charlie Brown Christmas
Elf
Rudolph the Red-Nosed Reindeer
Frosty the Snowman
I picked up this super cool Cinema Light Box on Amazon. It comes with so many letters and emojis! I use it all the time! Click here to find it on Amazon (affiliate).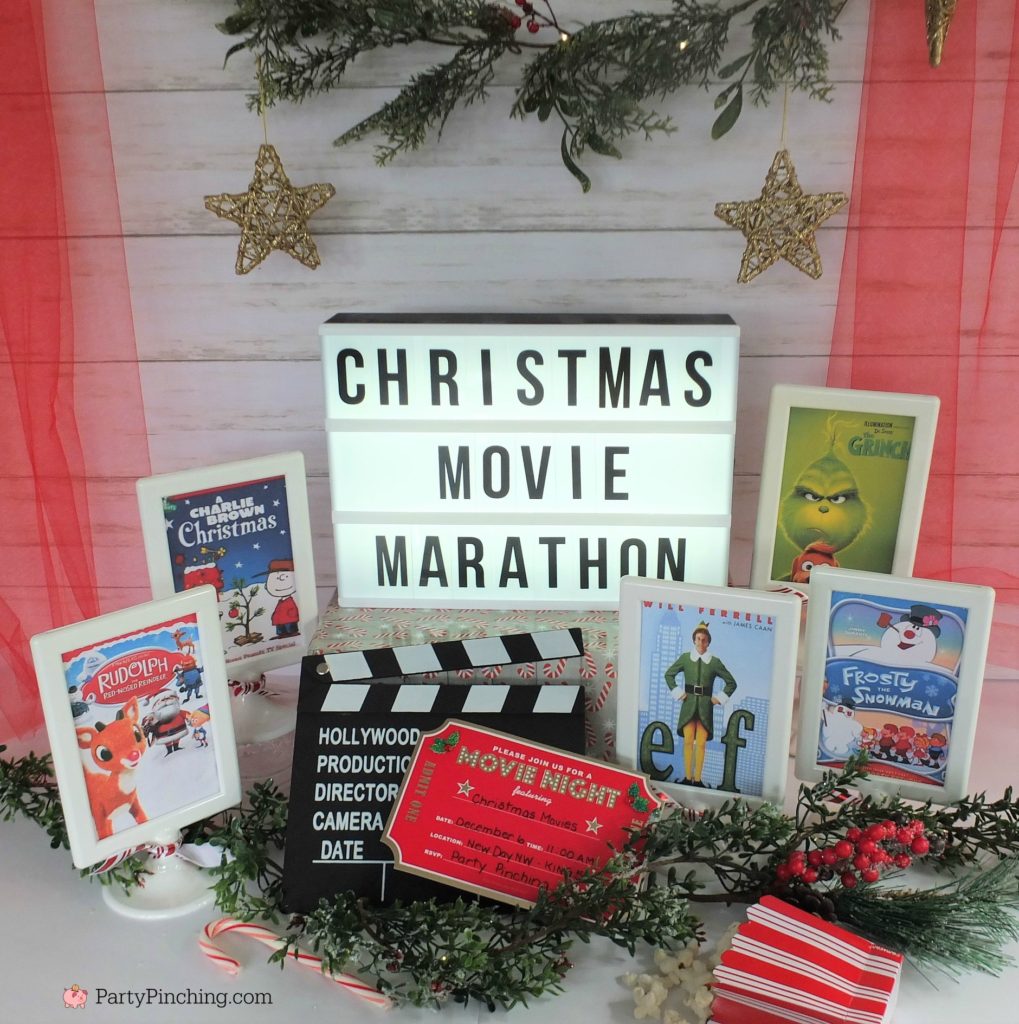 Grinch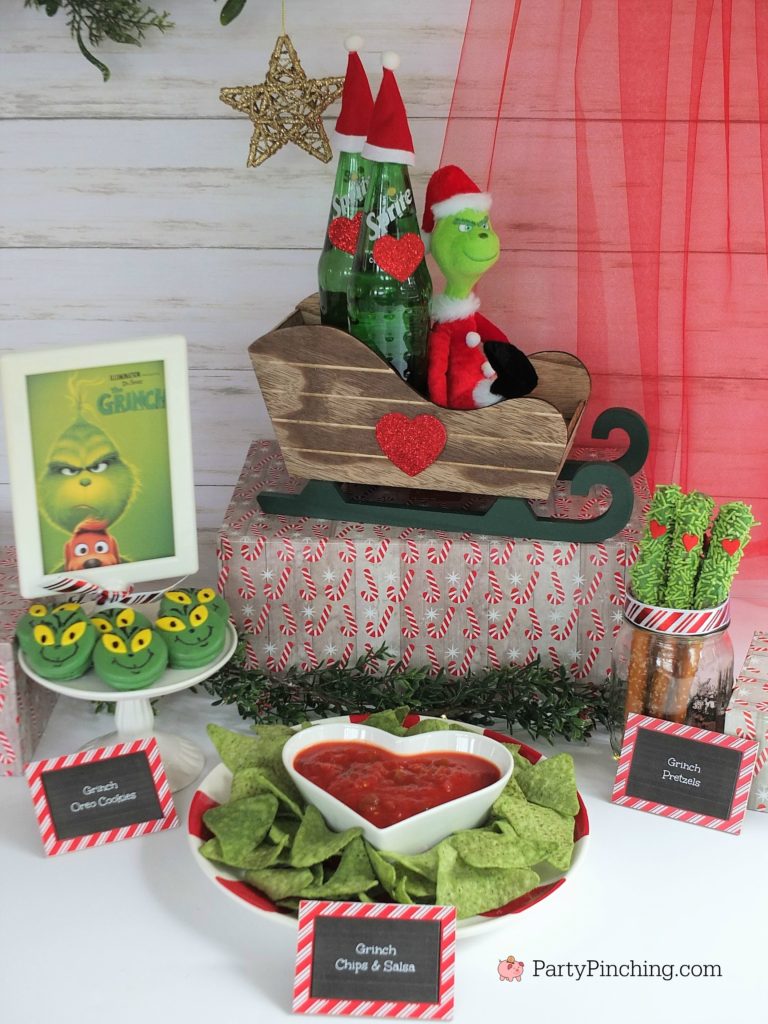 I loved coming up with some fun food to munch on but lets start off with making tiny Santa hats from felt for the soda. Place a cute little heart sticker on the bottles and you have the perfect Grinchy drink!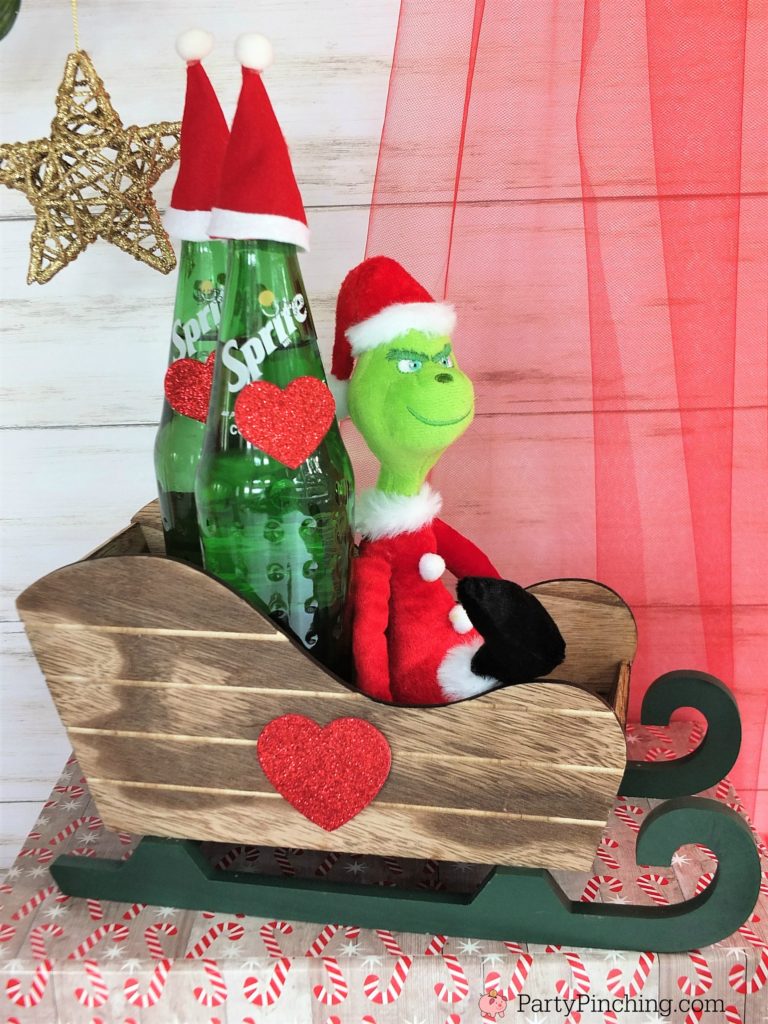 Grinch pretzels! Dip some pretzel rods into melted green candy coating and roll them in green sprinkles. Add a jumbo heart sprinkle!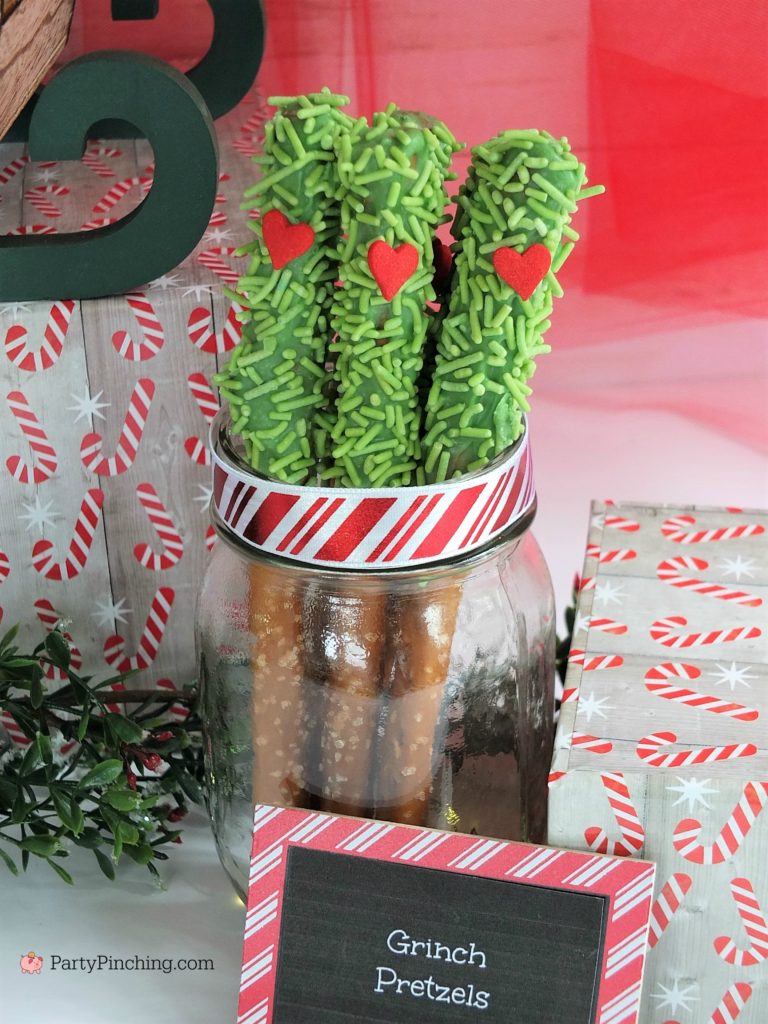 Chips and Salsa is my all time favorite movie snack! I picked up a cute little heart dish at the dollar store, filled it with salsa and paired it with Guacamole Chips. Get the Guacamole Chips here.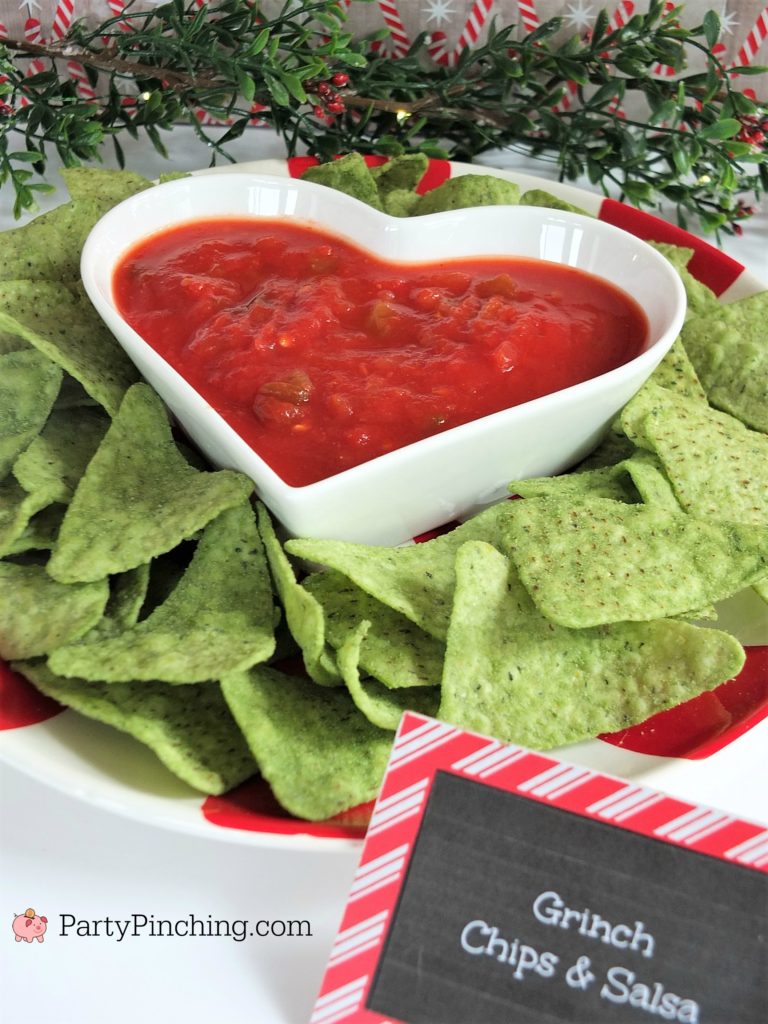 Grinch Oreos are easy to make! Click here for the recipe.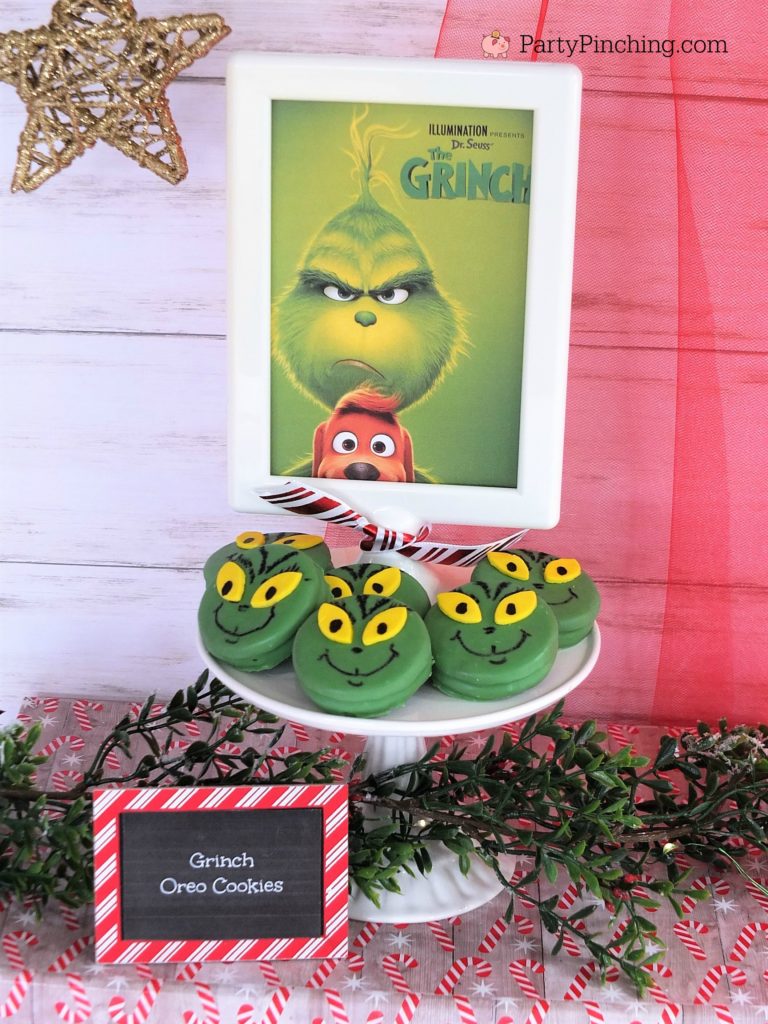 A Charlie Brown Christmas
Probably no secret that A Charlie Brown Christmas is my favorite Christmas movie. I am a Snoopy freak.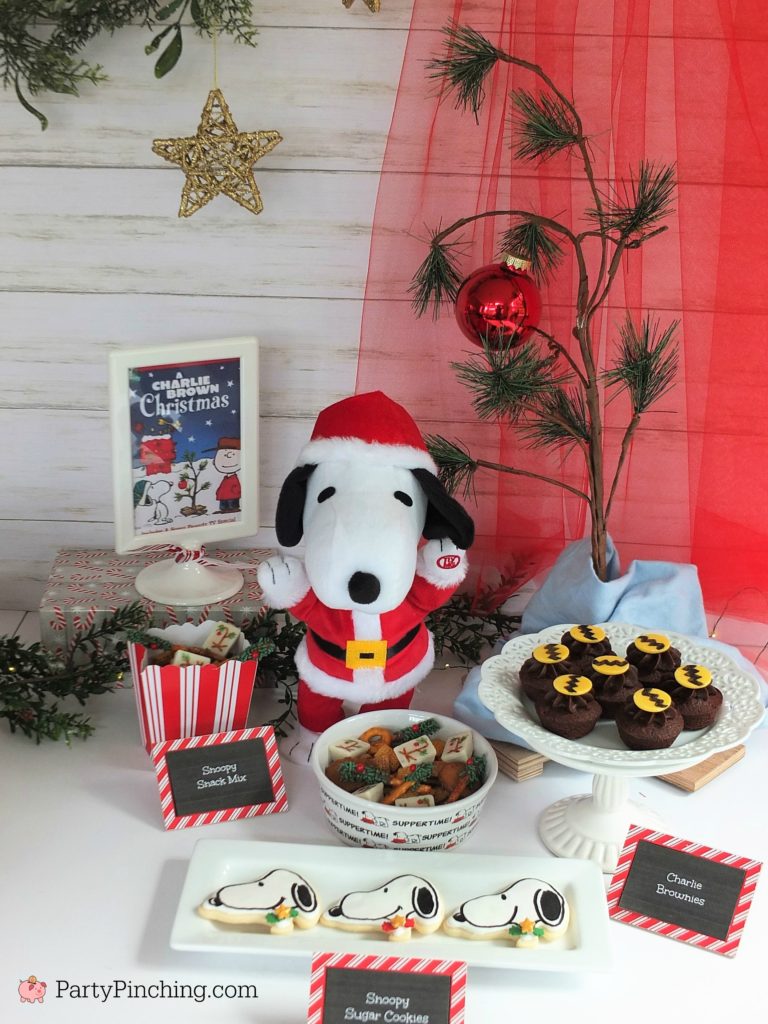 Cute Snoopy Sugar Cookies – get the recipe here.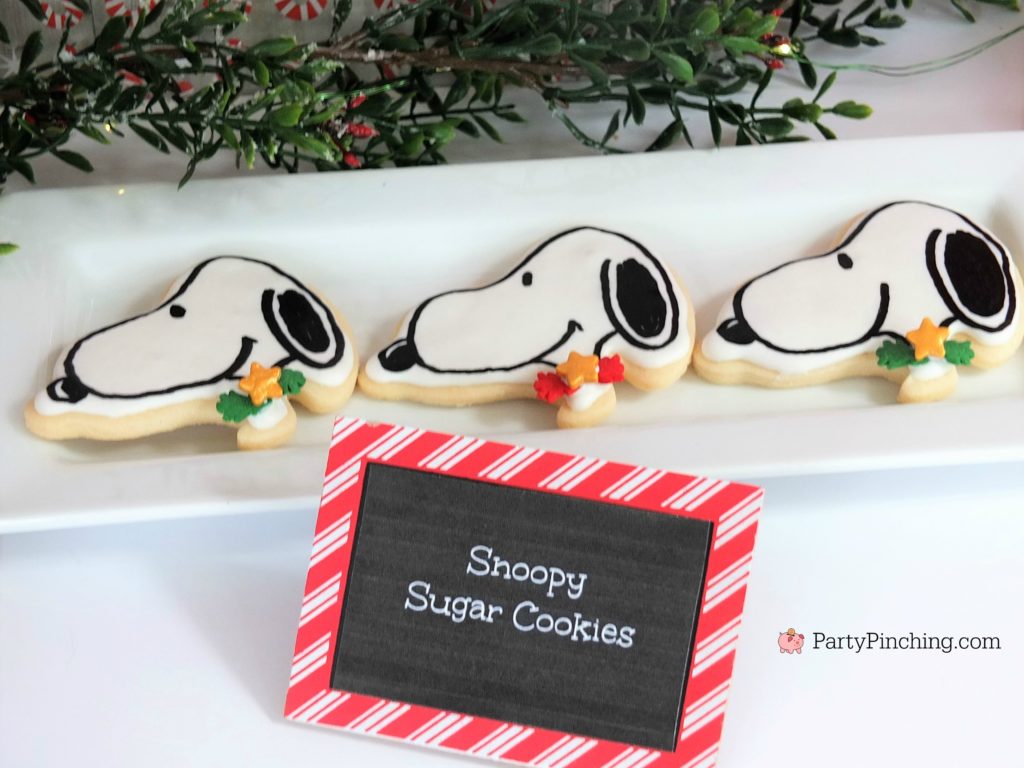 Snoopy Snack Mix is super easy to make. I even added mini white chocolate Kit Kat bars and decorated them to look like Charlie Brown's little tree. Click here for the recipe.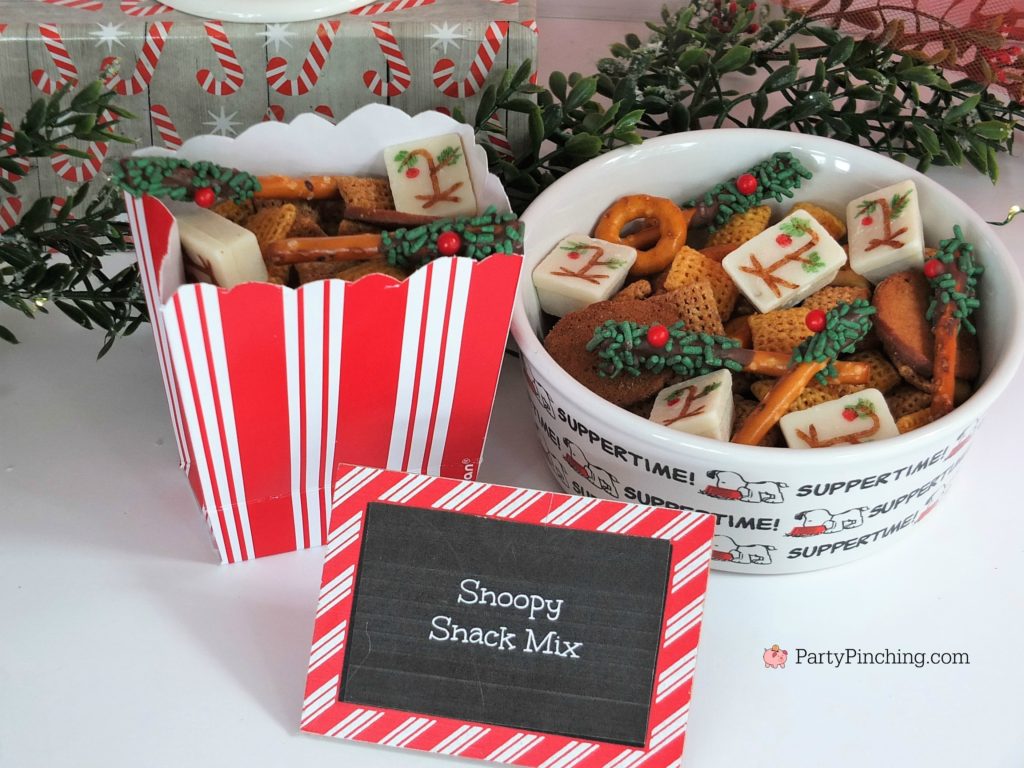 You just can't watch A Charlie Brown Christmas without munching on some Charlie Brownies! I took some store-bought Little Debbie Mini Brownies, added some chocolate frosting. I drew Charlie Brown's zig zag using a black edible food marker on a yellow candy melt.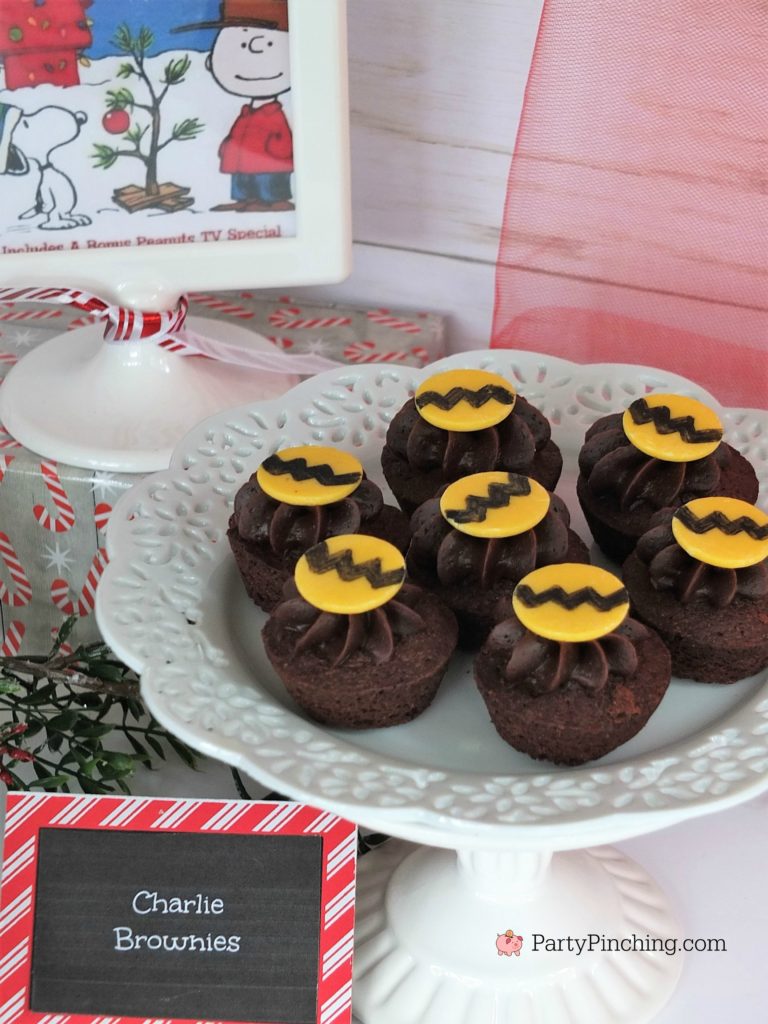 Elf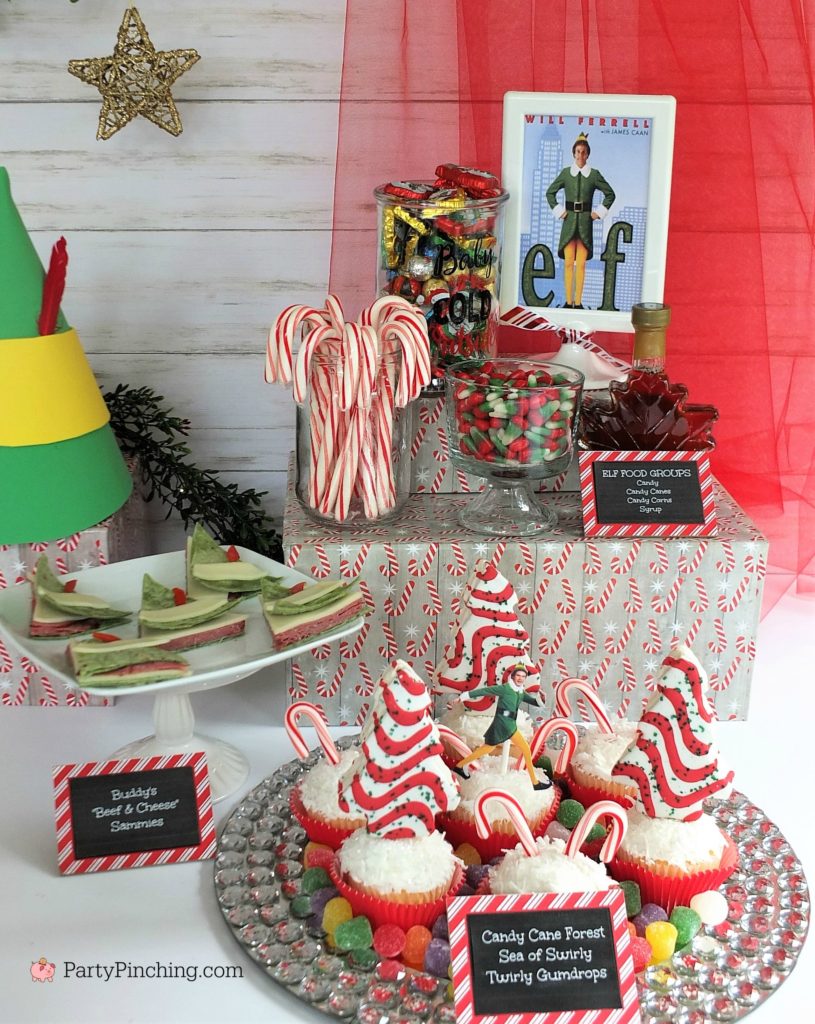 "You smell like beef & cheese!" Buddy's beef & cheese sammies are a great savory snack to have before eating your way through the Elf food groups or the candy cane forest! Get the easy recipe here.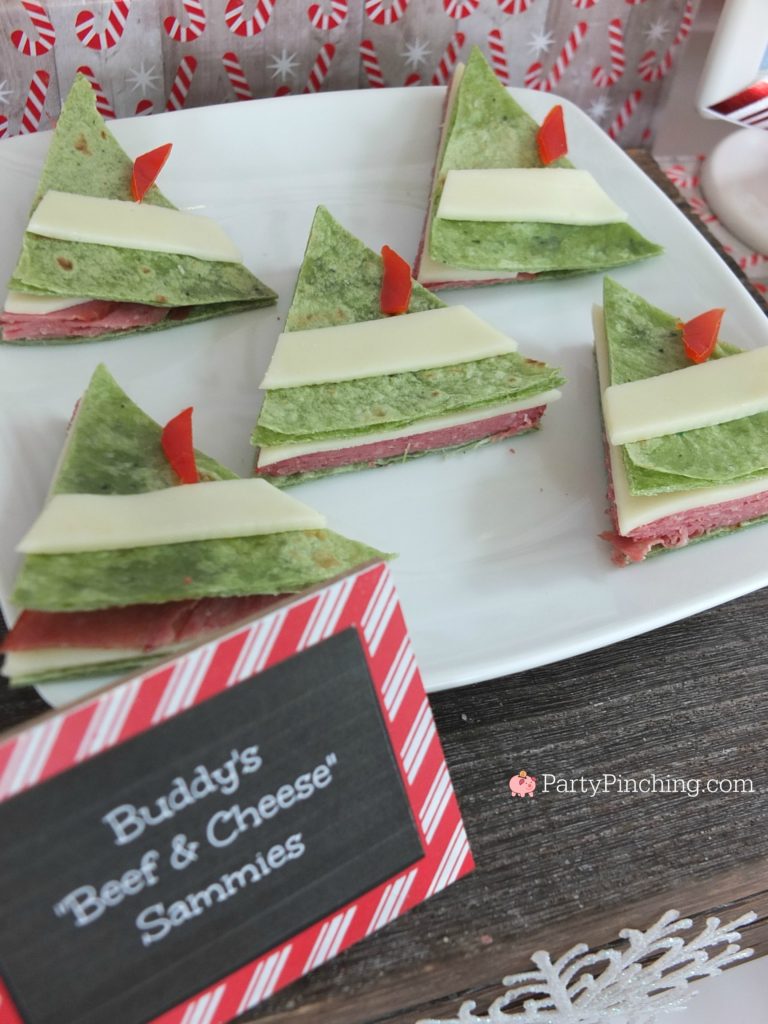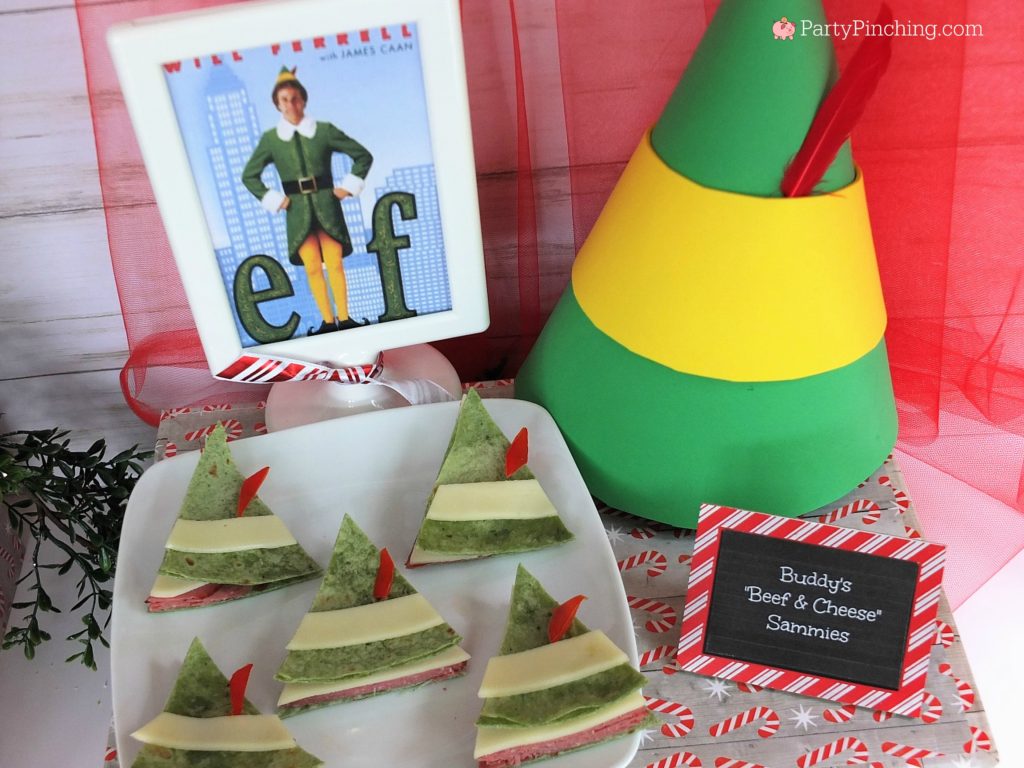 Elf Food Groups:
Candy
Candy Canes
Candy Corns
Syrup.
RM Palmer makes the cutest candies. I love how they are individually wrapped in Santa, Snowman and other fun Christmas foil wrappers. They're so colorful too!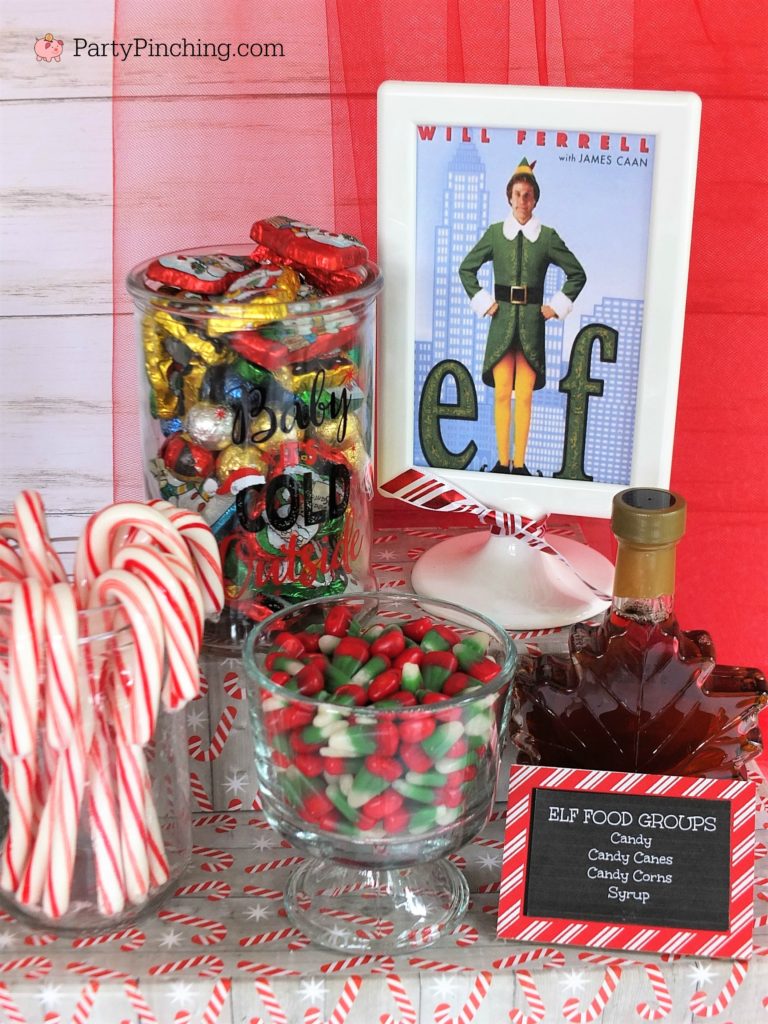 Make your way through the Candy Cane Forest and the Sea of Swirly Twirly Gumdrops.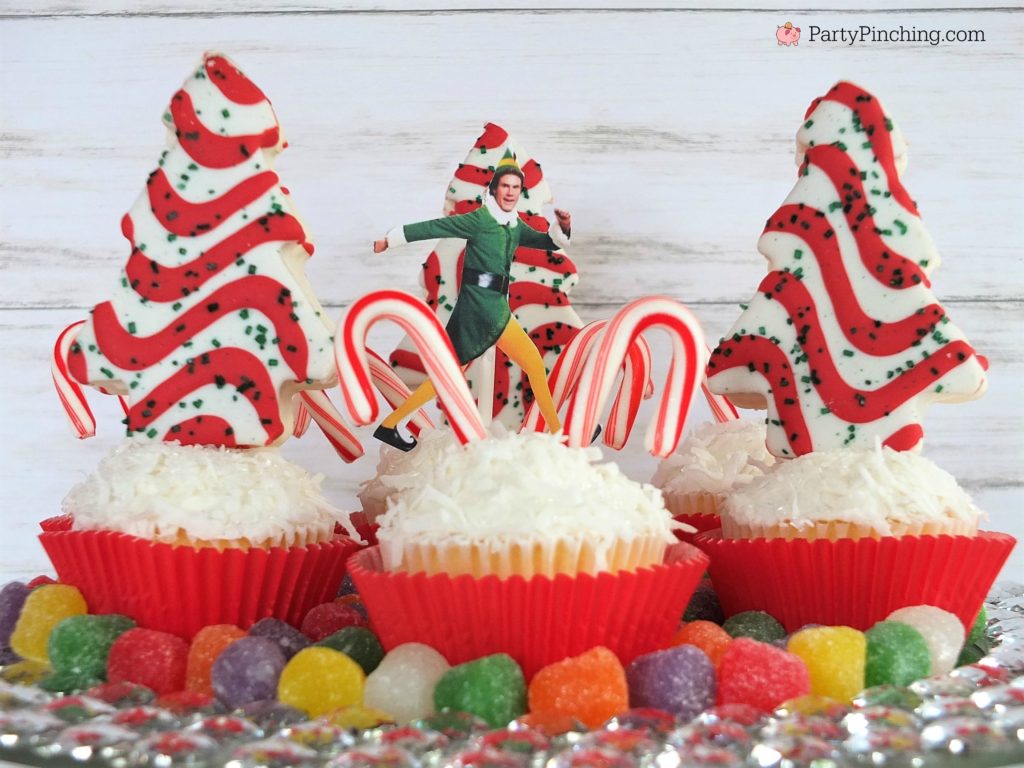 These cupcakes are so fun to decorate. Kids will love helping because they're so simple to make using candy canes and Little Debbie Christmas Tree Cakes. Click here for directions.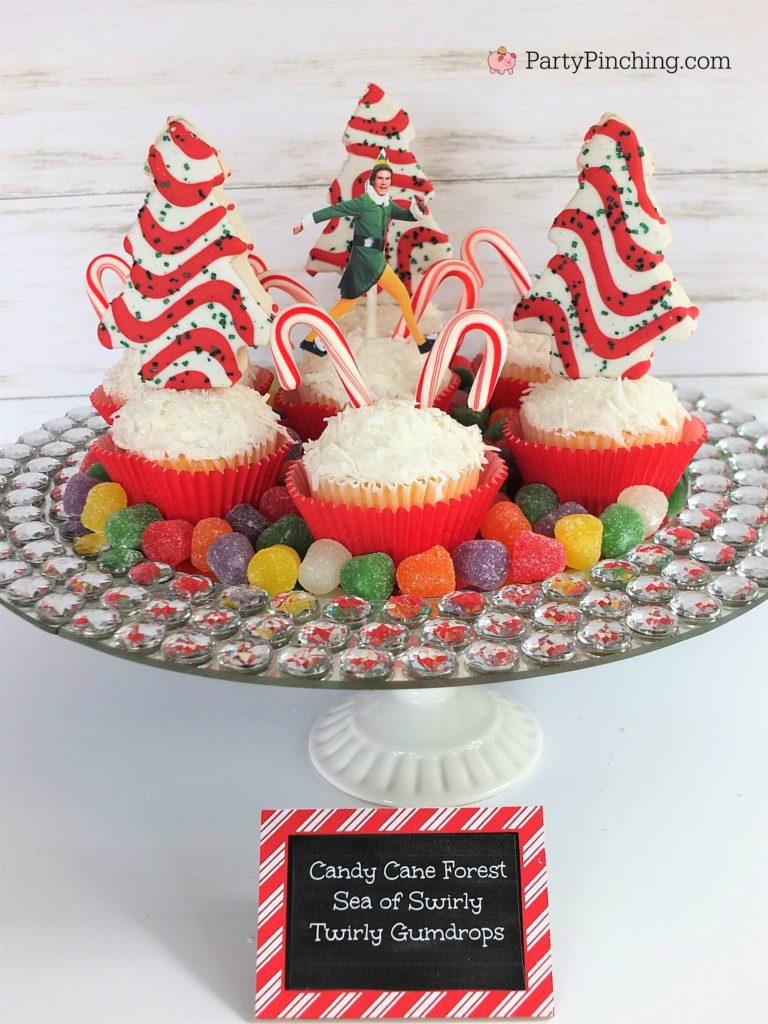 Rudolph the Red-Nosed Reindeer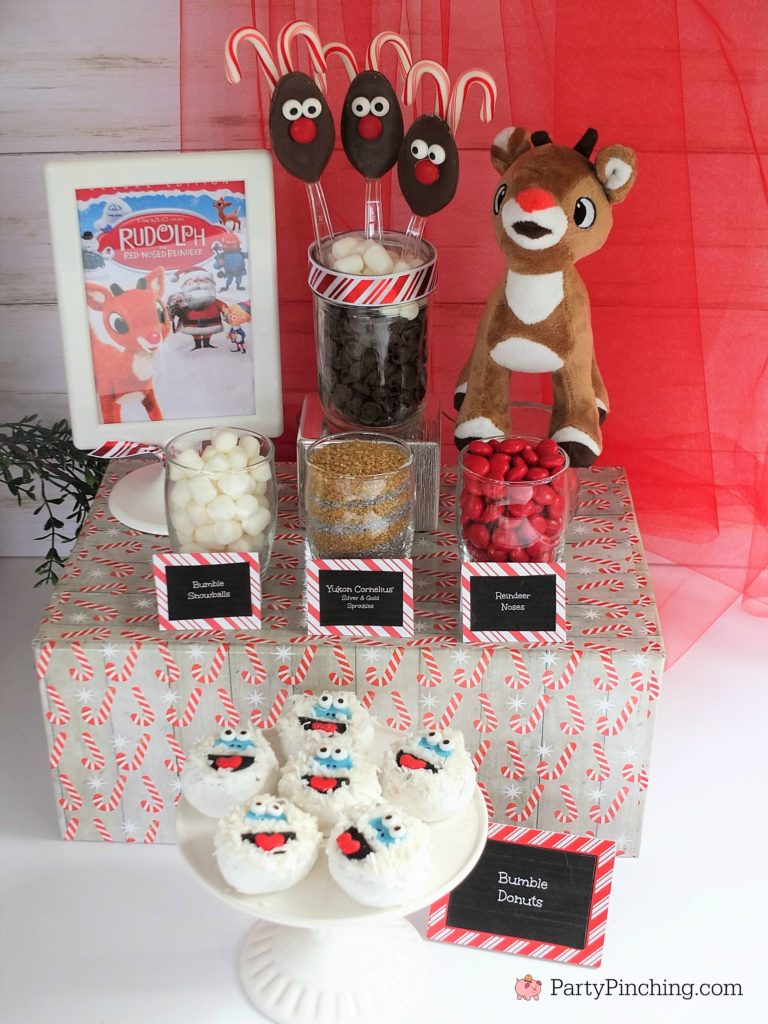 It's Christmas so you MUST HAVE a Hot Cocoa Bar!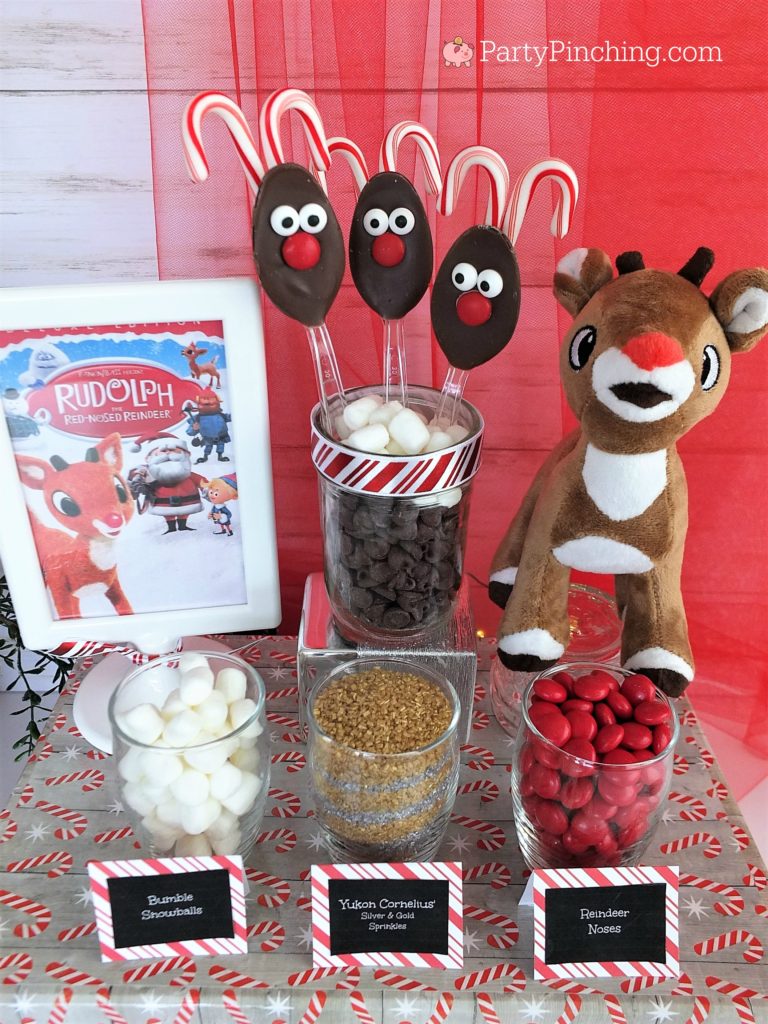 Include Bumble Snowballs (marshmallows), Yukon Cornelius' Silver & Gold Sprinkles (silver & gold sugar sprinkles) and Reindeer noses (red candy coated chocolate)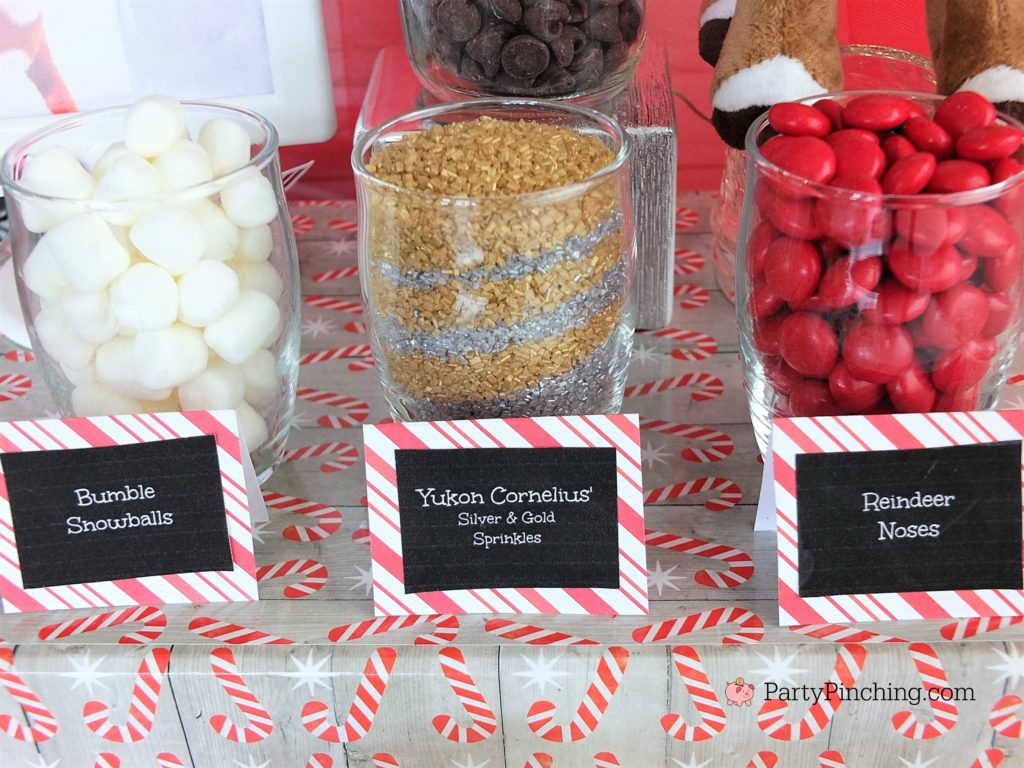 These cute Chocolate Reindeer Spoons are the perfect thing for your hot chocolate! Click here for easy directions.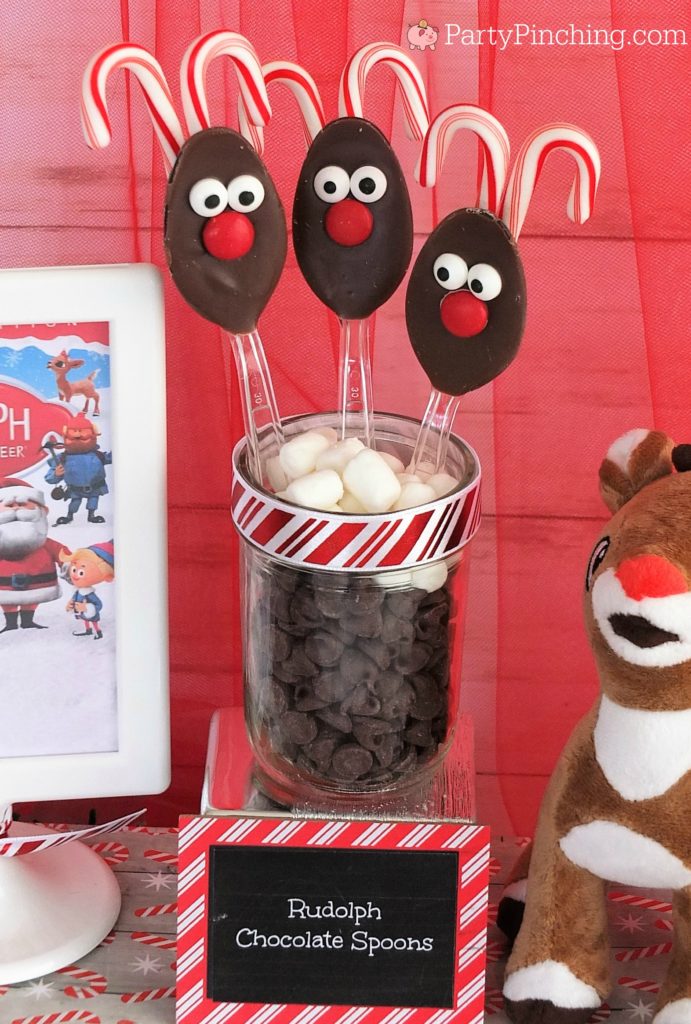 Bumble the Abombinable Snowman Donuts are so fun to make using store-bought Little Debbie powdered sugar donuts! Click here for directions.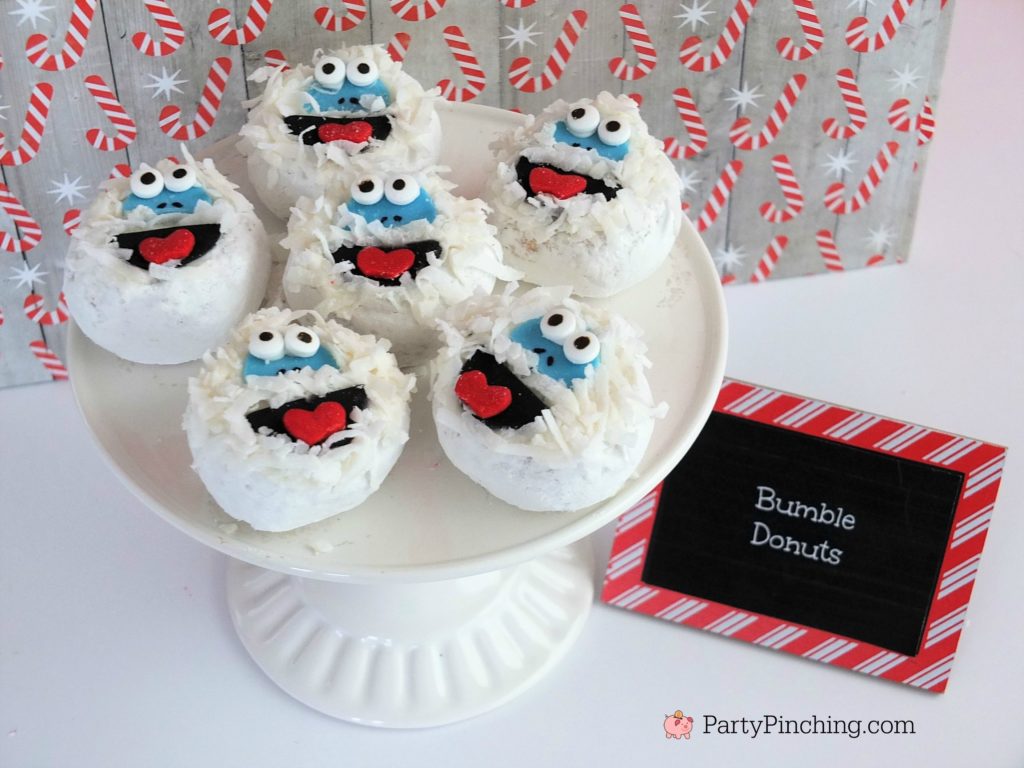 Dunk a Bumble in your hot cocoa! Remember, Bumble's bounce!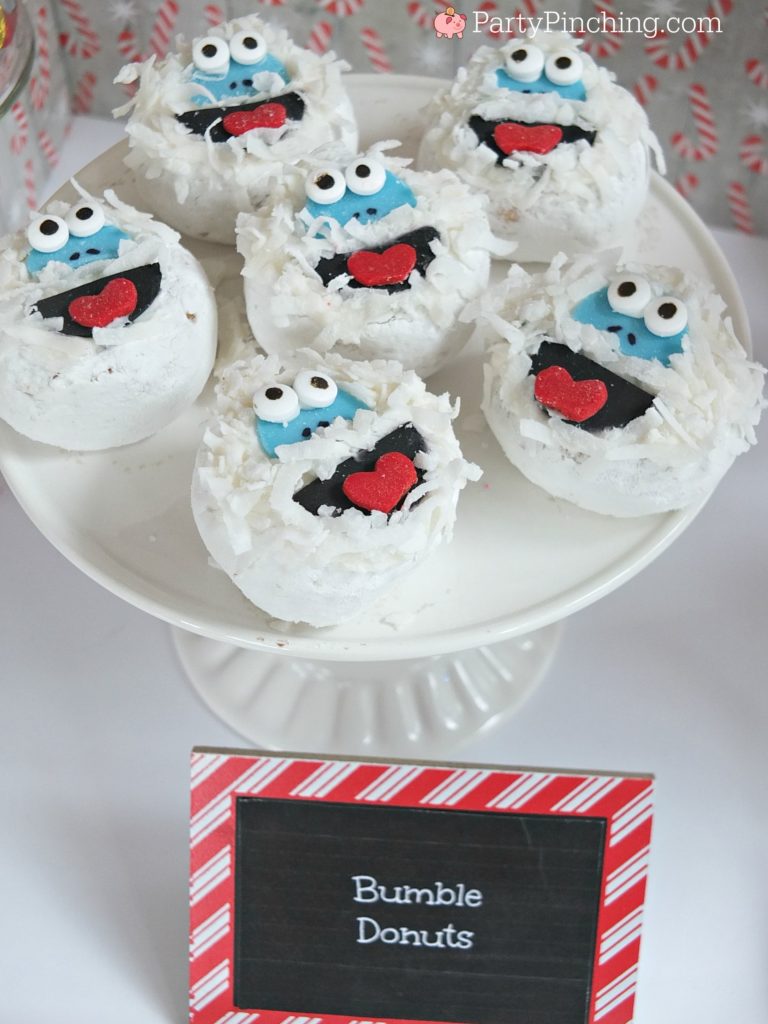 FROSTY THE SNOWMAN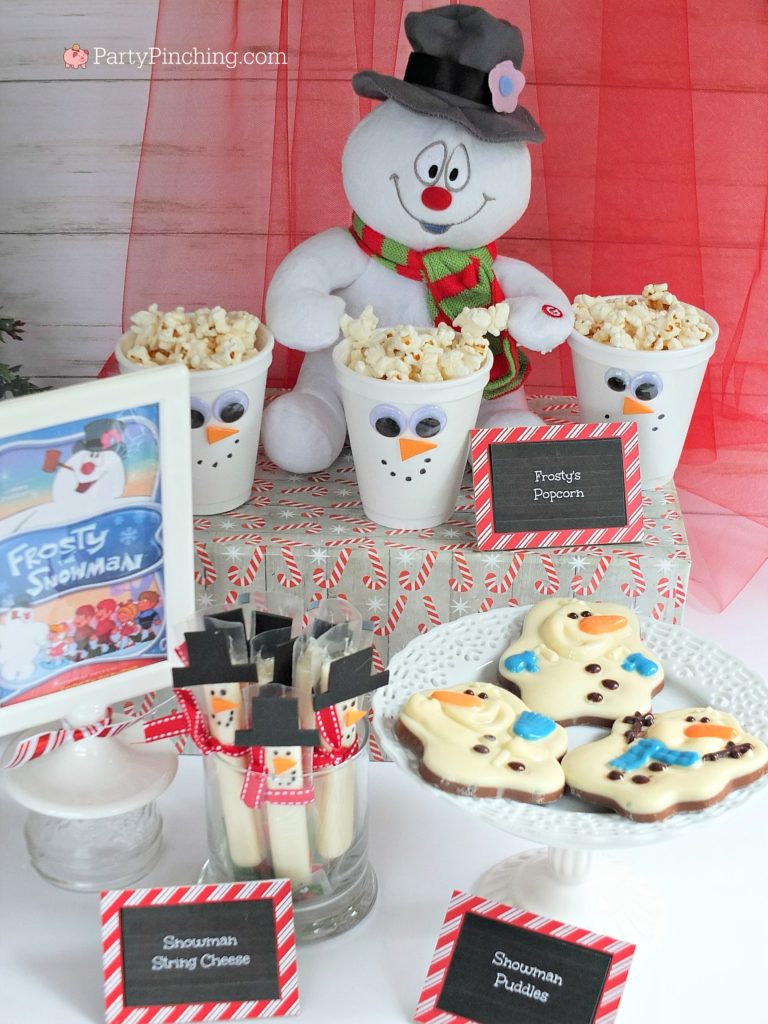 Puddles the Snowman is made by R.M. Palmer and is SNOW ADORABLE! (see what I did there?) Puddles already comes cute so just put him on a plate. He's super scruptious too a perfect melty blend of white and milk chocolate!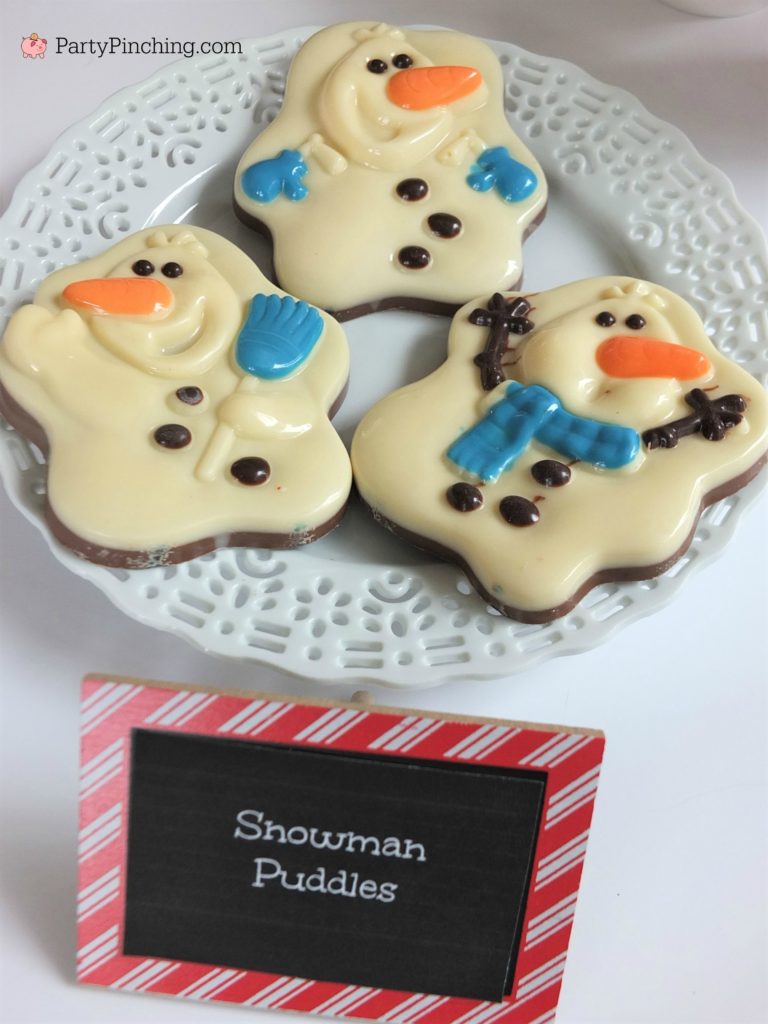 Snowman String Cheese is a yummy snack that's a fun craft too! Just cut a hat from black craft foam or construction paper and a little orange nose from the same. Attach with a glue gun and draw on the eyes and mouth with a black Sharpie.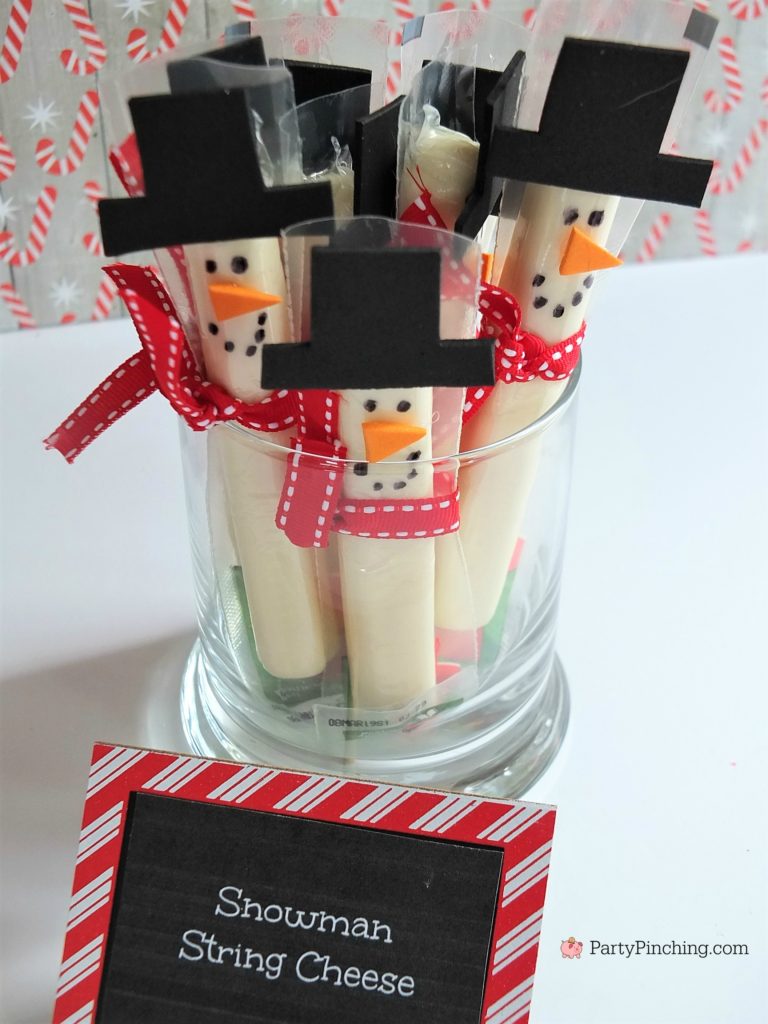 Now you've GOTTA have POPCORN, I mean after all, it's a MOVIE MARATHON! Make some cute Frosty cups by gluing google eyes and a orange nose from construction paper or craft foam. Add a mouth with a black Sharpie and fill with popcorn! Super cute!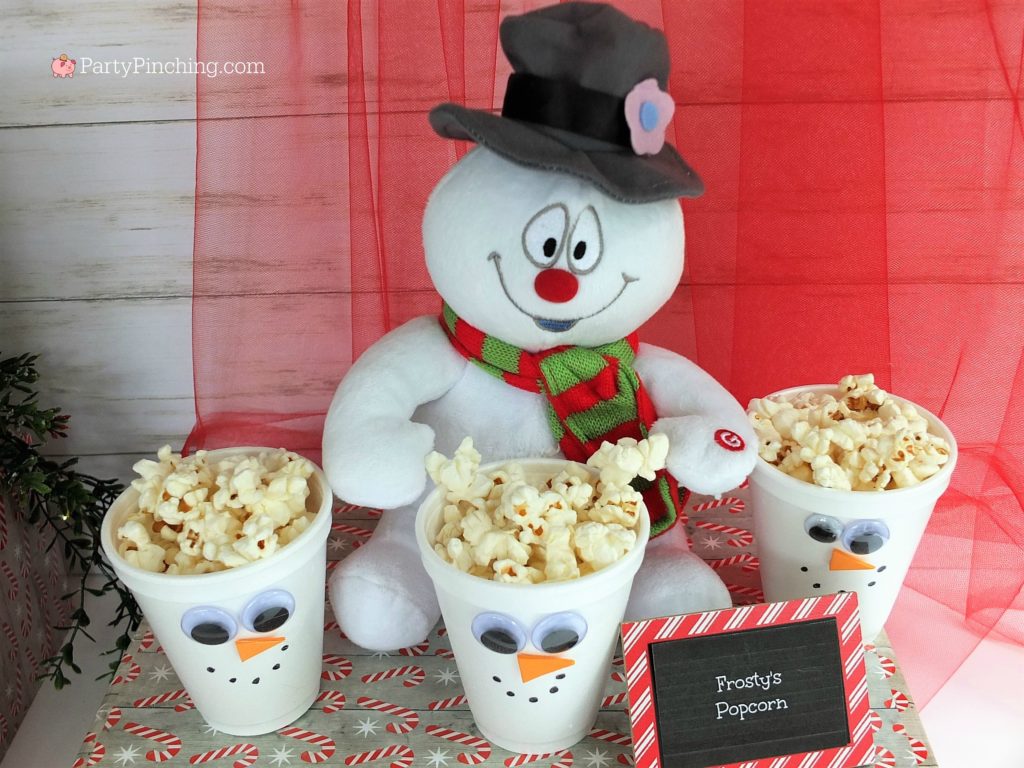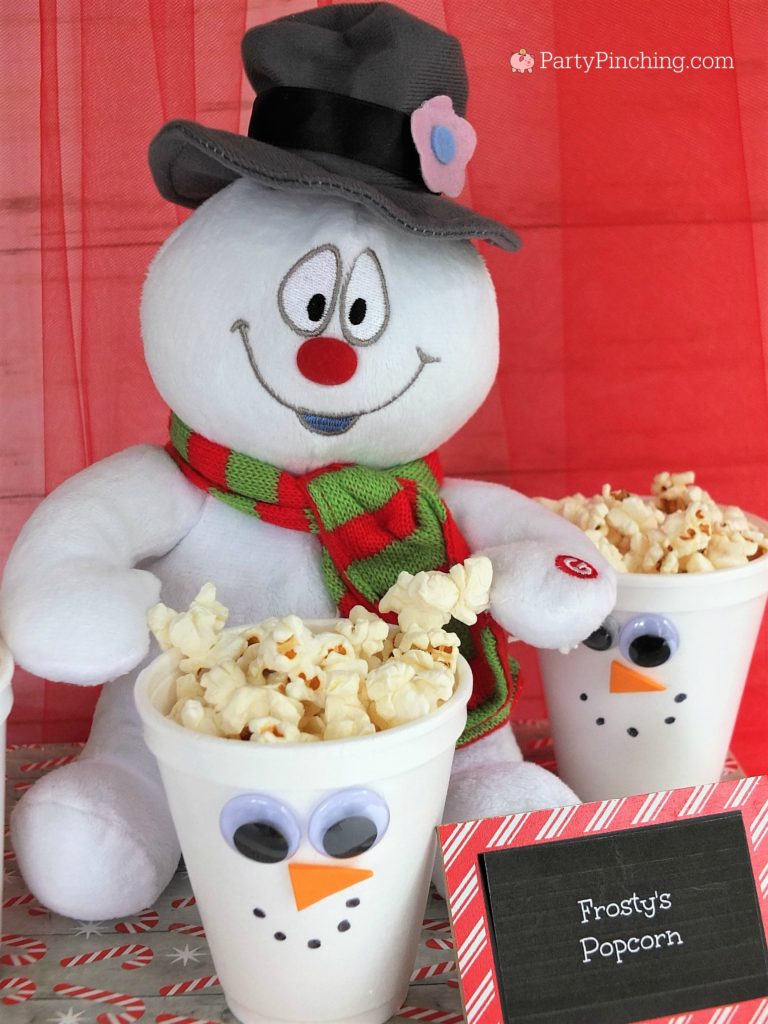 I hope I've inspired you to make some fun snack for your movie night this Christmas! Watch me on Seattle's New Day Northwest for more Movie Marathon ideas on December 6 at 11:00 am (NBC affiliate)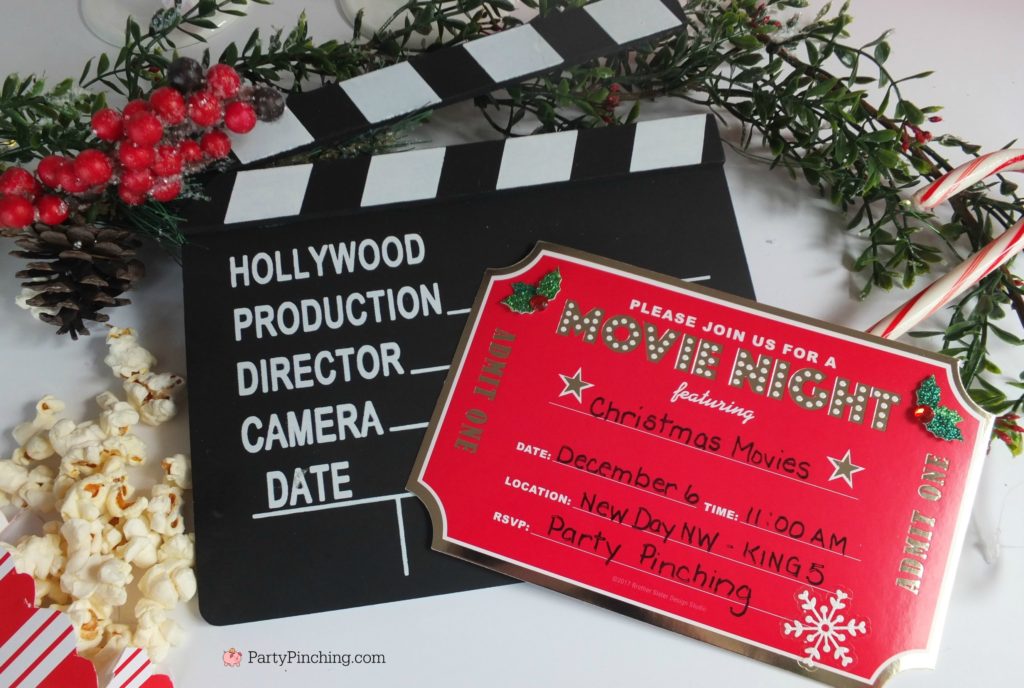 MY AMAZON PICKS (affiliate links)

Click here for more cute Christmas inspiration!