Teenage boys don't want themed parties for their birthday. They just don't. Yeah, no Mom. No. So when my teenage son wanted party themed after his favorite television show, The Big Bang Theory, well, BAZINGA!!!!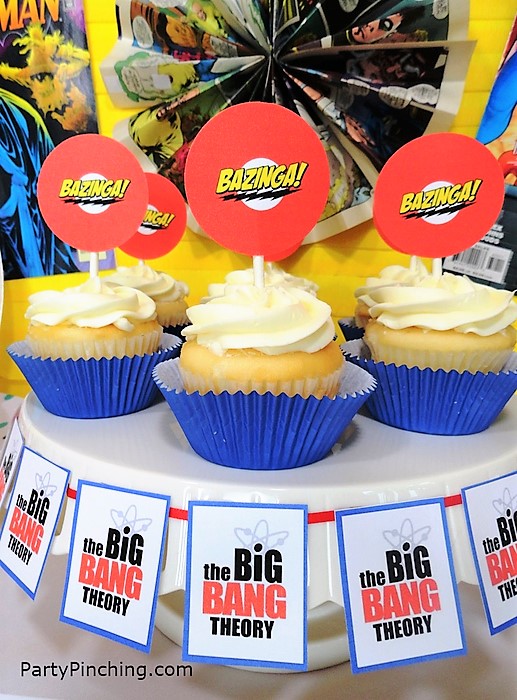 I had fun making the sweet treats for this party. Starting off with my Banana Bazinga cupcakes.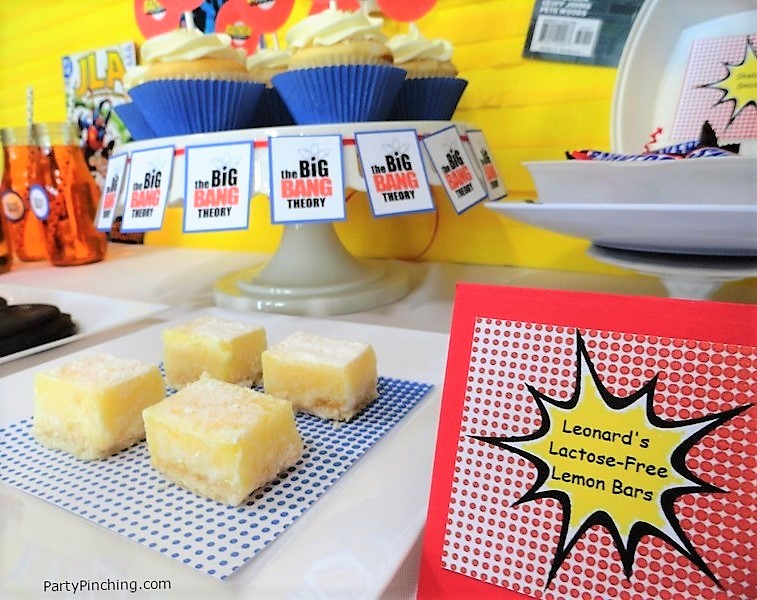 Next I made Leonard's Lactose-Free Lemon Bars. I really wanted to make them cheesecake bars, since Penny works at the Cheesecake Factory, but I couldn't figure out how to make them Lactose-Free.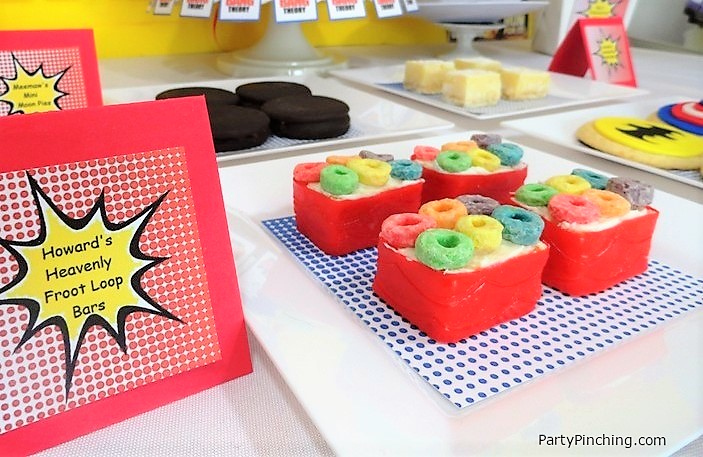 Howard's Heavenly Froot Loop bars were made using the Rice Krispie Treat Recipe and substituting Froot Loops. Then I wrapped them in a fruit roll up.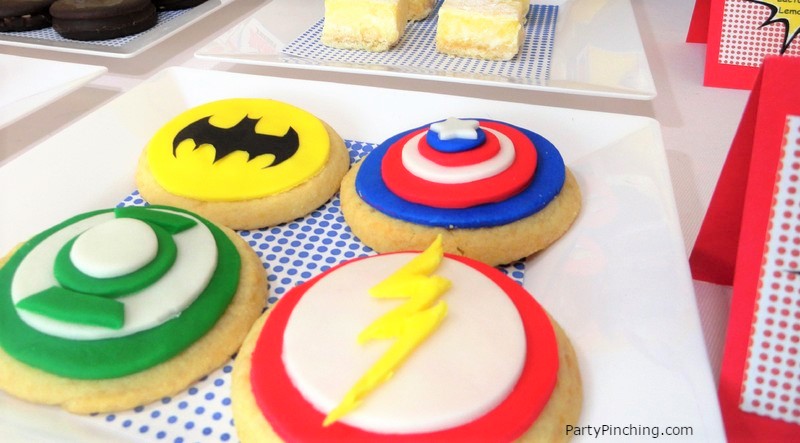 Superhero Sugar Cookies? Oh Yeah….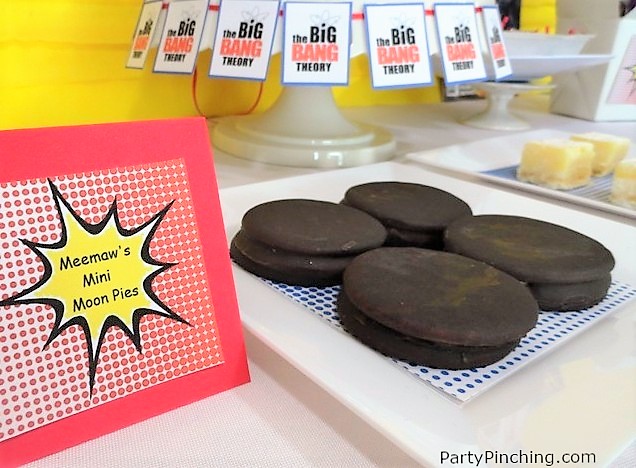 Since Mee Maw's nickname for Sheldon is Moon Pie, the mini Moon Pies were perfect. Yeah, I know, I'm getting to Sheldon…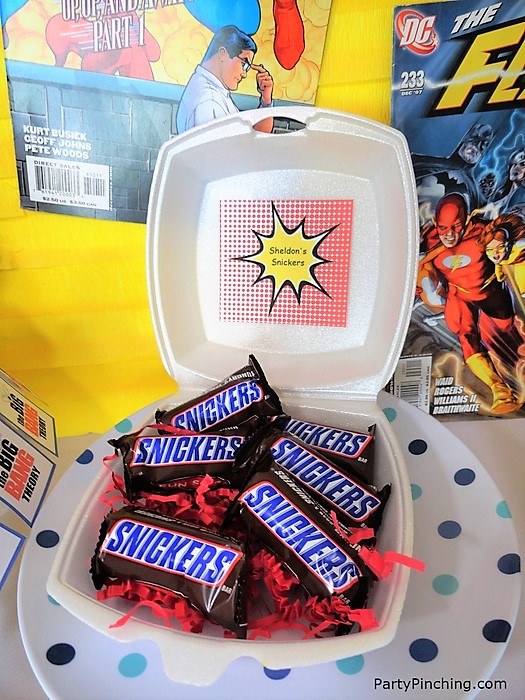 Sheldon's Snickers. I swear every time Sheldon snickers, it just cracks me up. BEST.LAUGH.EVER.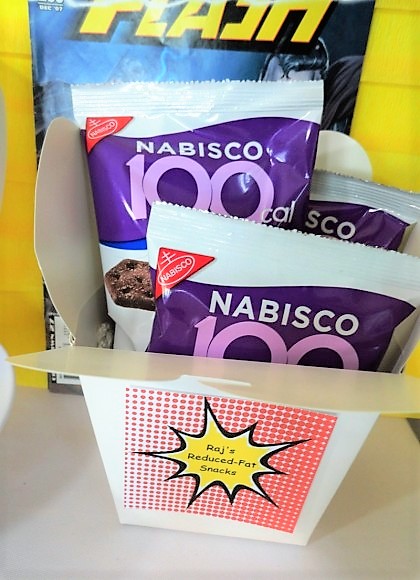 Raj's Reduced-Fat 100 Calorie Snacks.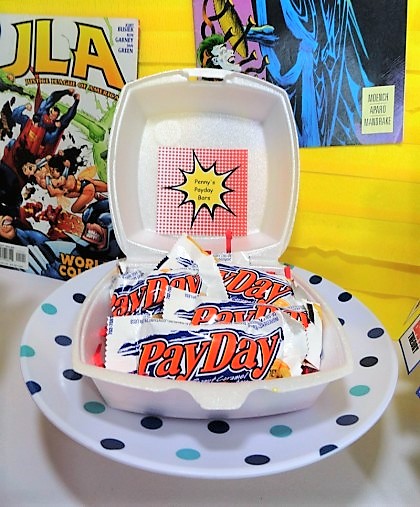 Penny? Knock knock knock. Penny? Knock knock knock.Penny? Knock knock knock. – Penny's PayDay bars. PayDays are my son's all time favorite candy bars, so this worked out great!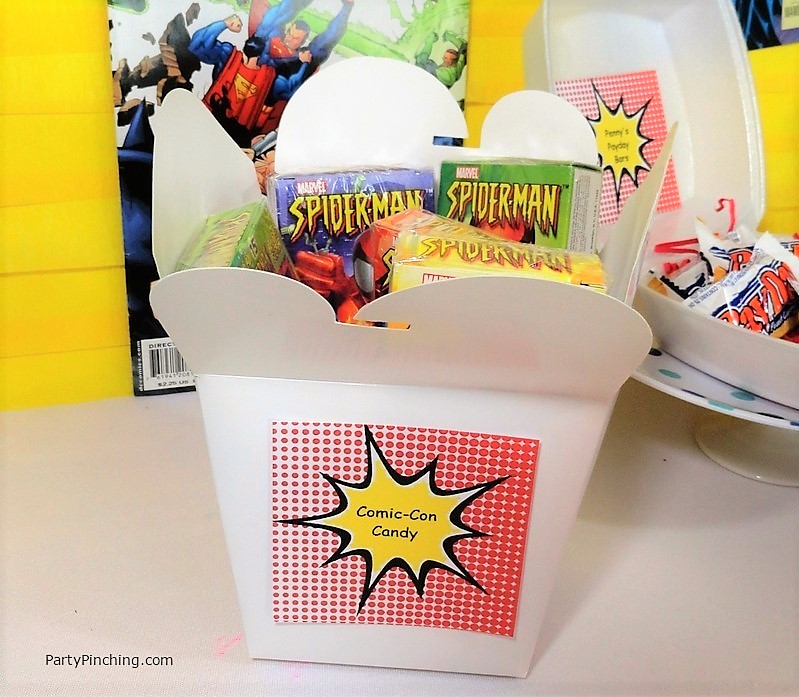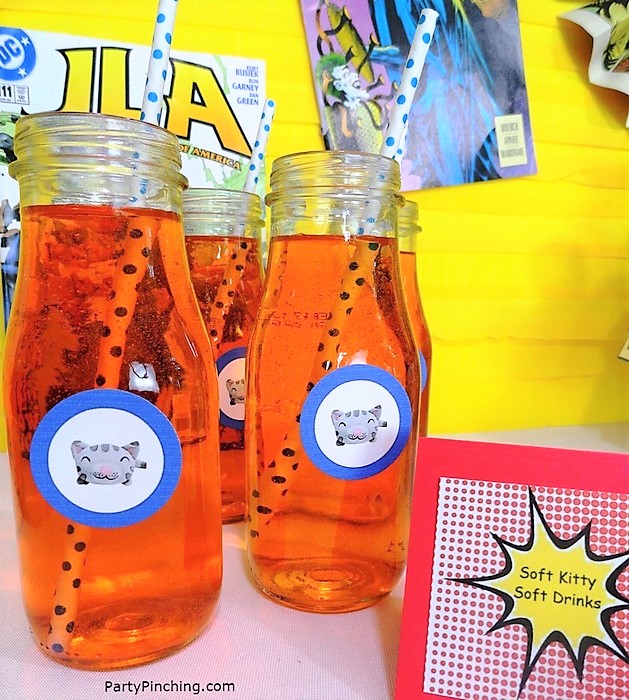 Soft Kitty Soft Drinks. Soft Kitty, warm kitty, little ball of fur…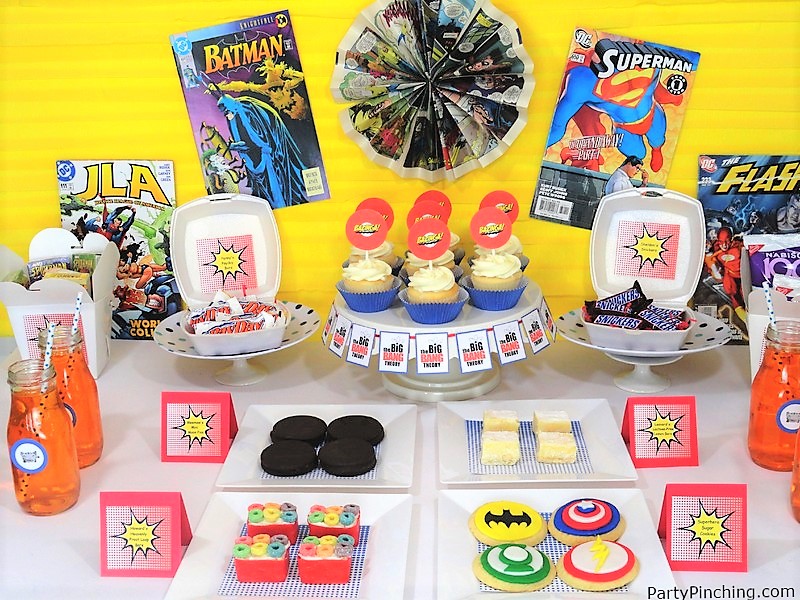 This party was so much fun to create and I did it on a dime too. I used old comic books as decor, and even made a cool fan out of comic book pages. Takeout food containers were used to hold the candy (since all of the characters eat so much takeout) and the backdrop was made from paper streamers. I also made all of the printables myself, so it was such a budget-friendly party!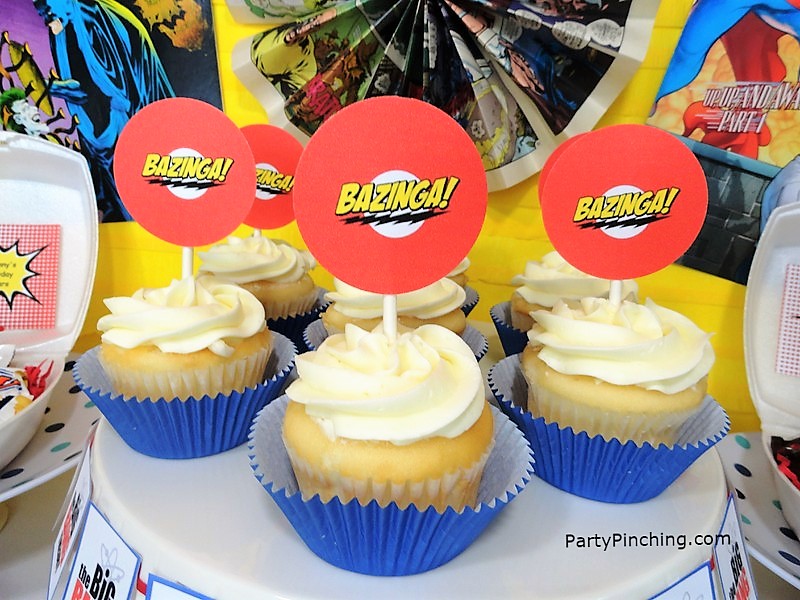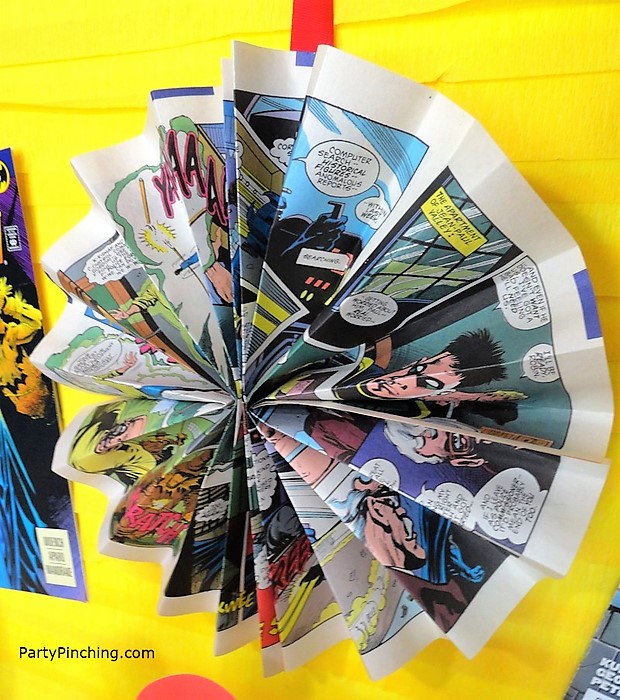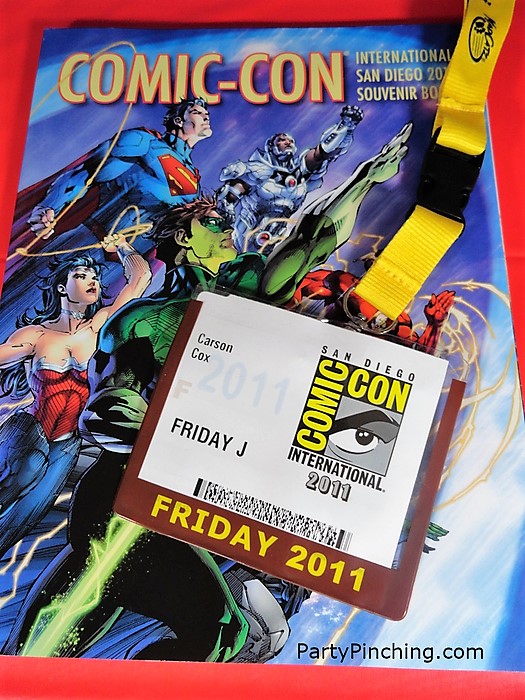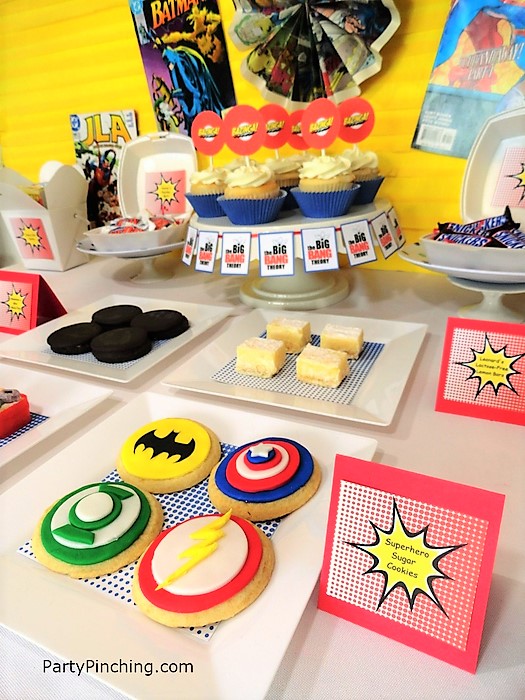 My son had a BLAST at his Big Bang Theory Birthday Party!