This Strawberries and Cream Cake is THE BEST cake for any celebration! My family's favorite for birthdays, brunches or anytime. EVERYONE will ask you for this recipe when they taste it!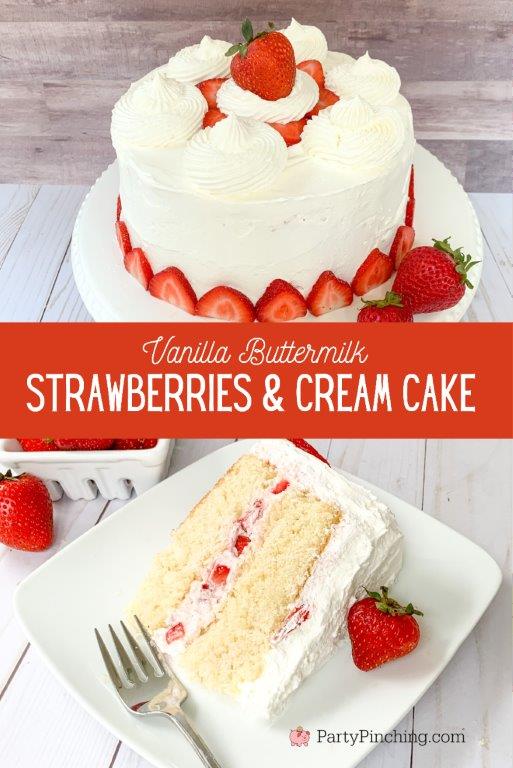 The cake is a yummy and decadent buttermilk vanilla with a fresh light strawberry filling and a whipped cream frosting! It's just the PERFECT CAKE!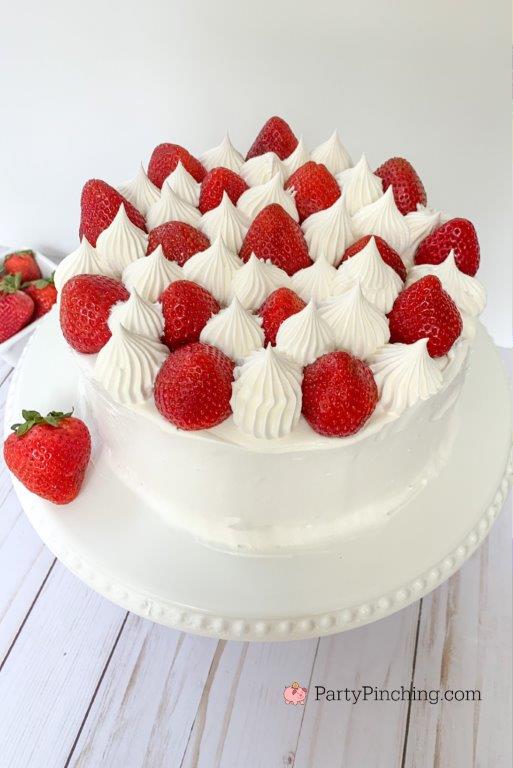 For the cake:
2 ½ c flour
2 ¼ tsp baking powder
¾ cup room temperature butter
1 2/3 cup granulated sugar
3 room temperature eggs
1 Tablespoon vanilla extract
1 cup room temperature buttermilk
For the frosting/filling
¾ cup cold water
1 envelope unflavored gelatin
½ cup granulated sugar
½ cup strawberry freezer jam (if you can't find freezer jam, use ½ cup frozen sliced strawberries in sugar syrup, undrained and thawed)
1 (8 oz. tub) Cool Whip
Another 8 oz. tub Cool Whip
3 Tablespoons chopped fresh strawberries, dried with a paper towel
Fresh strawberries for decorating
Sift and whisk together flour and baking powder in a medium bowl. Set aside.
Using the whisk attachment on a stand mixer, cream together butter and sugar for 3 minutes, scraping the side and bottom of the bowl with a spatula after a minute and a half.
Then add the eggs, 1 at a time.
Next, add vanilla and scrape down the mixture.
Turn mixer on low and add 1/3 flour then 1/3 buttermilk. Alternate flour and buttermilk until almost combined and then fold with spatula. Do not overmix!
Divide batter into two 8" round pans.
Bake in preheated oven at 350 degrees for 30 minutes
To make the filling/frosting:
In a saucepan, combine gelatin and cold water. Let stand 5 minutes to soften.
Heat and stir over low heat until gelatin dissolves. Remove from heat and add sugar. Stir until completely dissolved.
Stir in jam (or undrained thawed frozen strawberries) and chill in refrigerator until partially thickened (about 20 minutes).
Fold in the chopped fresh strawberries and one tub of Cool Whip.
On the completely cooled cake, place the strawberry filling in between the layers and then frost the rest of the cake with the strawberry cream filling/frosting.
Place in refrigerator for 4-5 hours until the frosting is firm.
Remove cake from refrigerator and frost with the other tub of plain Cool Whip and decorate with fresh strawberries.
Refrigerate leftover cake (if there is any!)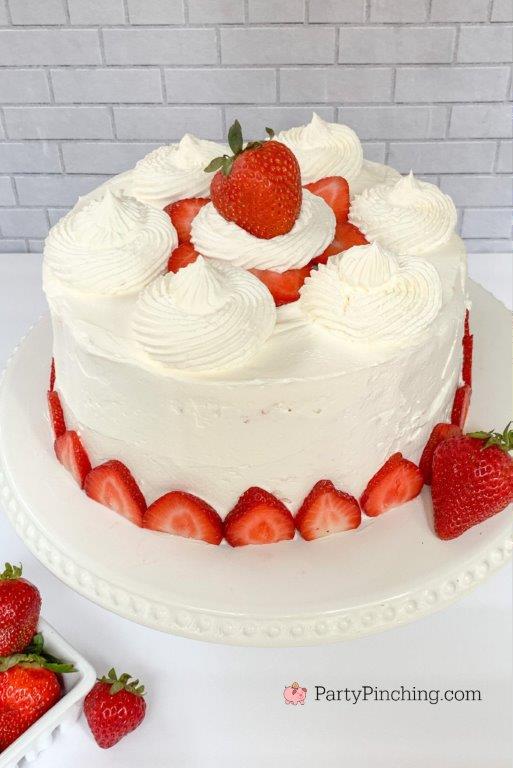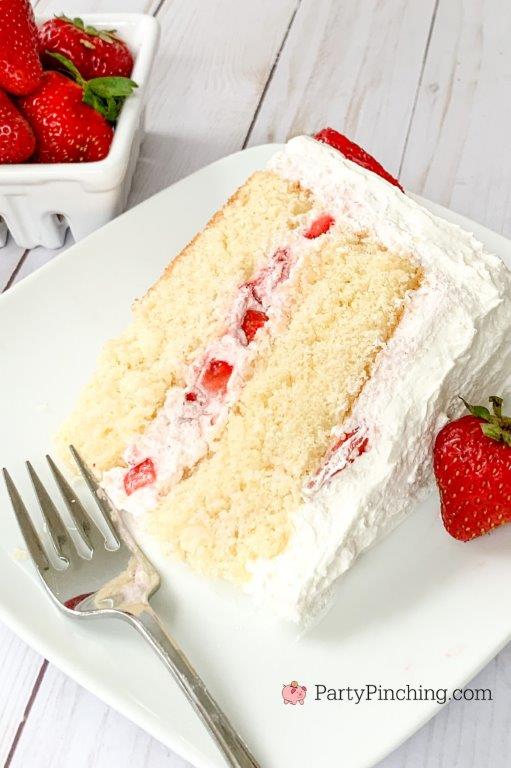 Strawberries and Cream Cake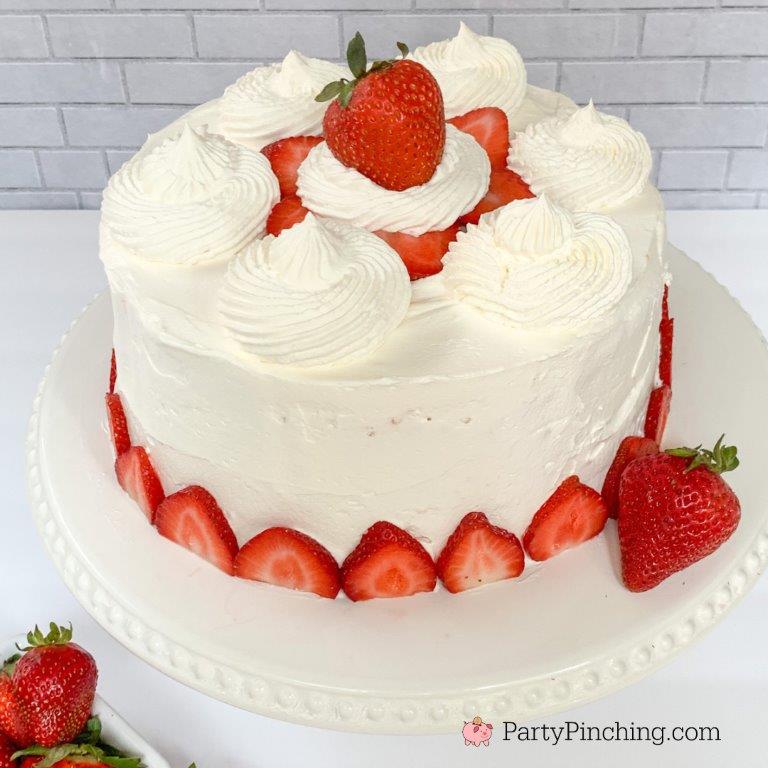 The Best Strawberries and Cream cake you will ever make! Everyone will be asking for this recipe!
Ingredients
For the cake:
2 ½ c flour
2 ¼ tsp baking powder
¾ cup room temperature butter
1 2/3 cup granulated sugar
3 room temperature eggs
1 Tablespoon vanilla extract
1 cup room temperature buttermilk
For the frosting/filling
¾ cup cold water
1 envelope unflavored gelatin
½ cup granulated sugar
½ cup strawberry freezer jam (if you can't find freezer jam, use ½ cup frozen sliced strawberries in sugar syrup, undrained and thawed)
1 (8 oz. tub) Cool Whip
Another 8 oz. tub Cool Whip
3 Tablespoons chopped fresh strawberries, dried with a paper towel
Fresh strawberries for decorating
Instructions
Sift and whisk together flour and baking powder in a medium
bowl. Set aside.
Using the whisk attachment on a stand mixer, cream together
butter and sugar for 3 minutes, scraping the side and bottom of the bowl with a
spatula after a minute and a half.
Then add the eggs, 1 at a time.
Next, add vanilla and scrape down the mixture.
Turn mixer on low and add 1/3 flour then 1/3
buttermilk. Alternate flour and
buttermilk until almost combined and then fold with spatula. Do not overmix!
Divide batter into two 8" round pans.
Bake in preheated oven at 350 degrees for 30 minutes
To make the filling/frosting:
In a saucepan, combine gelatin and cold water. Let stand 5 minutes to soften.
Heat and stir over low heat until gelatin dissolves. Remove from heat and add sugar. Stir until
completely dissolved.
Stir in jam (or undrained thawed frozen strawberries) and
chill in refrigerator until partially thickened (about 20 minutes).
Fold in the chopped fresh strawberries and one tub of Cool
Whip.
On the completely cooled cake, place the strawberry filling
in between the layers and then frost the rest of the cake with the strawberry
cream filling/frosting.
Place in refrigerator for 4-5 hours until the frosting is
firm.
Remove cake from refrigerator and frost with the other tub
of plain Cool Whip and decorate with fresh strawberries.
Refrigerate leftovers (if there is any!)