I took Spring cleaning to a whole new level and just decided to do a home office makeover. Tiffany blue, gold an white were my color choices since I wanted to freshen up our loft and turn it back into an organized, office/craft room without spending a lot of money.
I'll post links to products at the end of the post.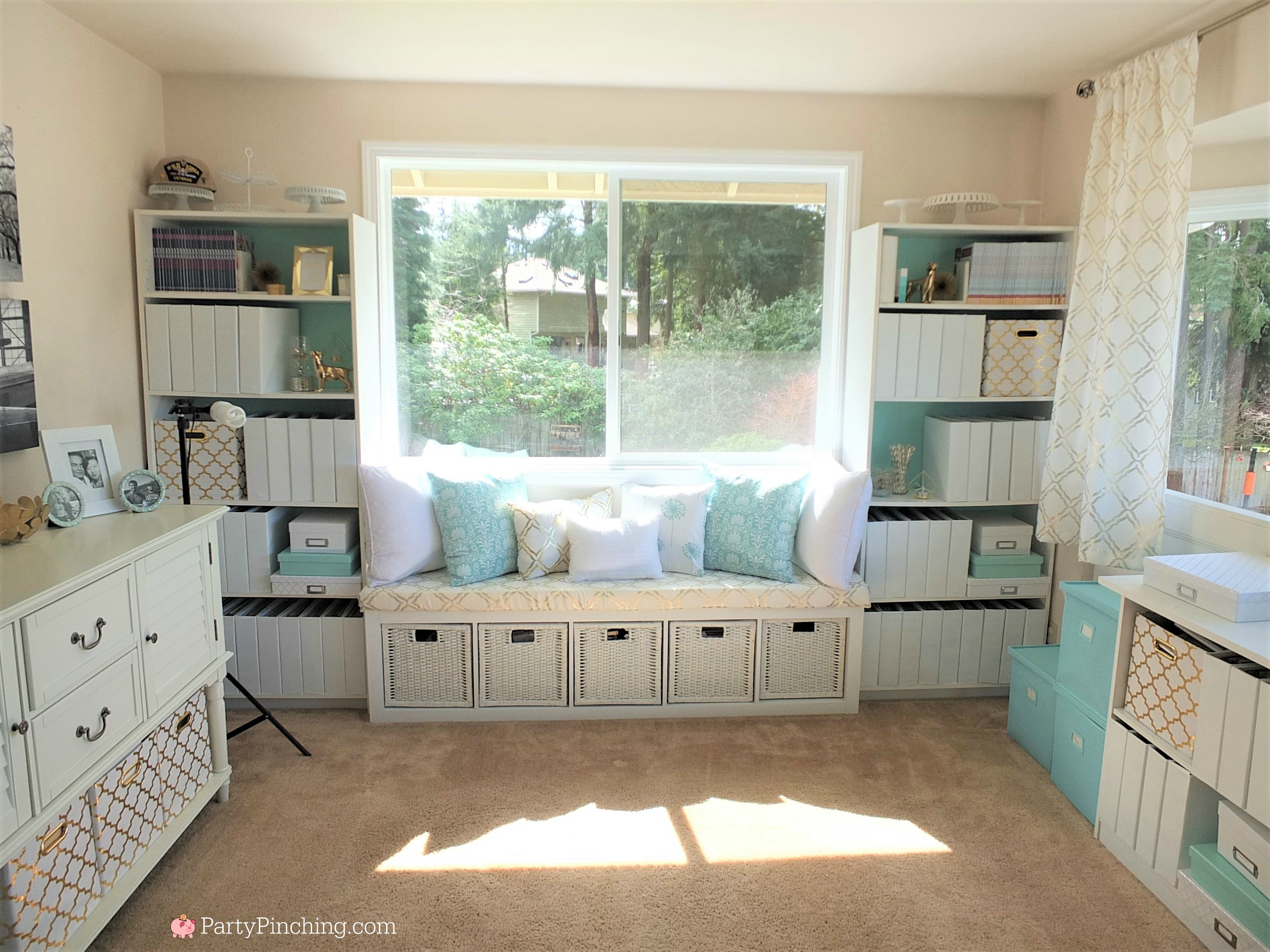 We all used this room for various projects. I used it for an office, scrapbooking and for taking photos for my blog. My son used it to create all of his art projects and sometimes my husband used it as an office. It became one of those dreaded catch-all rooms and over the years it turned into a nightmarish mess.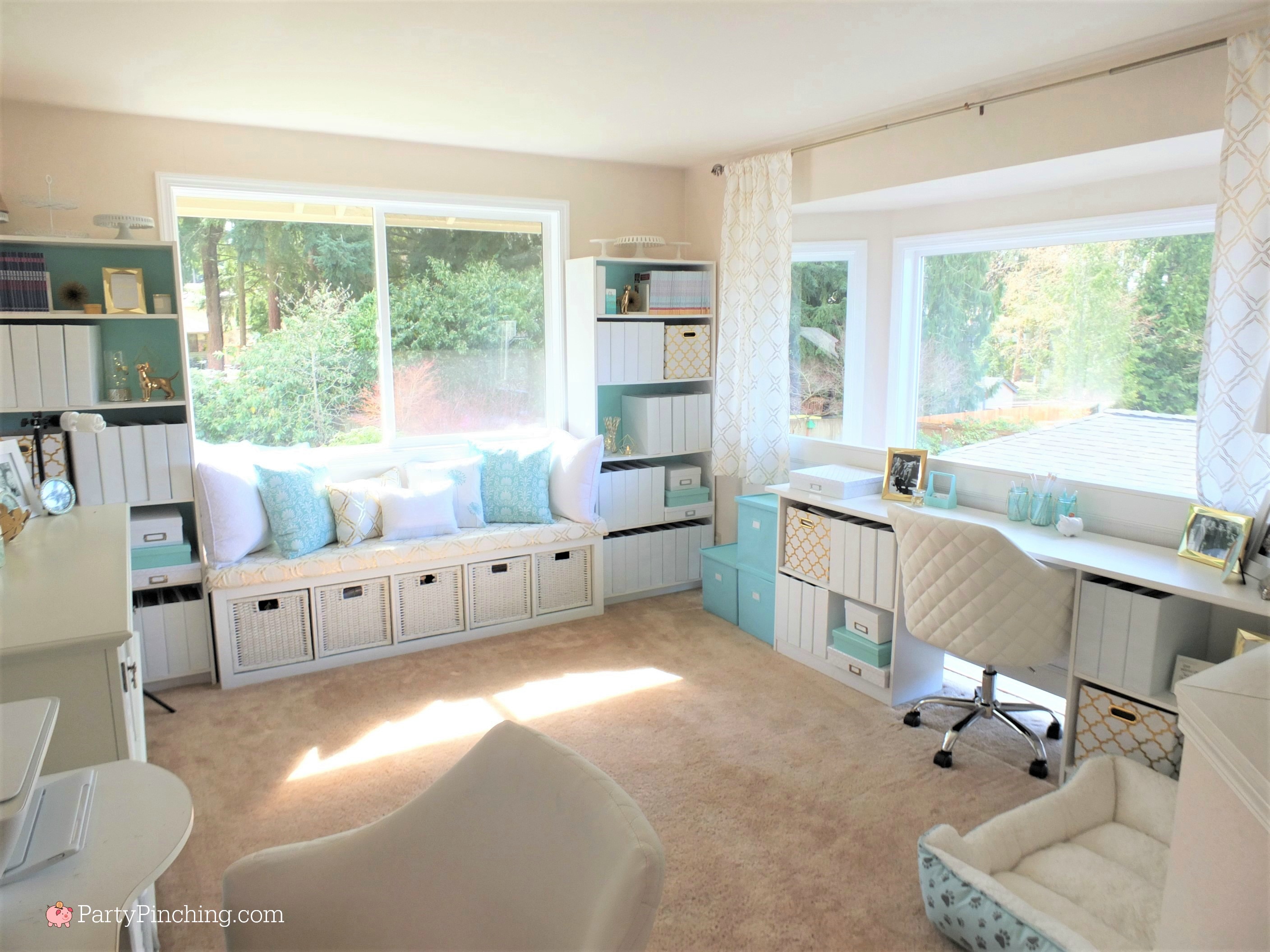 I took 2 of our existing small bookcases and attached a long melamine wood shelf board from Home Depot on top and made a long desk which is great for crafting! Home Depot will cut the board to any length you want which was awesome. The board only cost $16.
We had shelving and dressers lining this half wall before – and it was a shame because we couldn't enjoy the view.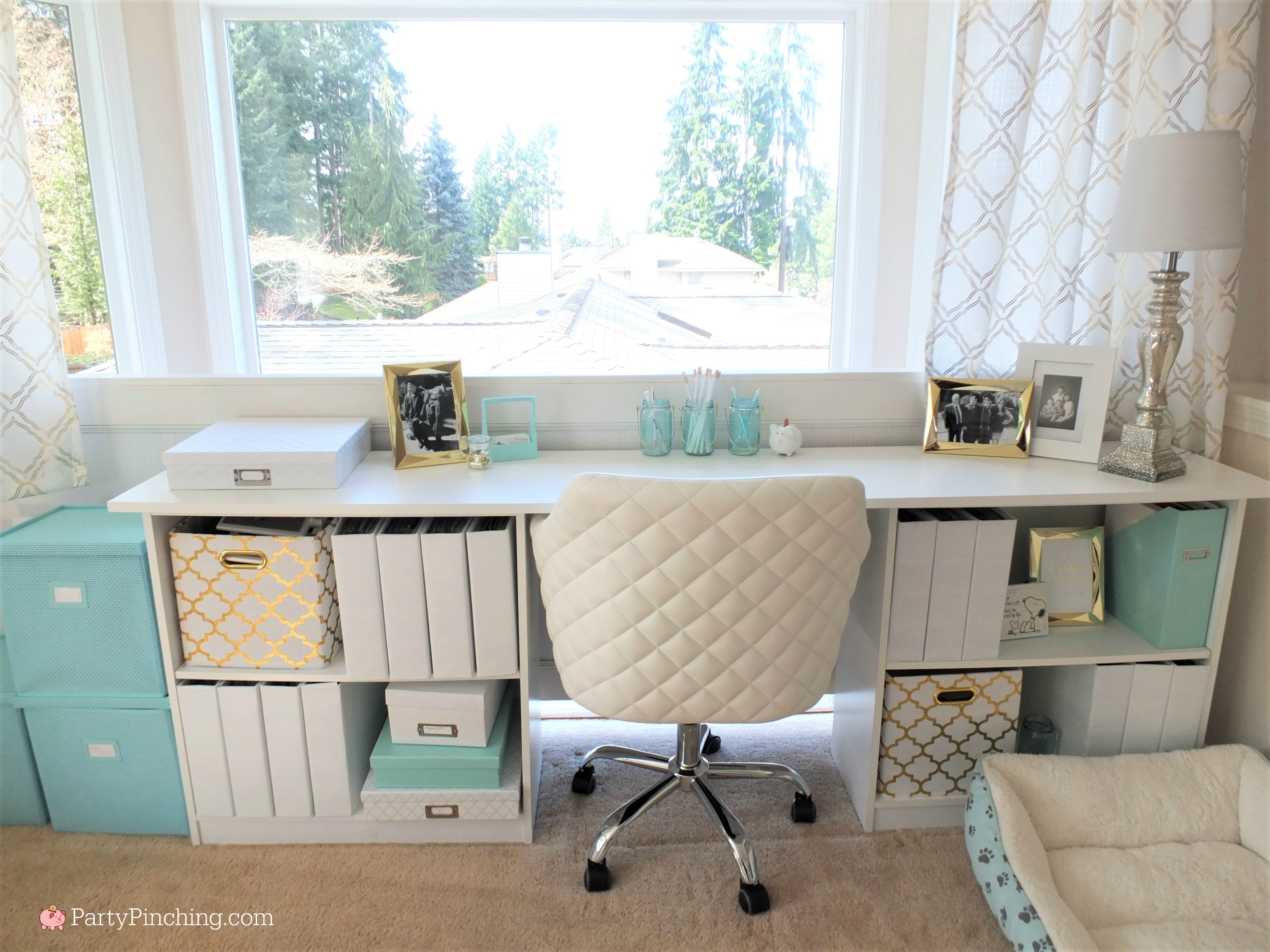 Here's the view of the Olympic Mountains – we used to have a view of the Puget Sound too, but the trees have blocked it over the years…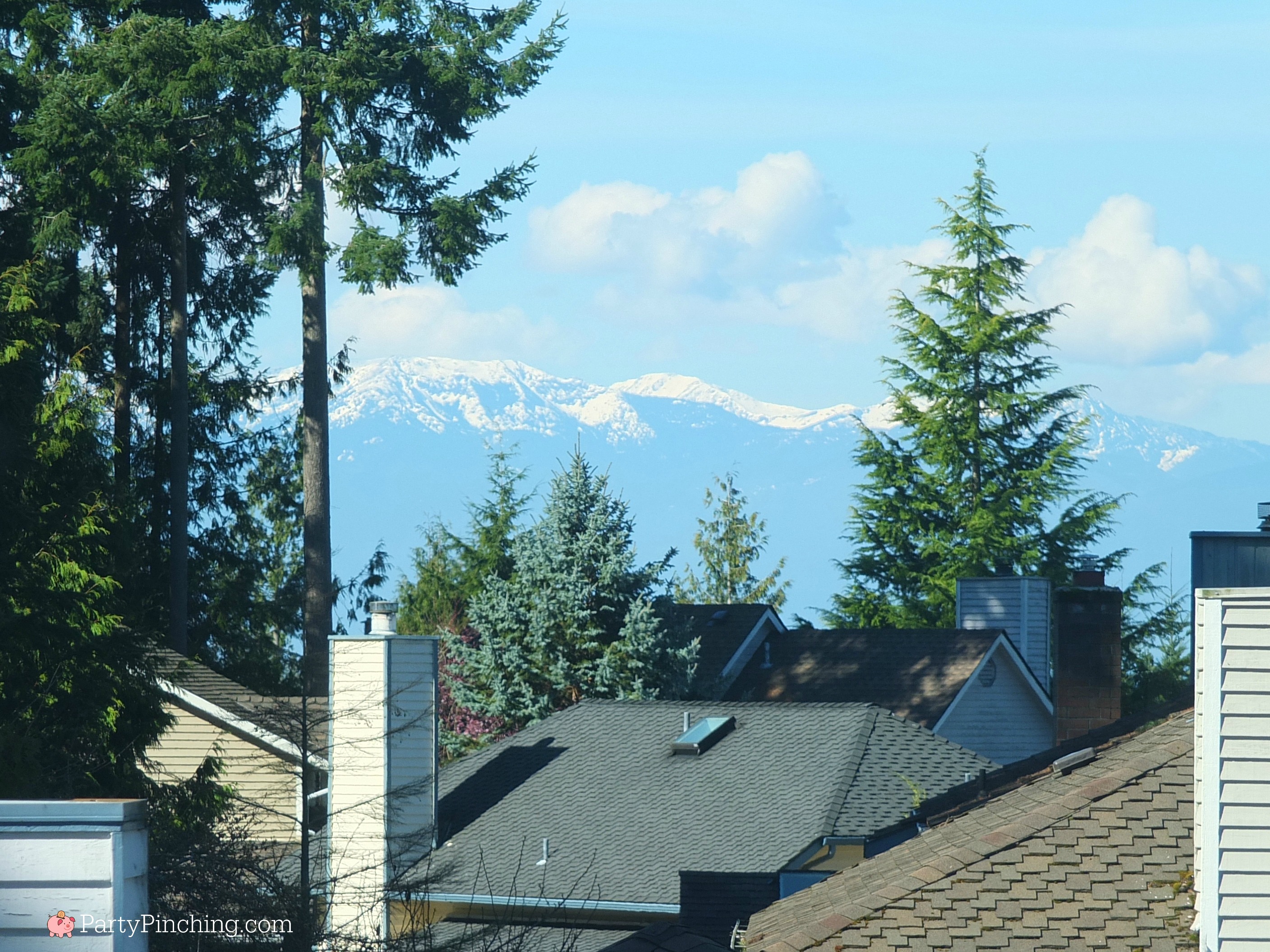 I received this buffet for Christmas and I put all of my platters, dishes and photo props in it.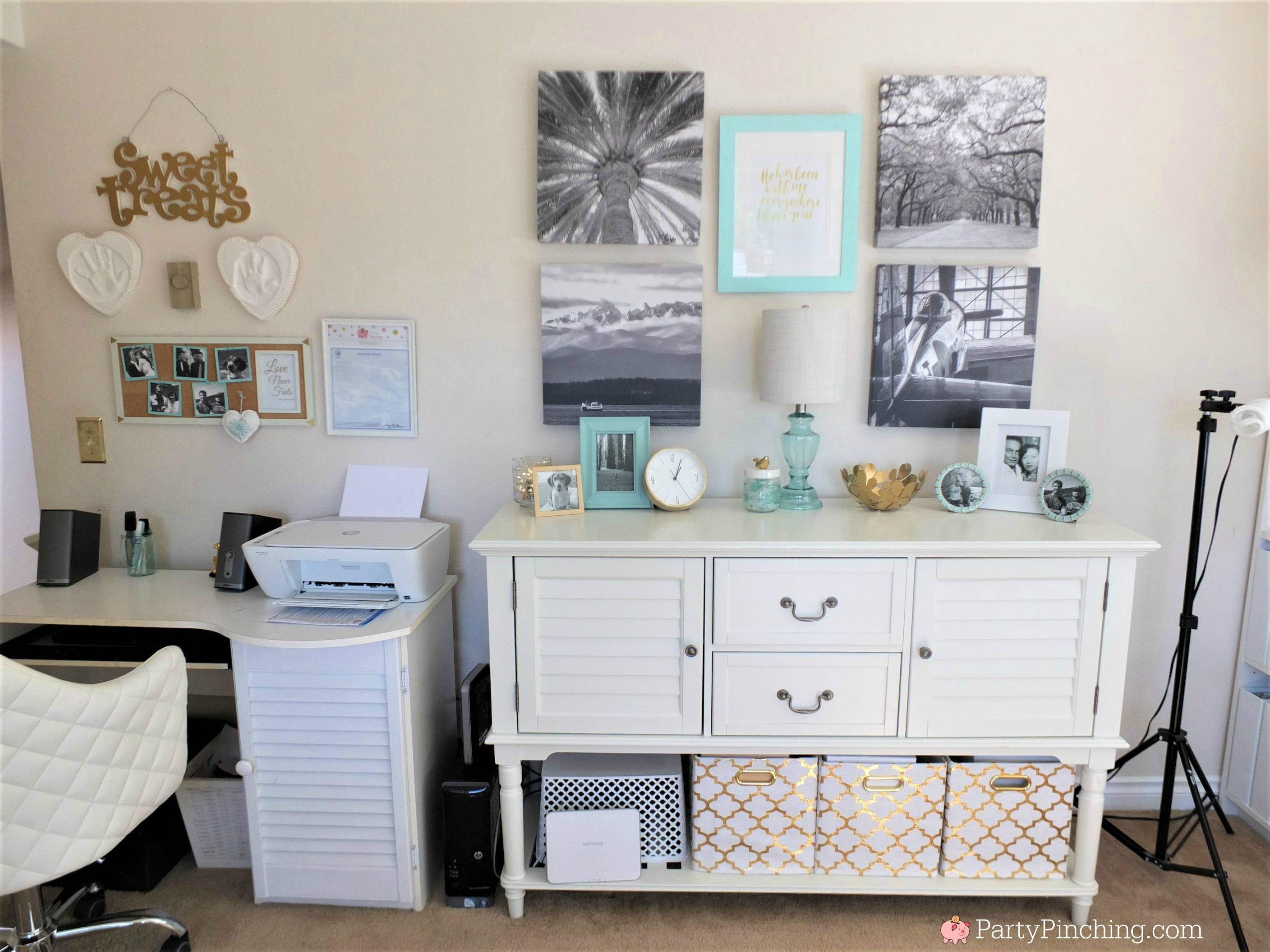 I re-purposed most of what I already had in the room to keep costs down, but I found these pretty chairs at TJ Maxx for only $99. My partner in cookie crime, Kurby loves hanging out with me in my office now in his new Tommy Hilfiger bed I purchased from Marshalls.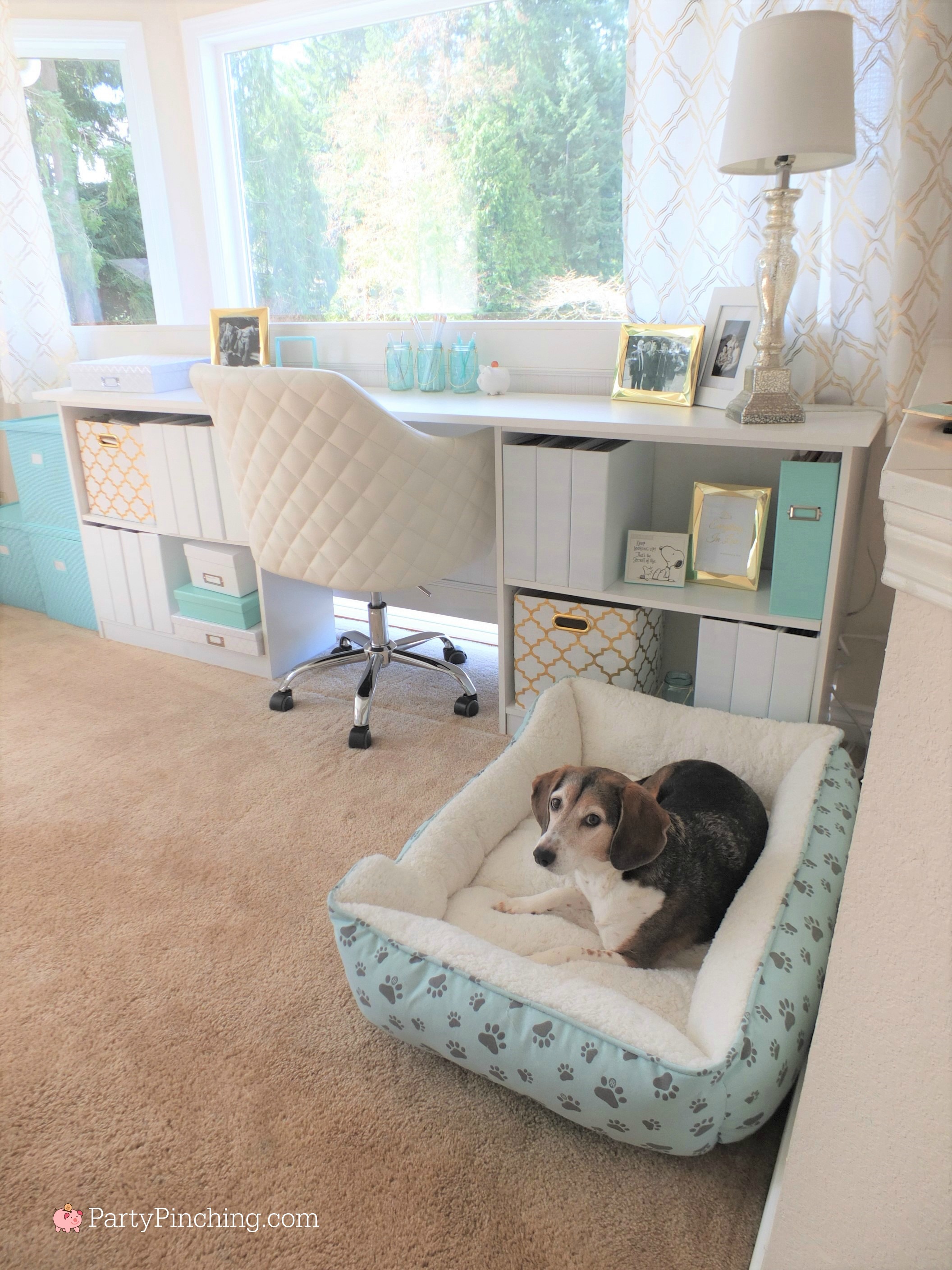 The room had a lot of burgundy and blue before and kind of dark. I wanted to lighten it up and started with the bookcases. The bookcases were already white but I painted the backs of them in a pretty Tiffany Blue color – Teal Zeal by Glidden at Home Depot. It's a tad lighter than Tiffany Blue, but it was close and I loved how it just added a pop of color without being overdone.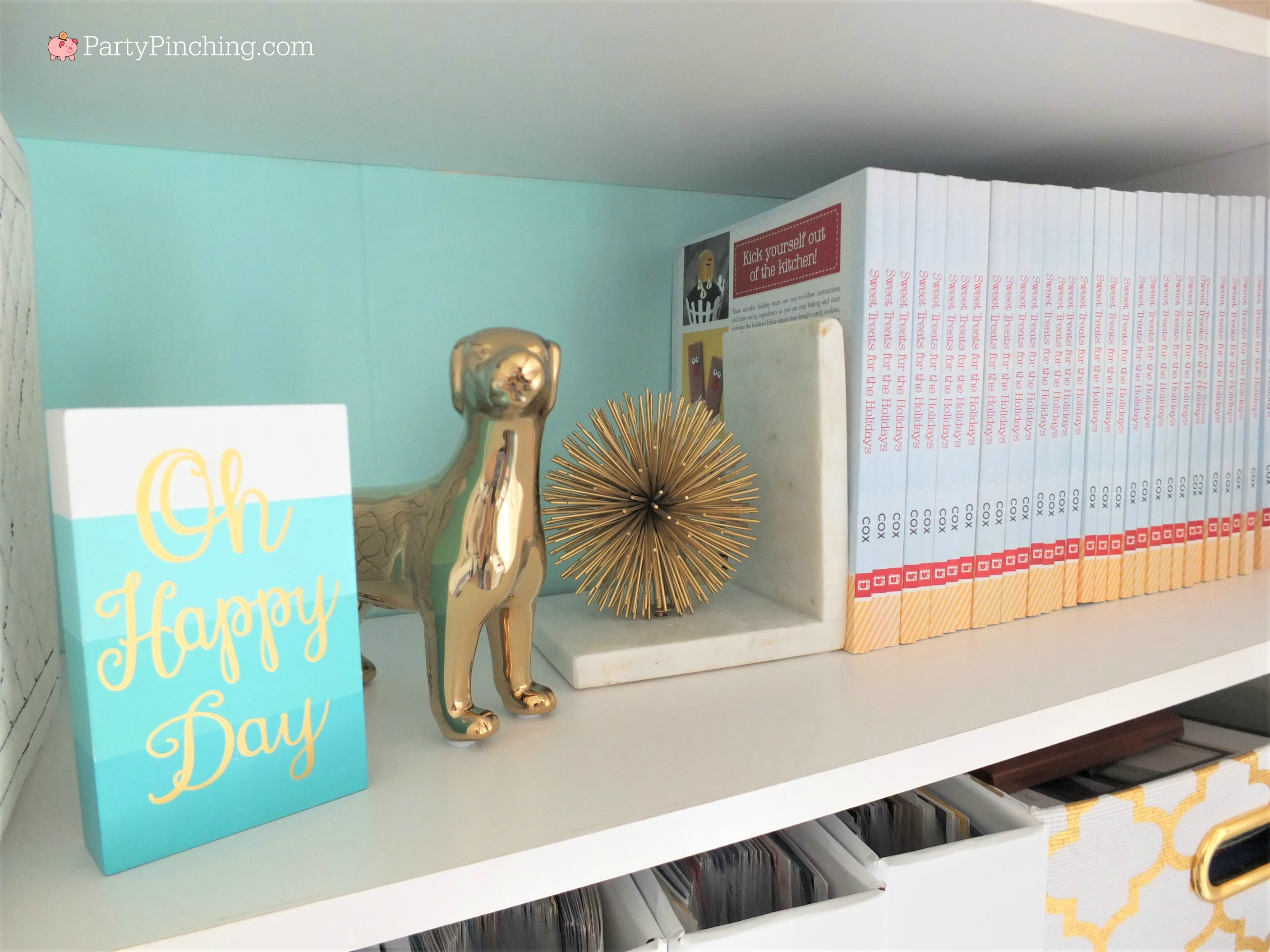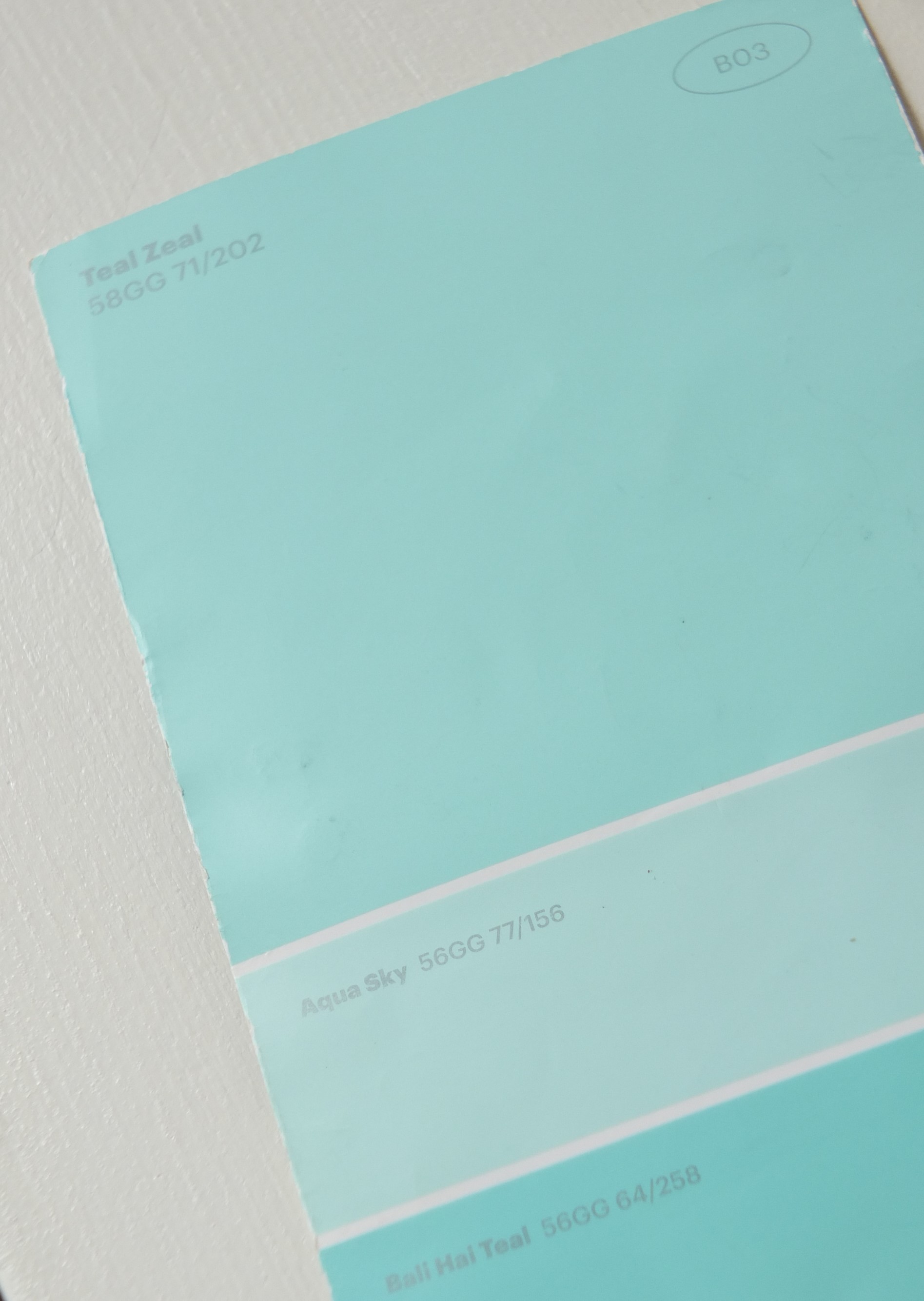 I love the way my books look with the Tiffany Blue background!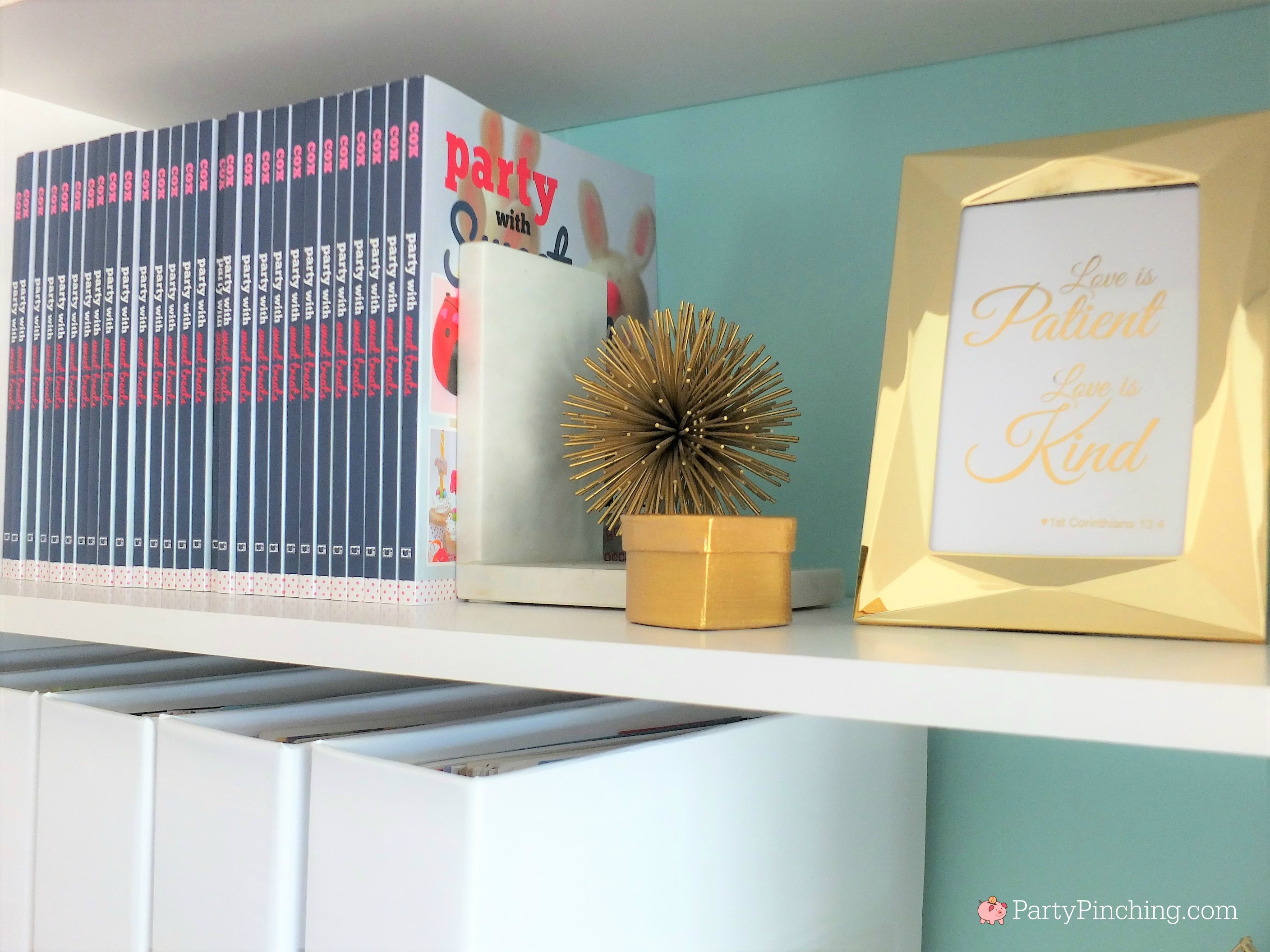 I found some pretty gold frames at Homegoods (or what I like to call "The Mothership") and found some pretty gold foil scripture art on Etsy for inspiration.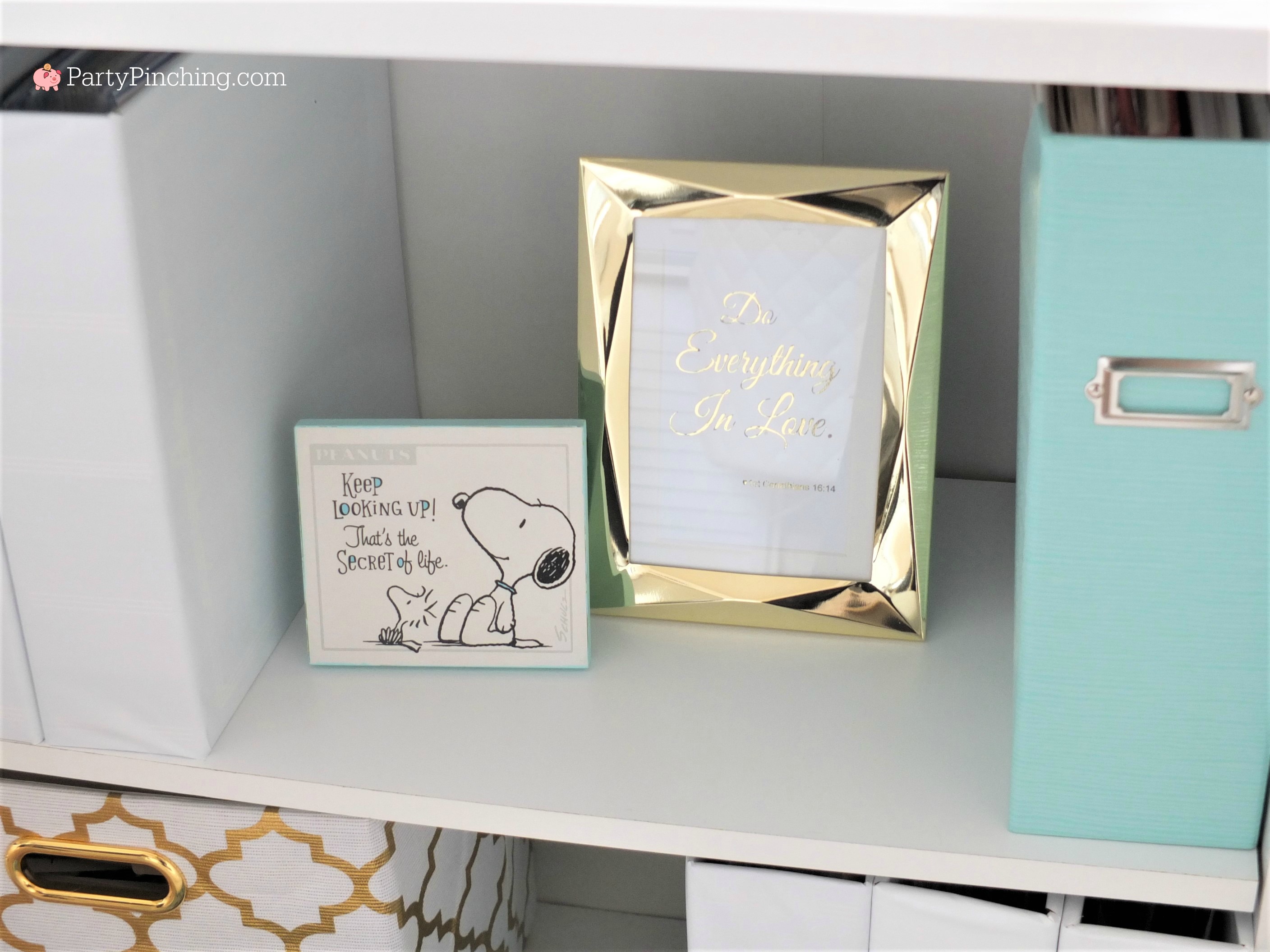 I painted an inexpensive frame from Hobby Lobby the same color as the back of the bookcases.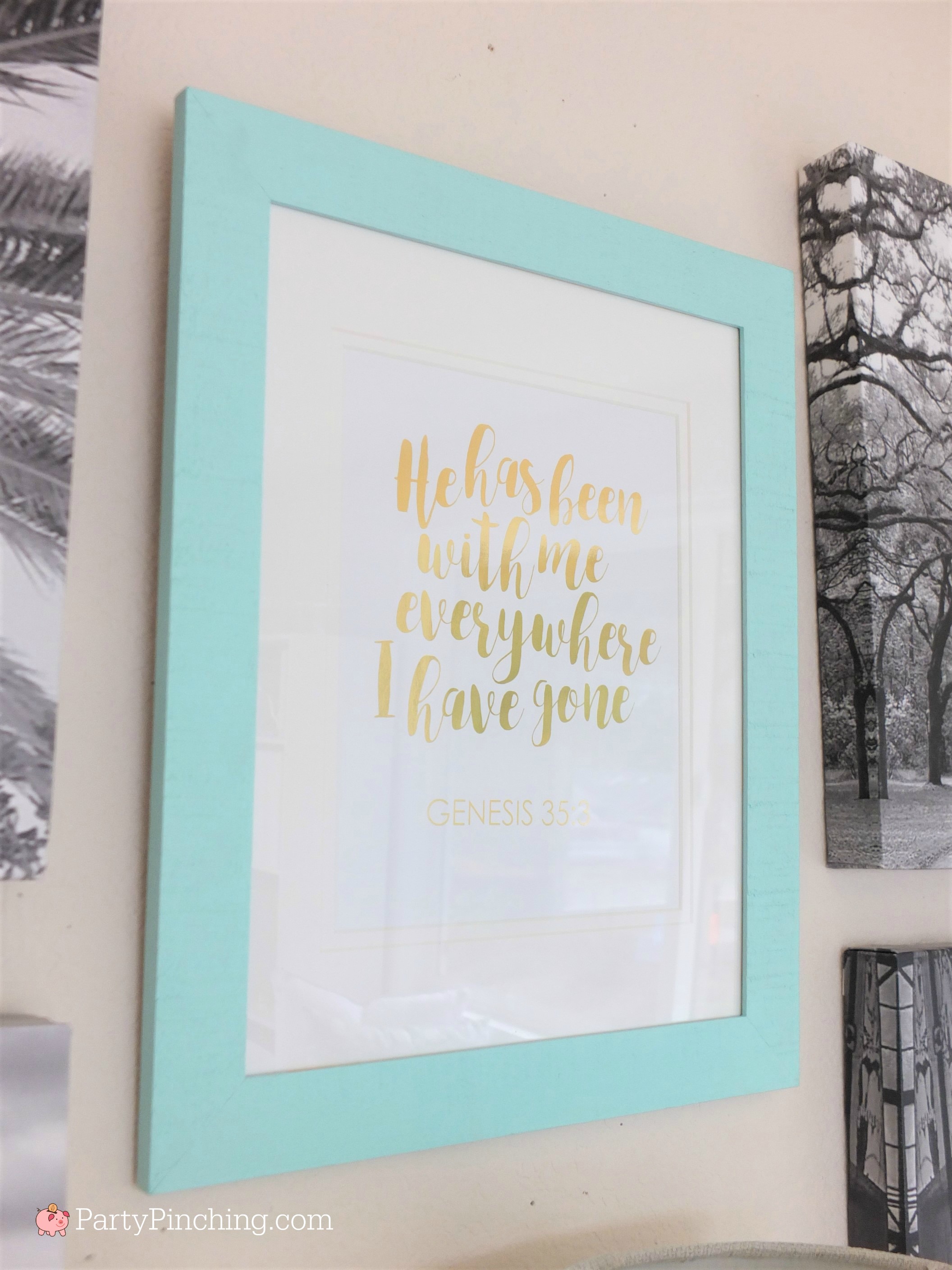 Next I made some of my favorite pictures that my family has taken of our favorite places and made them into black and white canvas art. There are so many websites that will do this and fairly inexpensive too! All 4 cost me around $100.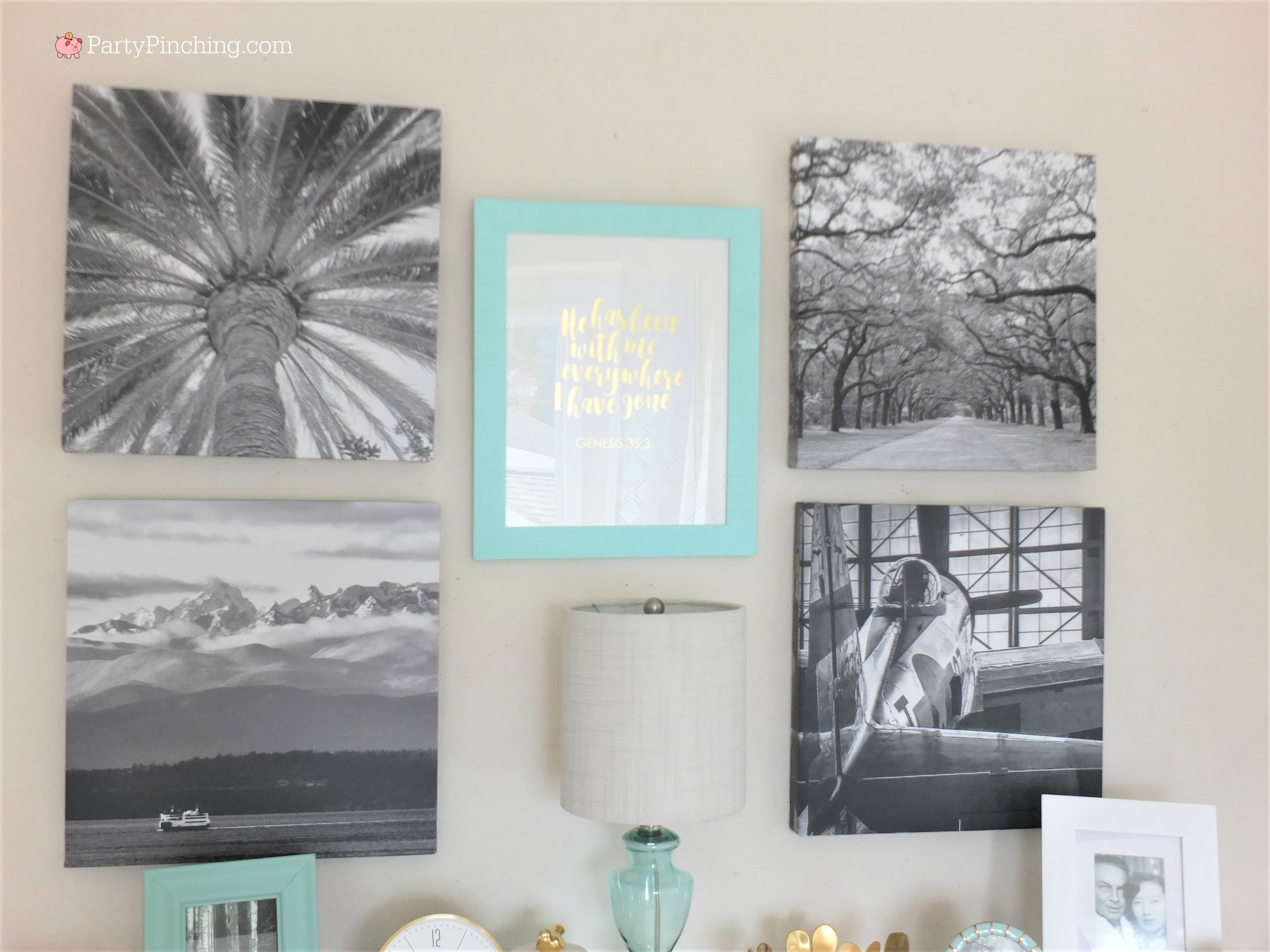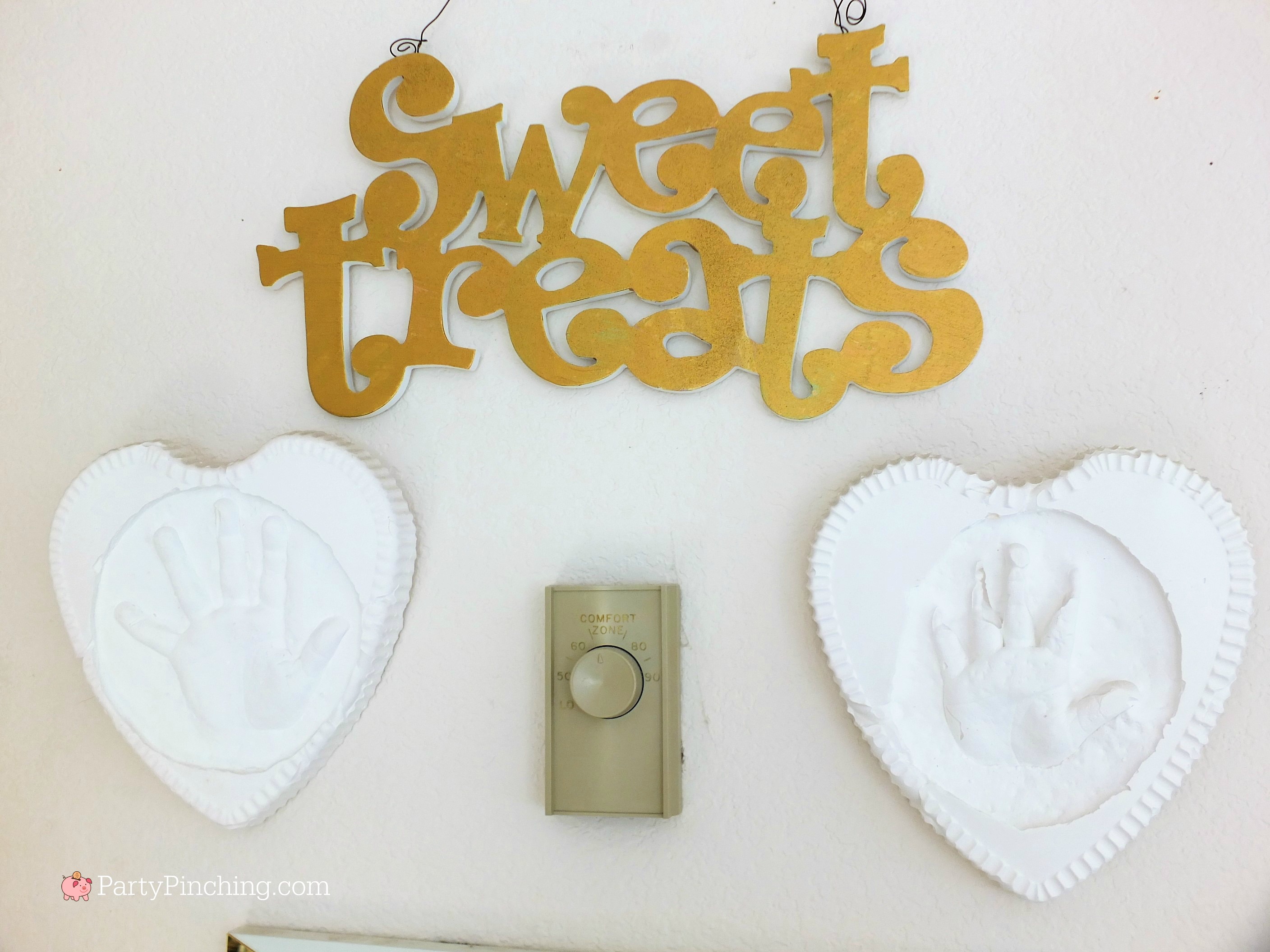 Had to keep my inspiration for my logo front and center!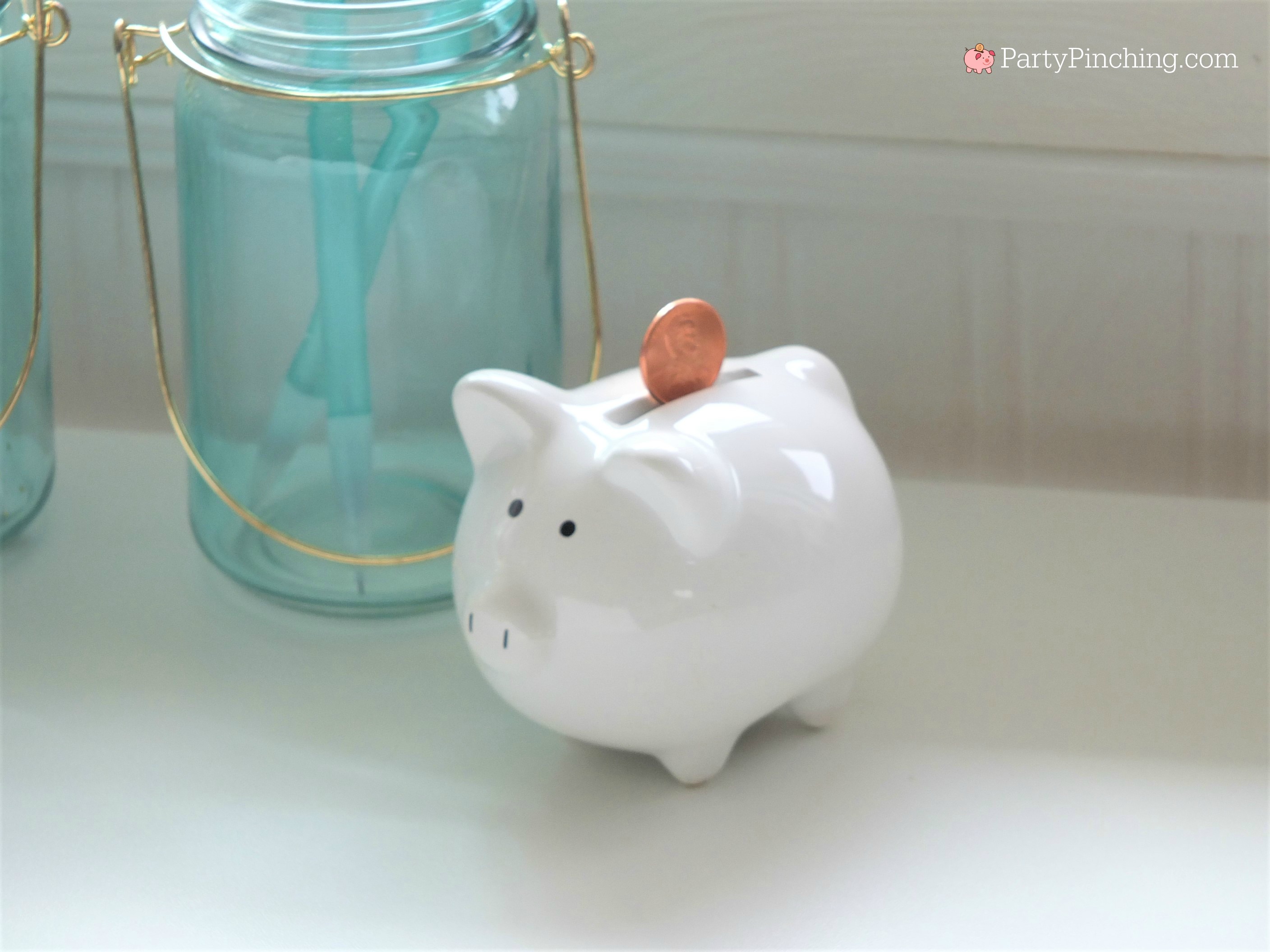 Office supplies I use and they serve as pretty gold accents too!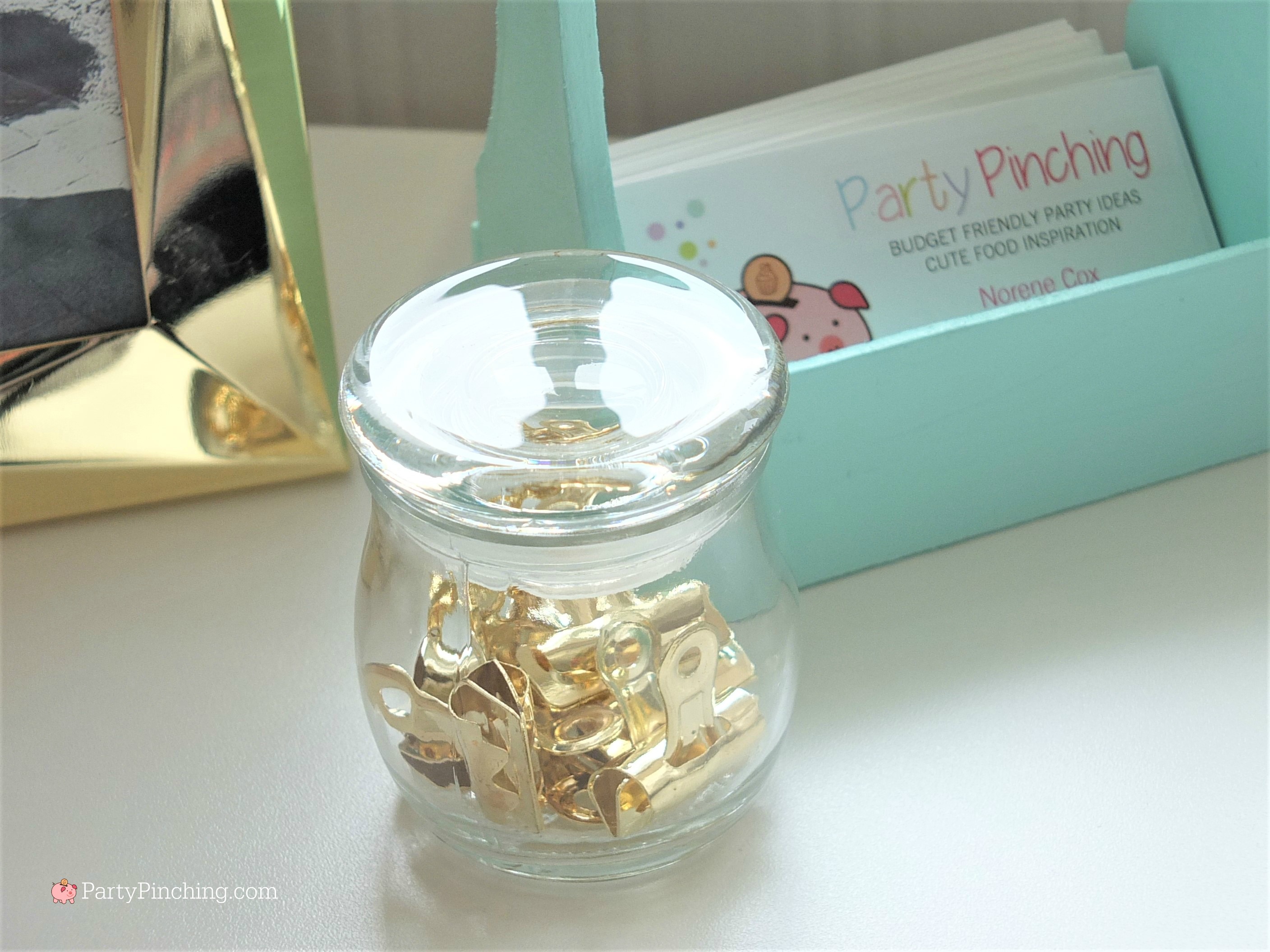 Since I am an avid scrapbooker, I Already had white photo boxes, but picked up some pretty Tiffany blue ones at Staples (the Martha Stewart collection) and some bigger white boxes with a quatrefoil design at Tuesday Morning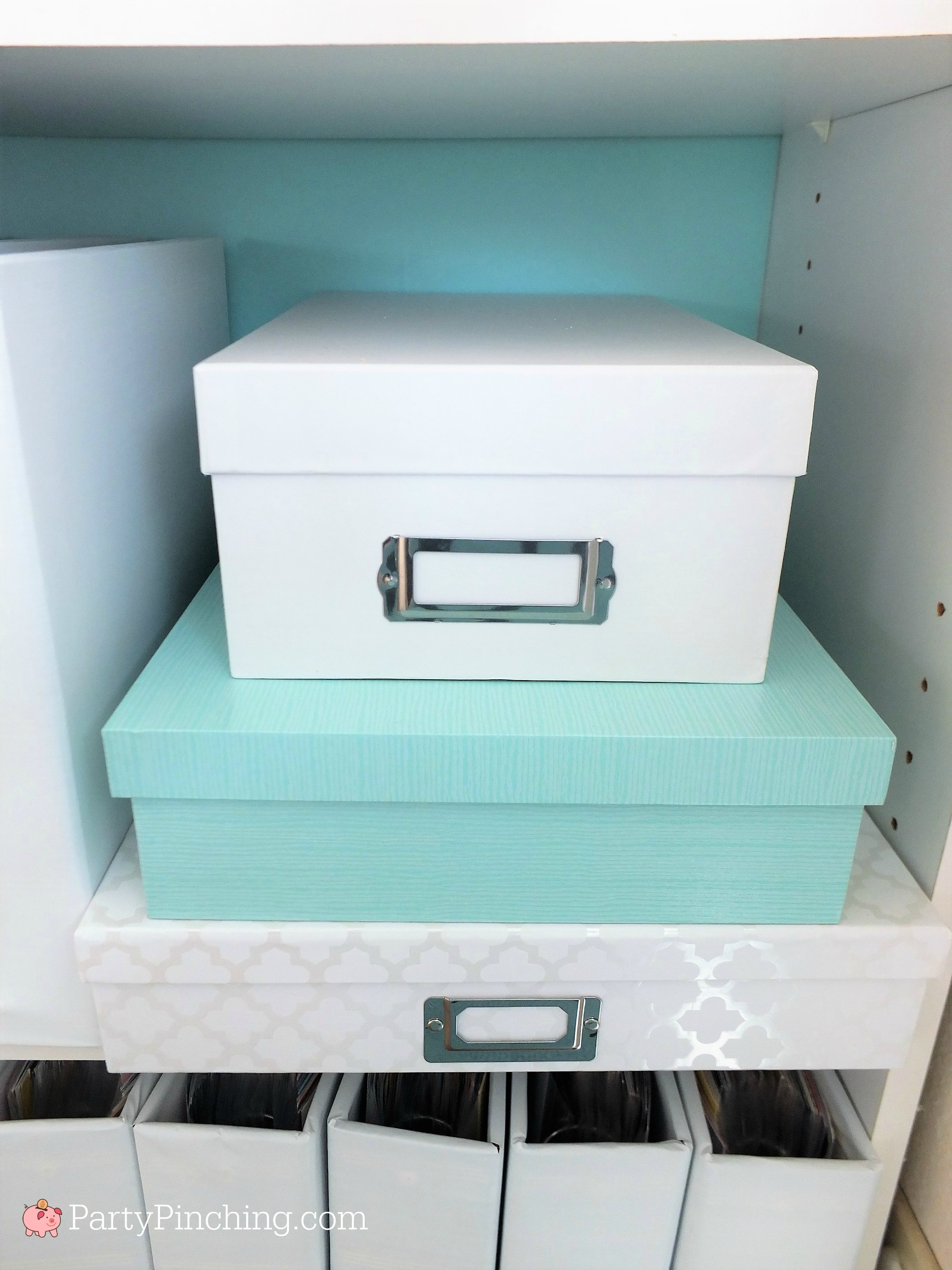 I wrapped every one of my scrapbooks in white contact paper. It was kind of a chore, but after I got the hang of it, it went fairly fast. I also used my white cake stands for decor as well!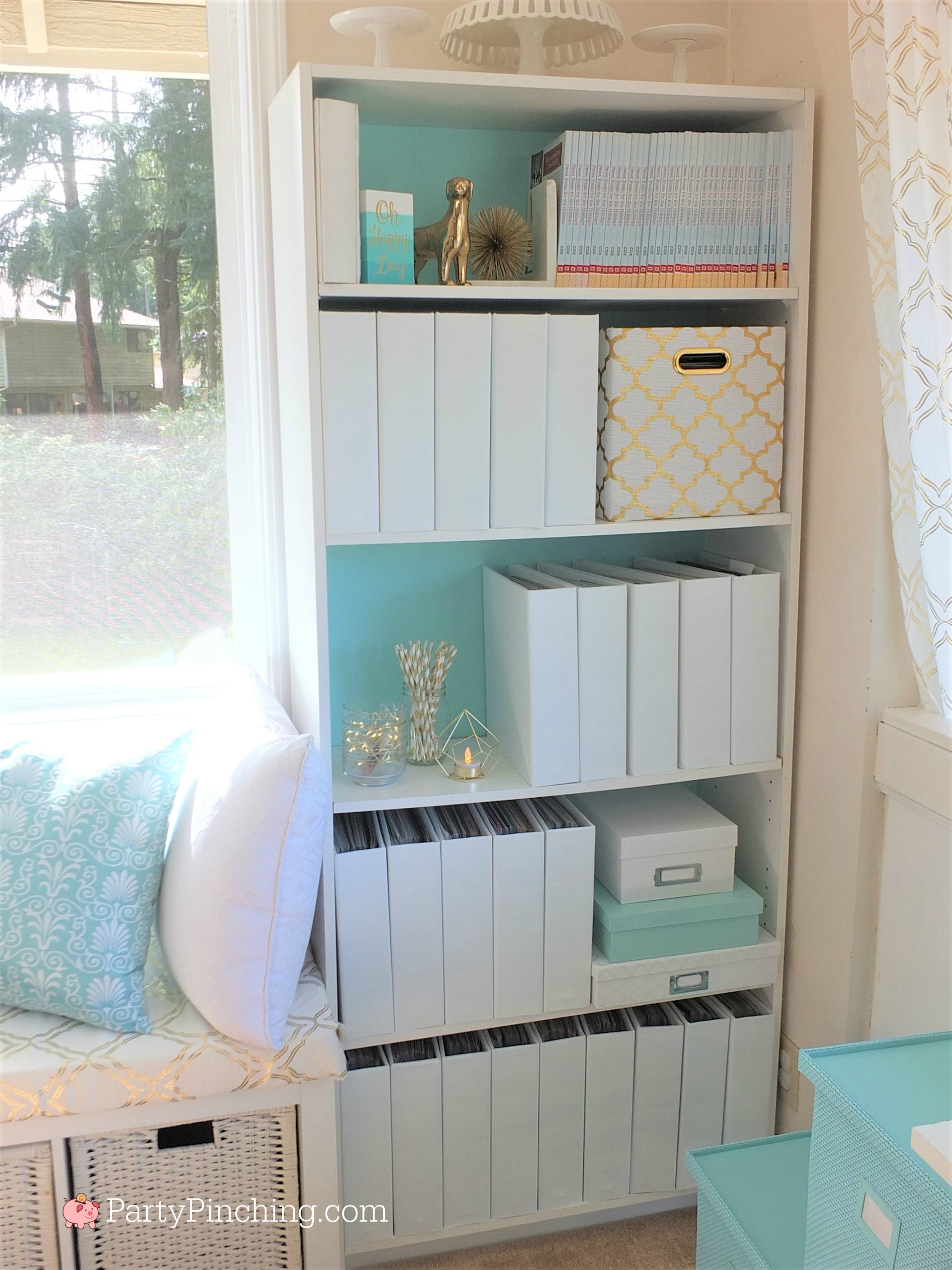 This DIY window bench with storage was a super fun project and didn't cost as much as you would think. I purchased a cube storage shelving unit from Walmart – the Better Homes and Garden brand – it's so sturdy and easy to put together. I did it myself in about a half hour. I placed it horizontally and bought some camping foam. I wrapped it in a curtain (so much cheaper than upholstery fabric AND it matches the curtains) and no I didn't sew it. I cannot sew a straight line to save my life so I duct taped it. Yep. Not ashamed either. It looks great and it's durable too. Here's a tip – when cutting foam to fit the bench, use an electric knife (like the one you use for the turkey) – it cuts like butta.
The cushions were from Homegoods – except the dandeion one, that was from Etsy. The white baskets for the cubes were purchased at Ikea.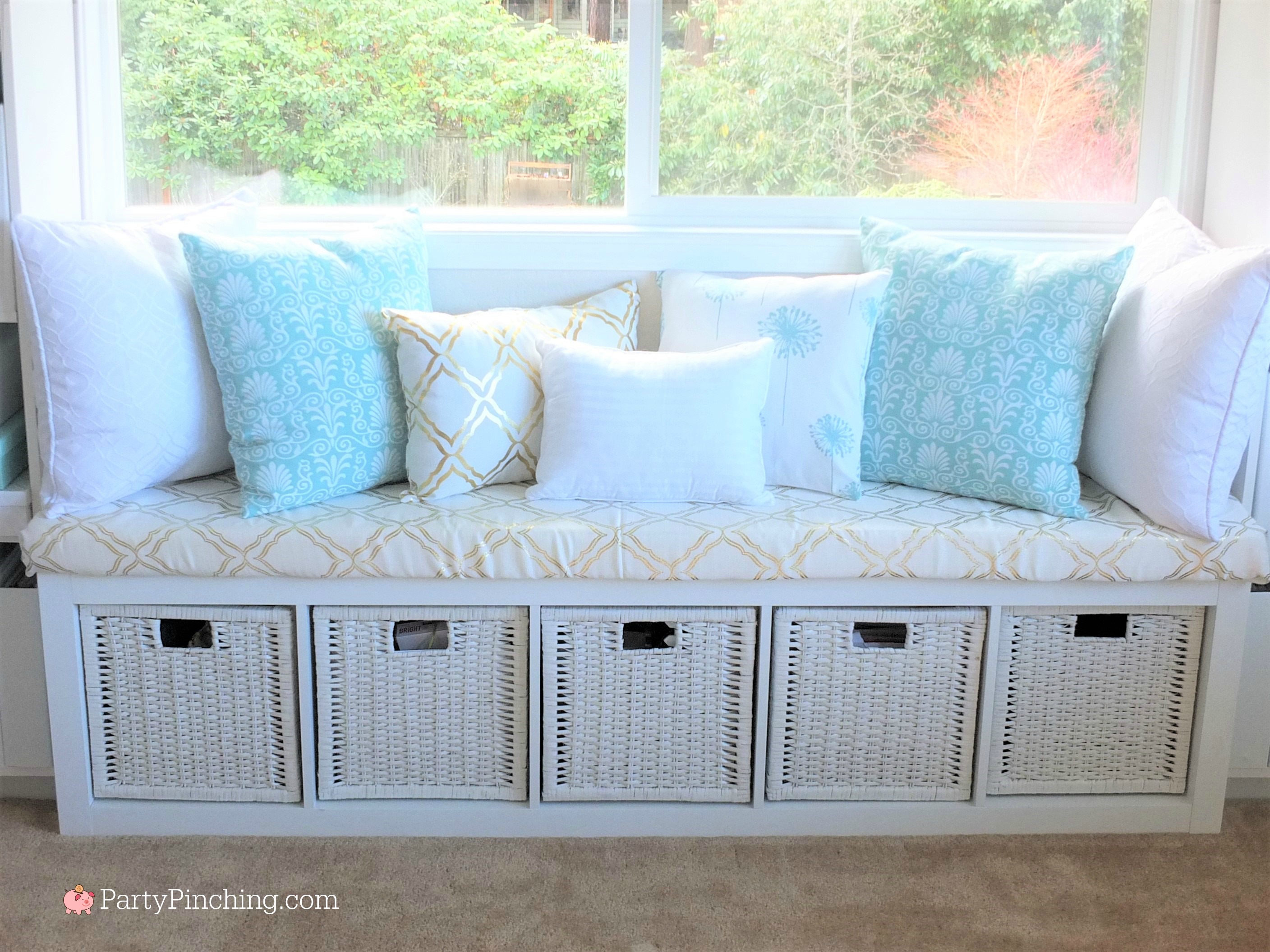 Just some simple gold accents to brighten up the place. I love battery operated mini lights with timers!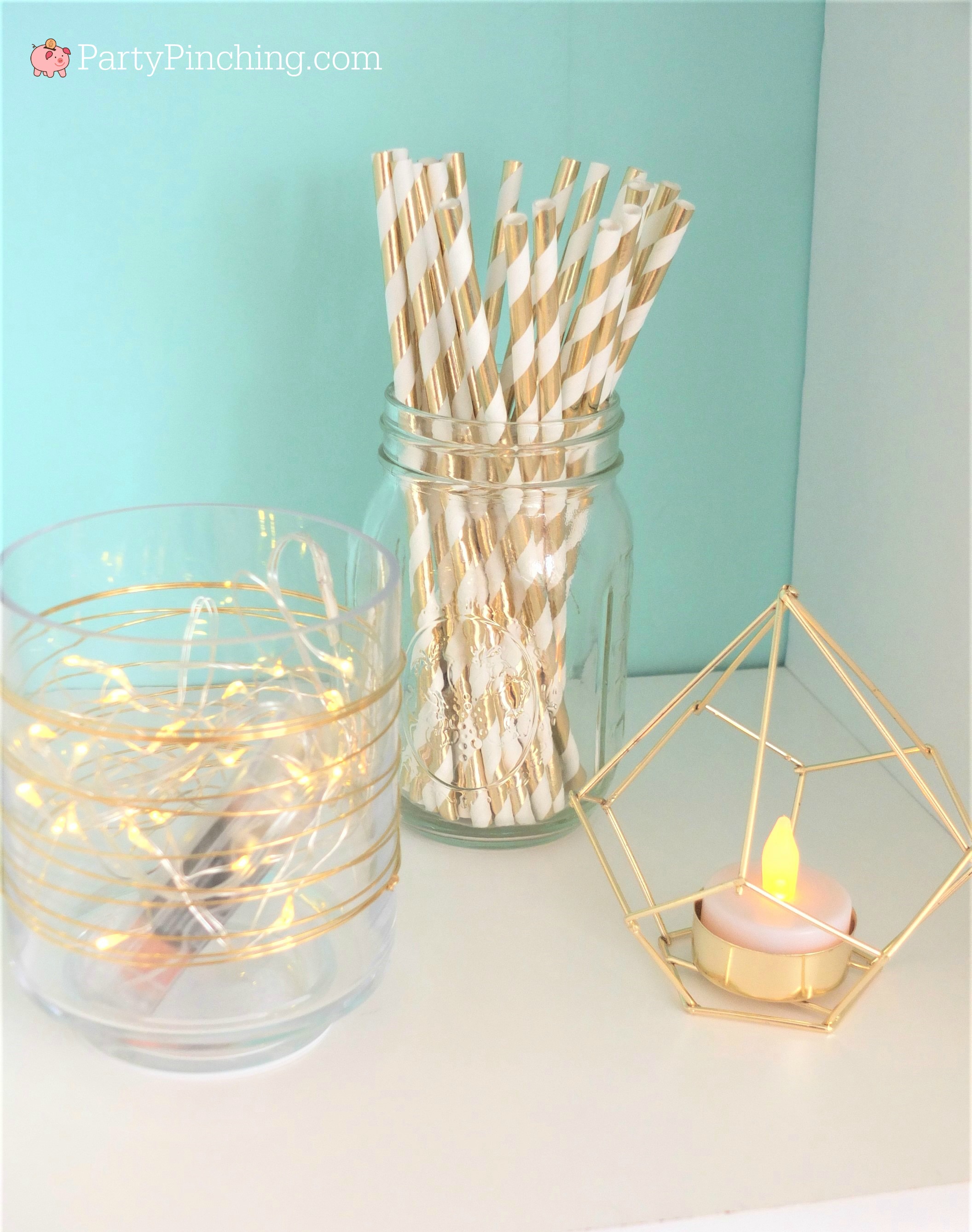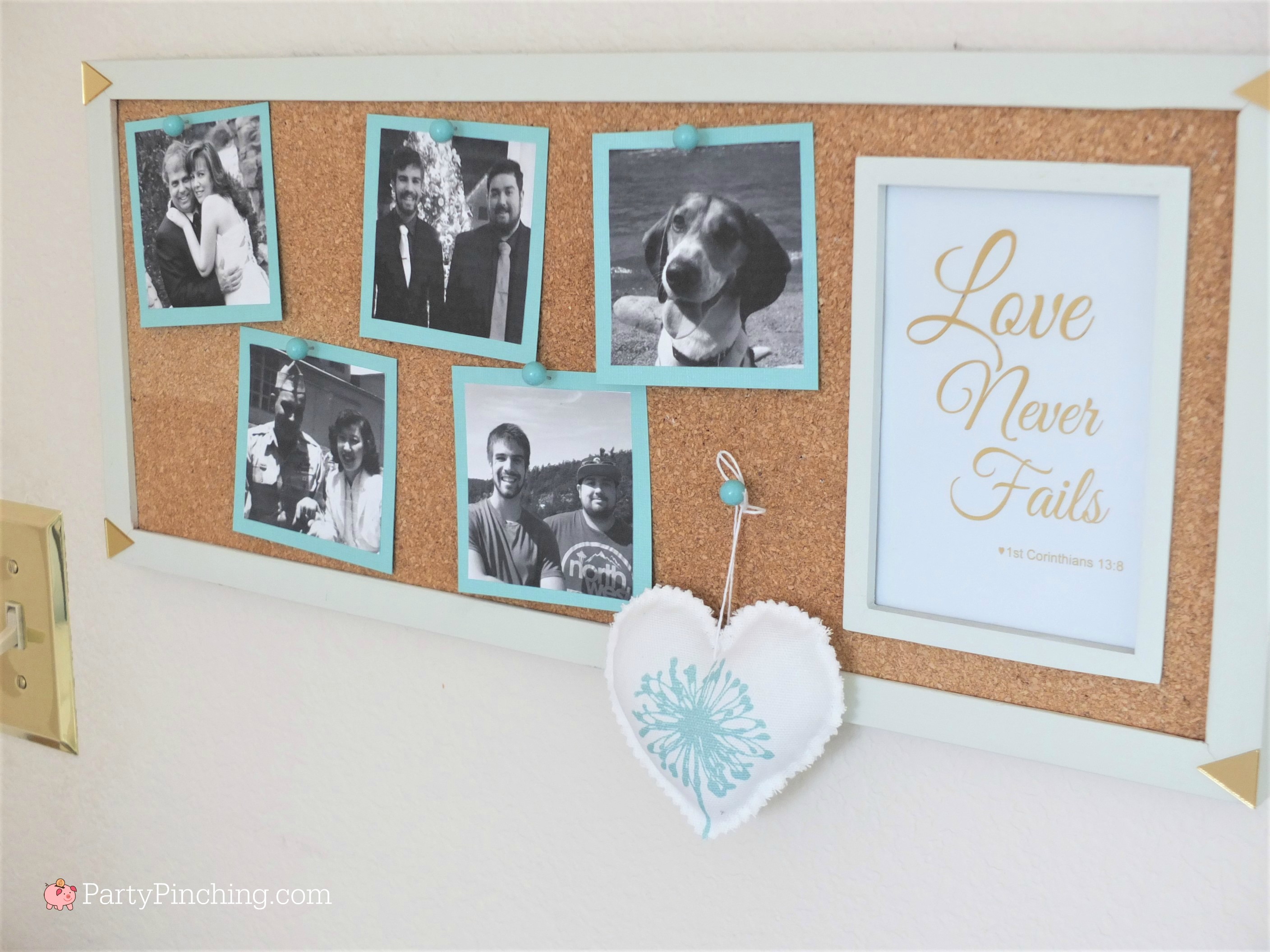 I picked up a few Tiffany Blue & gold accents for the room. I highly recommend tucking the paint chip in your purse when shopping so you can see the exact color.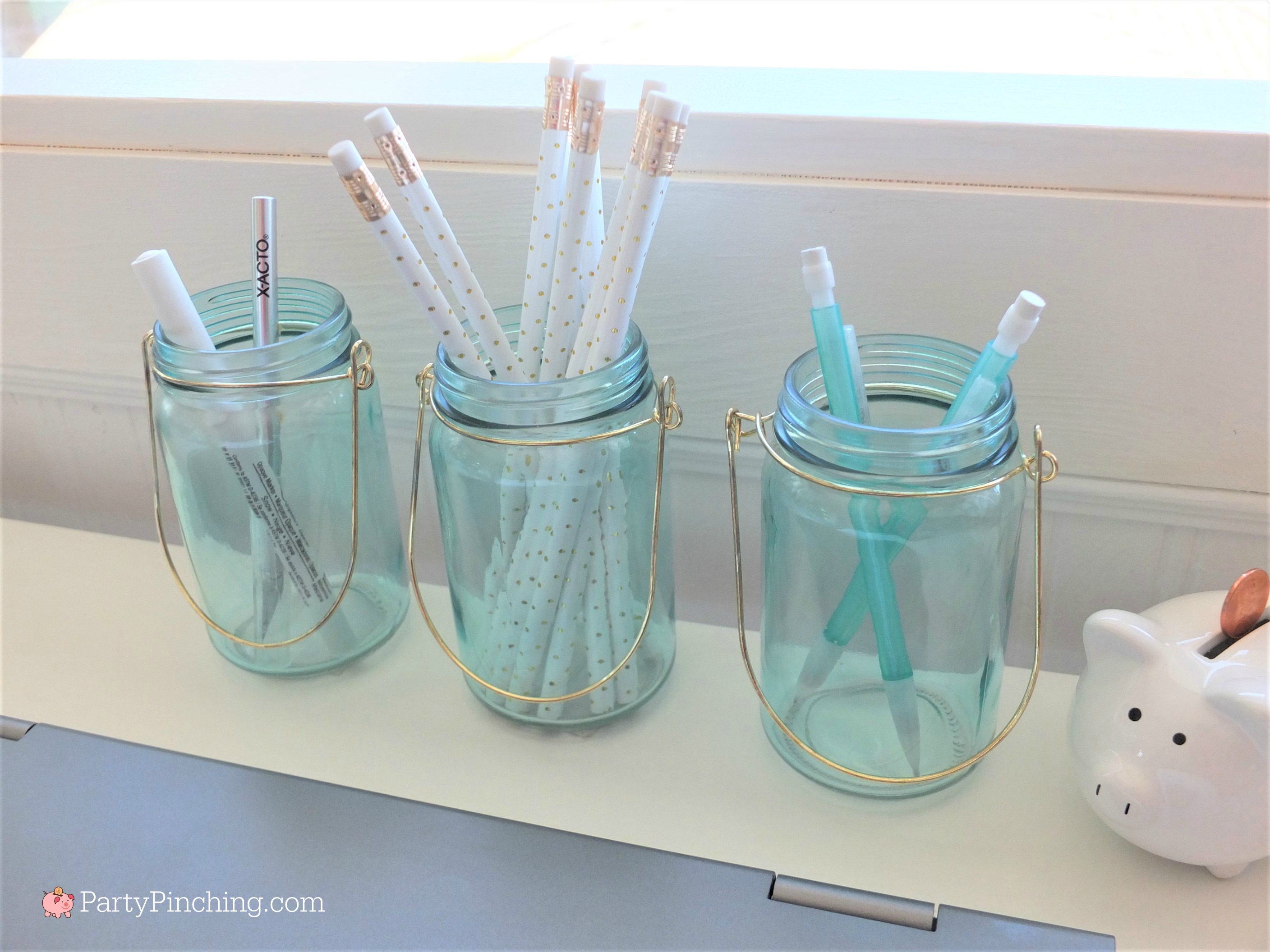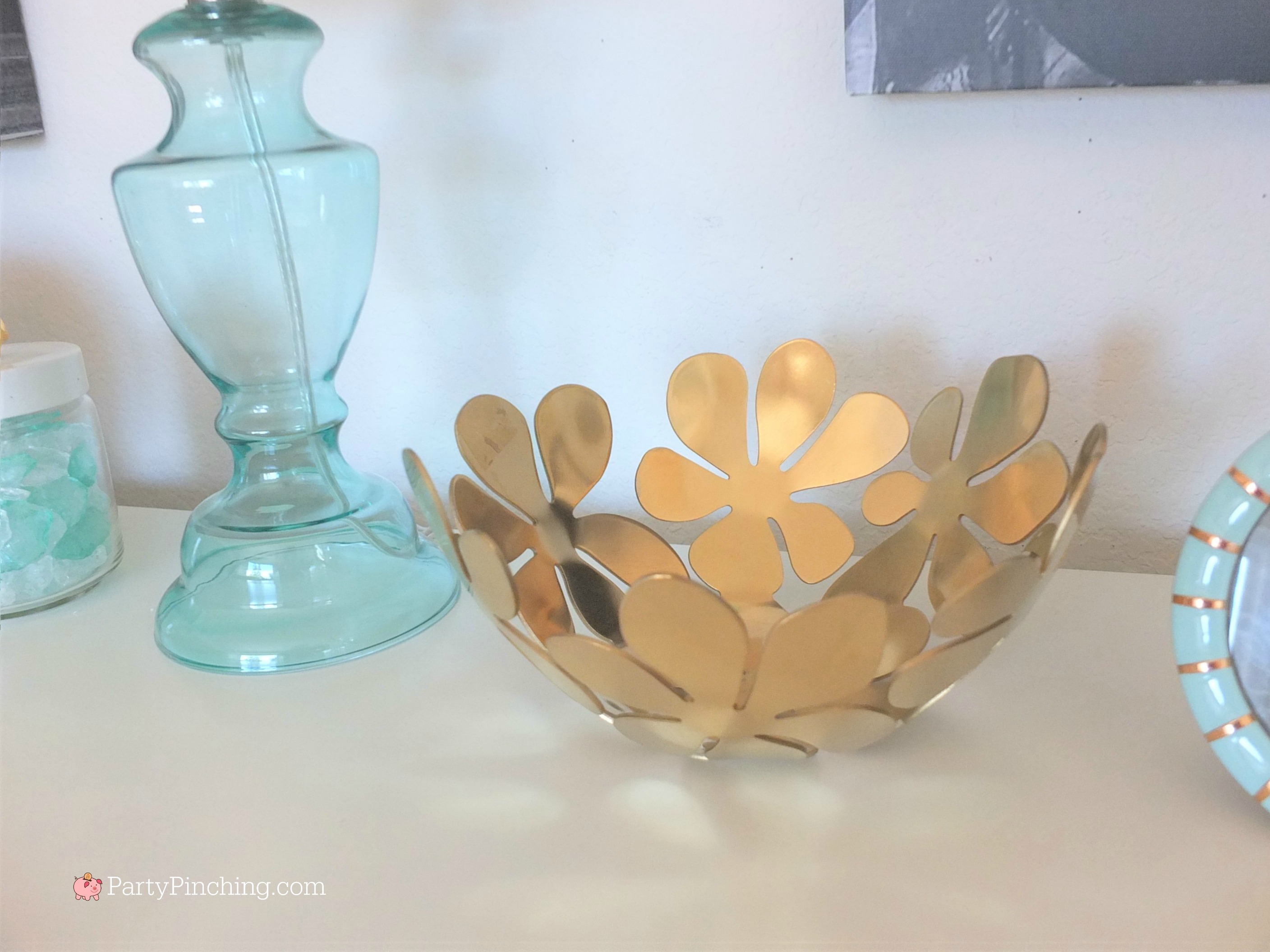 Love these gold and white storage cubes I found on Amazon.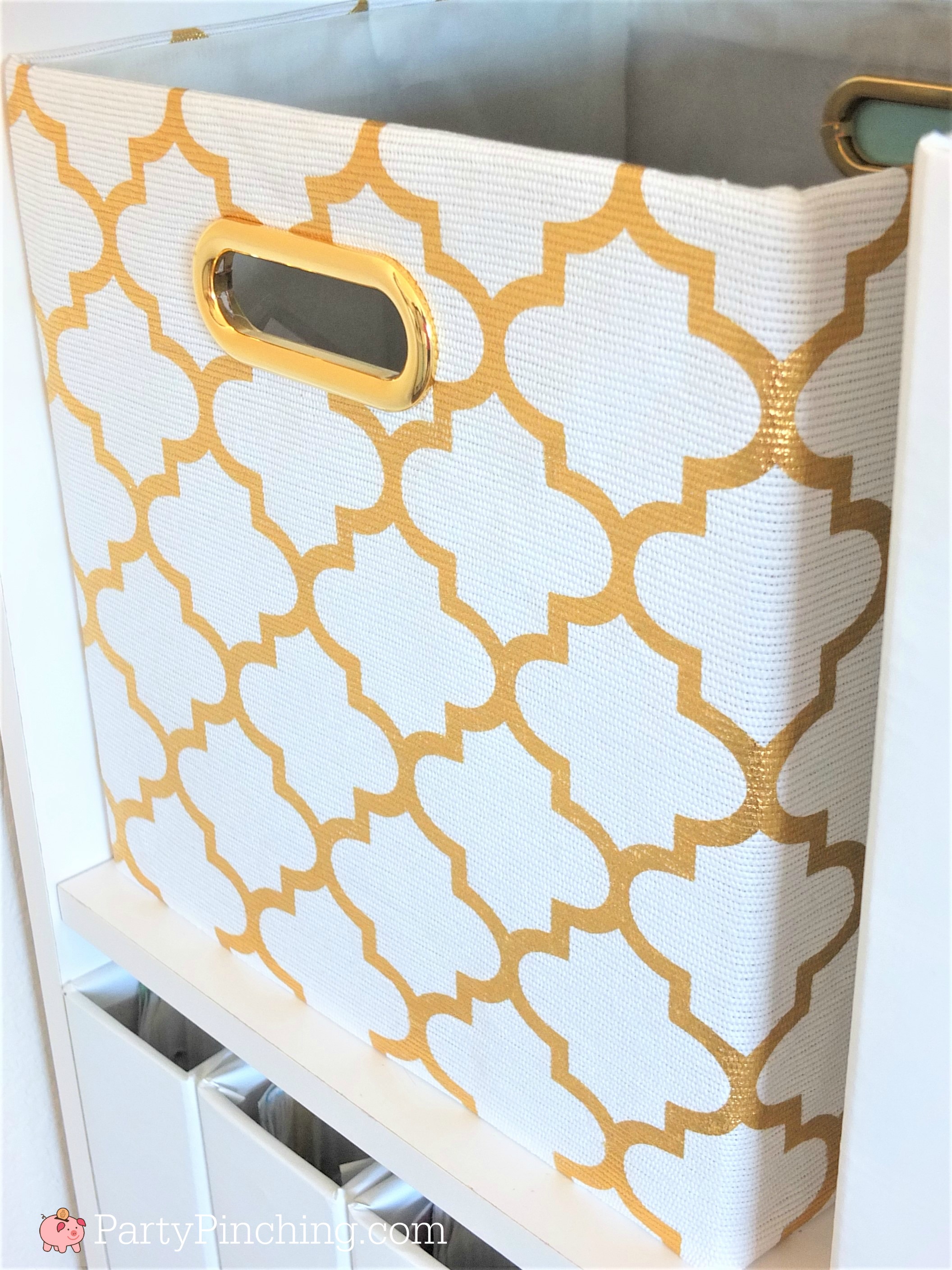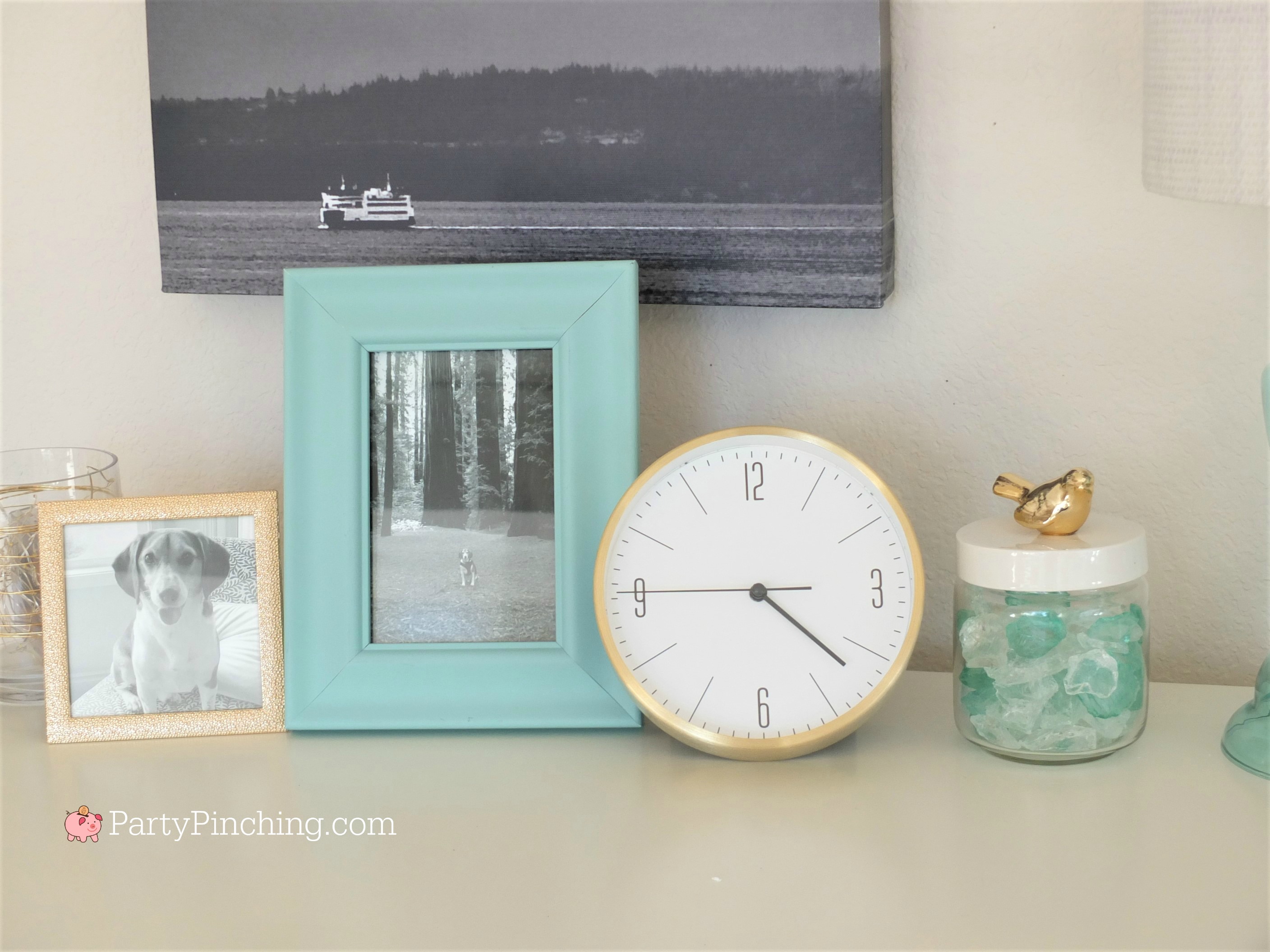 PRODUCT INFORMATION (some may be affiliate links)
Paint – Teal Zeal by Glidden at Home Depot
Small frames & Pillows – Homegoods
Dandelion Pillow – Cabin & Coast on Etsy
White office chairs – TJ Maxx
Lamps – TJ Maxx
Dog bed – Marshalls
White 5 cube shelf organizer used for bench – Walmart
Gold & white curtains – Walmart
Melamine shelf for desk – Home Depot
Tiffany Blue boxes – Staples (Martha Stewart collection)
Small gold foil scripture art – Sublime Fresh on Etsy
Large gold foil scripture art – Well Pleased Prints on Etsy
Large frame, white and gold office supplies, aqua glass jars & gold candle holders – Hobby Lobby
White storage baskets – Ikea
Gold and white storage cubes – Amazon