This Frozen Hot Chocolate Pie is so yummy and easy to make! Perfect for a summer picnic or in the middle of winter. It's a fun family favorite that everyone loves!
This post may contain affiliate links. Please read our disclosure policy. As an Amazon Associate, I earn from qualifying purchases.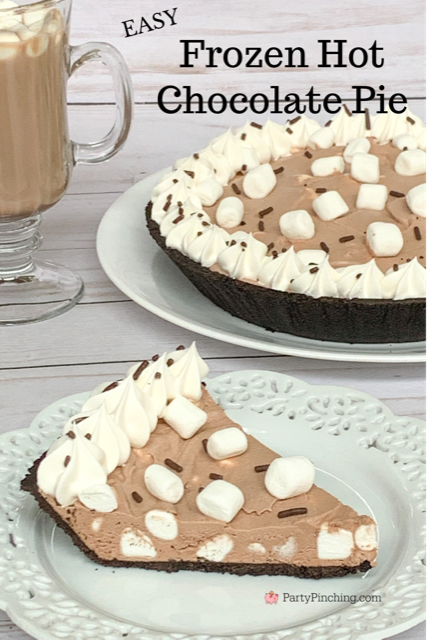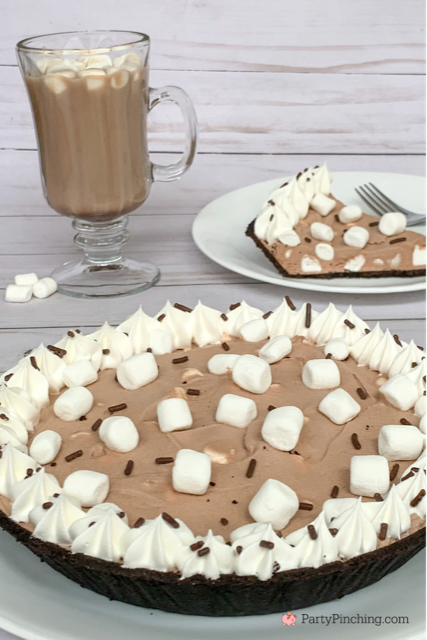 You will need:
2 – Prepared Oreo or chocolate pie crusts
8 oz. block of room temperature cream cheese
1/2 cup butter softened
1 tsp vanilla extract
16 oz. Cool Whip, thawed and divided
5 packets (1.38 oz. each) of instant hot cocoa mix
1/2 cup powdered sugar
1 1/2 cups mini marshmallows
chocolate sprinkles
MY AMAZON PICKS (affiliate links):
With a hand mixer, cream together the softened cream cheese and butter until fluffy.
Add the vanilla and powdered sugar and cream together untilthoroughly combined.
Beat in the packets of dry instant hot cocoa mix, one at a time.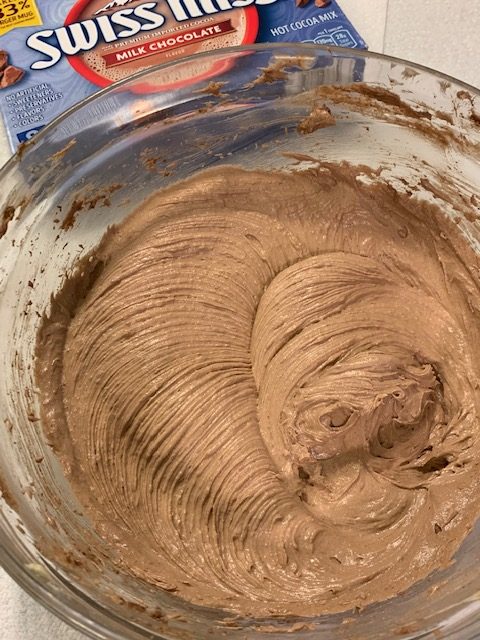 Fold in the mini marshmallows and half of the Cool Whip tub.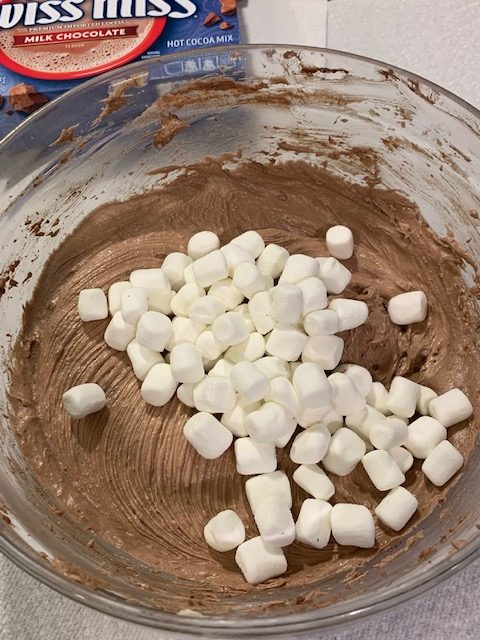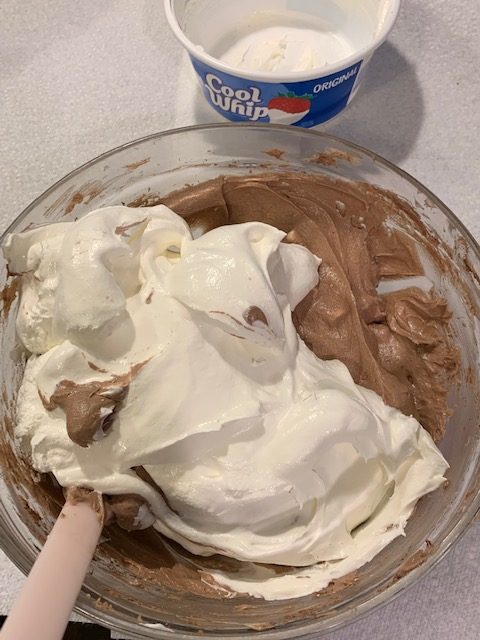 Divide the chocolate filling mixture between the 2 pie crusts.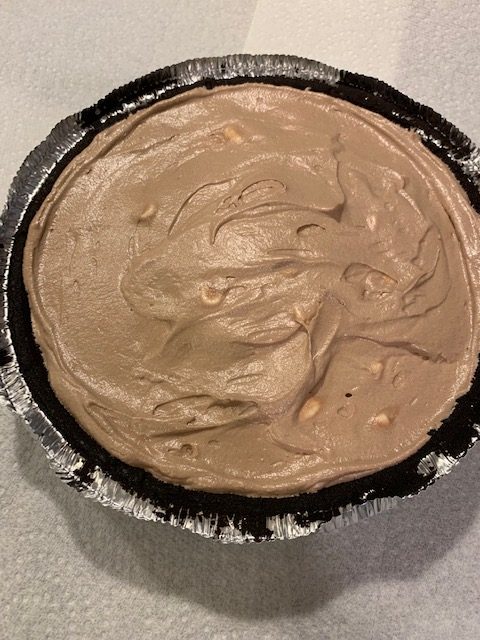 Freeze 4 hours or overnight.
This frozen hot chocolate pie comes together so easily and the fact that you are making 2 at a time makes a great potluck dessert for a crowd!
Decorate top of the pies with piped Cool Whip, Mini marshmallows and chocolate sprinkles.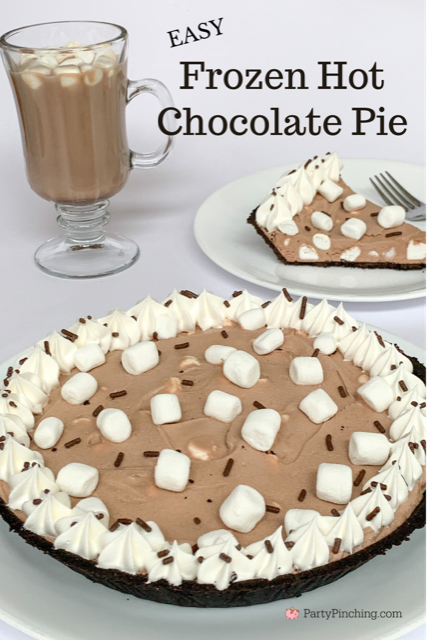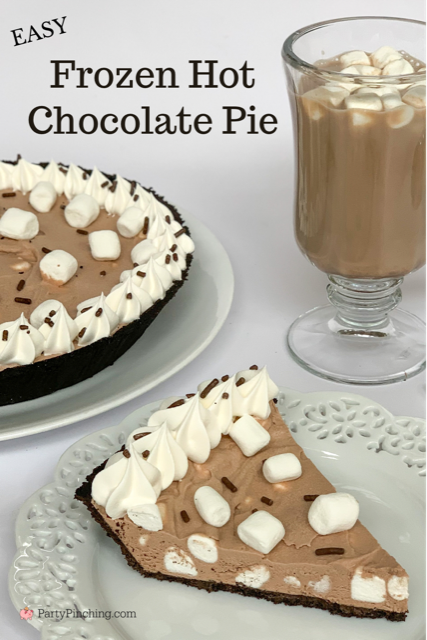 Yield: 2 pies
Frozen Hot Chocolate Pie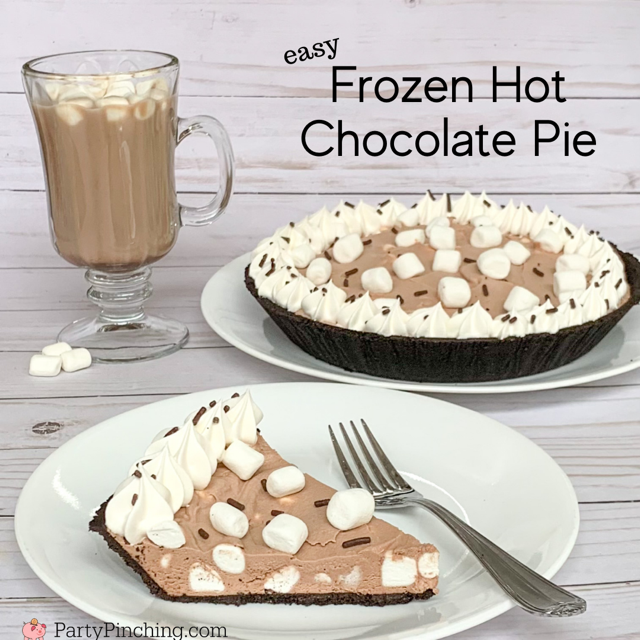 Easy no-bake frozen hot chocolate pie! Perfect for a summer picnic or for a snow day!
Total Time
4 hours
20 minutes
Ingredients
2 - Prepared Oreo or chocolate pie crusts
8 oz. block of room temperature cream cheese
1/2 cup butter softened
1 tsp vanilla extract
16 oz. Cool Whip (large tub), thawed and divided
5 packets (1.38 oz. each) of instant hot cocoa mix
1/2 cup powdered sugar
1 1/2 cups mini marshmallows
chocolate sprinkles, mini marshmallows and Cool Whip for garnish
Instructions
With a hand mixer, cream togetherthe softened cream cheese and butter until fluffy.
Add the vanilla and powdered sugar and cream together until thoroughly combined.
Beat in the packets of dry instant hot cocoa mix, one at a time.
Fold in the mini marshmallows and half of the Cool Whip tub.
Place the chocolate filling mixture in the pie crust.
Freeze 4 hours or overnight.
Garnish with mini marshmallows, chocolate sprinkles and piped Cool Whip