Penguin Oreo Cookies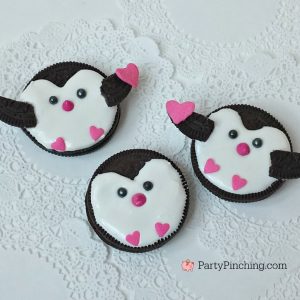 Oreos
Oreos
7 oz pouch store-bought White Cookie Icing
7 oz pouch store-bought White Cookie Icing
Heart sprinkles – jumbo and small
Heart sprinkles – jumbo and small
Pink rainbow chip sprinkles
Pink rainbow chip sprinkles
Black sugar pearls
Squeeze out cookie icing on top of the Oreo, leaving a "v" shape on top as shown in photo.
Place 2 of the black sugar pearls in the icing for the eyes.
Place 1 pink rainbow chip in the icing for the beak.
Place 2 small heart sprinkles in the icing for the feet.
Twist off the top of another Oreo cookie. Cut about ¼ of the Oreo top and then cut that piece in half for the arms.
Place on top of the icing for the arms and attach a jumbo heart sprinkle to the top of an arm with icing.