Beach Pail Snack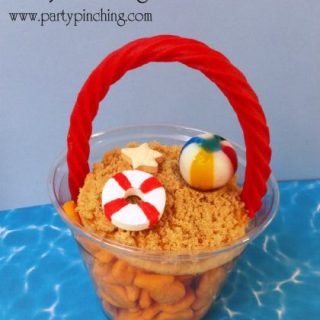 Clear plastic cup
Goldfish crackers
Peanut butter cookie
Peanut butter
Brown sugar
Lifesaver mint candy
Beach ball and starfish candy (found at Party City)
Red licorice
Red edible marker
Fill cup with Goldfish crackers.
Lightly spread a little peanut butter on top of the cookie.
Sprinkle top of cookie with brown sugar.
Place cookie on top of Goldfish crackers in cup.
Using a red edible marker, make lines on the Lifesaver candy.
Place all candy on top of the cookie.
Tuck each end of the licorice into the cup for a handle.