TEENY TINY TURKEY TABLE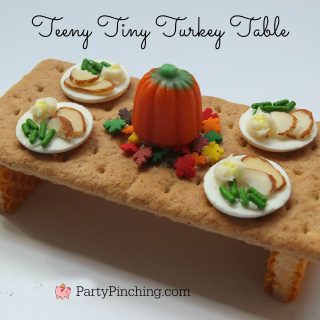 Graham crackers
Graham crackers
Wafer cookies
Wafer cookies
Neccos
Neccos
Pumpkin candy
Pumpkin candy
Sliced almonds
Sliced almonds
White frosting
White frosting
Yellow gel icing
Yellow gel icing
Green jimmies
Green jimmies
Autumn leaf sprinkles
Attach 2 almond slices and 5 green jimmies to white Necco wafer with white frosting
Put a small dollop of white frosting on the Necco wafer and a small amount of yellow gel icing in the middle of the frosting.
Make 4 of these plates and attach to top of graham cracker with white frosting.
Lightly frost middle of graham cracker and add autumn leaf sprinkles.
Place candy pumpkin in the middle of the leaves. Secure with frosting.
Attach wafer cookies for table legs with frosting if desired.
** Note – if making this treat in advance, DO NOT attach table legs until ready to serve or the graham cracker table will sag and buckle in half. (Trust me I had a dozen little broken tables overnight – boo hoo).