Hot Cocoa Marshmallow Cookies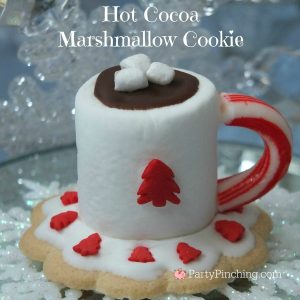 White candy coating
4 Mini candy canes
4 Regular size marshmallows
Chocolate candy coating
12 Jet Puffed Mallow Bits
4 Store-bought tea cookies
Holiday sprinkles
Large tree sprinkles
Melt white candy coating in small microwave-safe bowl according to package instructions.
Cut candy cane at the curve with kitchen shears or a knife.
Pipe the white melted candy coating on the side of the marshmallow and hold candy cane curve in place until it hardens and is secure.
Pipe white candy coating in the center of the cookie. Place marshmallow in the middle of cookie.
Attach a large tree sprinkle to the front of the marshmallow using the white candy coating.
Secure holiday sprinkles around the outside of the cookie with white candy coating.
Melt chocolate candy coating according to package instructions. Then pipe chocolate candy coating on top of marshmallow leaving a small rim.
Top with 3 mallow bits.