CHAMPAGNE CUPCAKES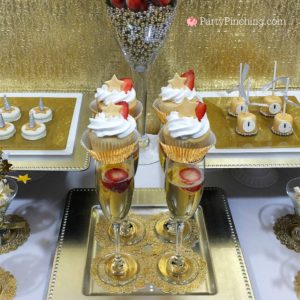 1 (18.25 ounce) package white cake mix
1 (18.25 ounce) package white cake mix
1¼ cups champagne at room temperature
1¼ cups champagne at room temperature
⅓ cup vegetable oil
⅓ cup vegetable oil
3 eggs
3 eggs
1 Tb champagne
1 Tb champagne
1 – 16 oz. can white frosting
1 – 16 oz. can white frosting
white fondant
white fondant
gold edible luster dust
gold edible luster dust
small star cookie cutter
small star cookie cutter
strawberries
Preheat oven to 350 degrees
Mix cake mix and 1¼ cup Champagne in a large mixing bowl; stir in vegetable oil and eggs. Beat batter with an electric mixer on medium speed for 2 minutes.
Pour batter into the prepared muffin cups, filling them ¾ full.
Bake cupcakes in the preheated oven until a toothpick inserted into the middle of a cupcake comes out clean, about 20 – 25 minutes.
Mix 1 Tb champagne with 1 can white frosting
Cool completely and frost with white frosting
Roll out fondant and cut out star shapes with cutter
Using food safe paintbrush, brush on edible gold luster dust on stars
Place on top of cupcake with sliced strawberry if desired.