Bumble Donuts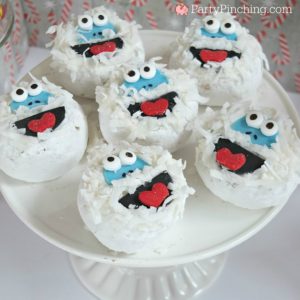 Little Debbie Powdered Sugar Donuts
White frosting
Light blue candy coating wafers
Black fondant
small circle cutter (I use the bottom of my icing piping tip)
Mini candy eyes
Flaked coconut
Jumbo heart sprinkles
Black food color marker
Cut a blue candy coating wafer in half.
Attach candy eyes on the top of curved part the wafer with frosting.
Using the black food marker, draw 2 dots under the eyes for the nose.
Roll out the black fondant and using a small round cutter, cut out circle shapes.
Cut the black fondant circles in half.
Break of the tip of the jumbo heart sprinkle.
Attach the heart sprinkle to the black fondant circle half as shown.
Frost the entire top of the donut.
Place the blue candy coating wafer with eyes & nose at the top of the donut.
Put the black fondant circle half with the heart sprinkle on the bottom of the donut.
Press on the flaked coconut to cover the remaining frosting.