CANDY CANE FOREST CUPCAKES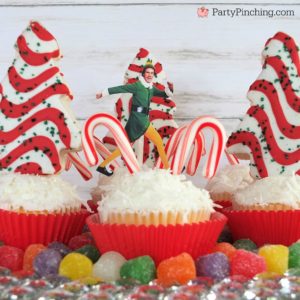 7  cupcakes with white frosting
White sparkling sugar sprinkles
Flaked coconut
Mini candy canes
3 Little Debbie Christmas Tree Cakes
Cut-out of Buddy the Elf (I found mine on Google images and printed it out).
Lollipop sticks
Gumdrops
Spread  the frosting evenly on top of the cupcake.
Press on some sweetened flaked coconut.
Sprinkle the top of the cupcake with white sparkling sugar sprinkles.
For 4 of the cupcakes, push in 2 mini candy canes at an angle for each cupcake.
Glue the cut-out of Buddy the Elf onto a lollipop stick and push into the middle of one cupcake.
Insert lollipop or popsicle sticks into the bottom end of the Little Debbie Christmas Tree Cakes.
Push the Christmas Tree Cakes into the remaining cupcakes.
Arrange cupcakes on a platter and scatter gumdrops around the cupcakes.