BUDDY THE ELF'S BEEF AND CHEESE SANDWICHES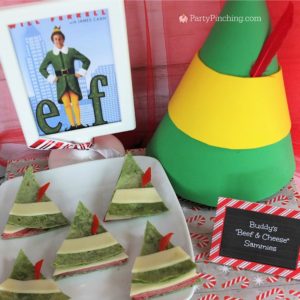 Spinach Tortilla Wraps
Sliced deli Roast Beef
White cheese (I used Provolone)
Red bell pepper
Place a few layers of beef slices on one tortilla.
Next put a layer of cheese.
You can spread on some creamy horseradish, mayo or your favorite sandwich spread.
Place another toritilla on top.
Cut the tortilla sandwich into triangles.
Cut a strip of cheese and place on top of a triangle sandwich.
Trim the edges of the cheese to fit.
Attach cheese with mayo or other spread.
Cut a small piece of red bell pepper to looke like a tiny feather.
Attach feather bell pepper to the top of the cheese band with mayo or other spread.