GRINCH OREO COOKIES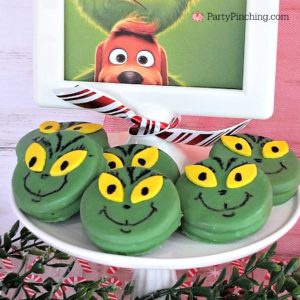 Oreos
Green candy coating
Yellow fondant
Small oval cutter
Black food marker
Melt candy coating according to package instructions
Dip Oreos into the coating using a fork.  Tap fork to remove excess coating.
Place Oreos on Parcment paper to dry.
Roll out the yellow fondant and make oval shaps using the small cutter.
Draw black eyes on the yellow fondant.
Attach the eyes to the cookie using melted candy coating.
Let cookie dry completely.
Using the black food marker, draw on the Grinch's face.