CHRISTMAS TREE CUPCAKES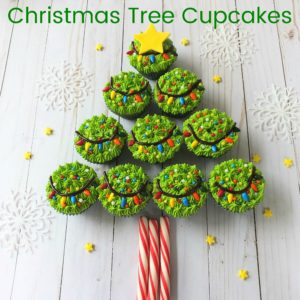 10 Cupcakes
Wilton Green Icing pouch
Wilton Christmas Tree Lights Decorating Kit
Yellow Fondant
Small star cookie cutter
3 Candy cane sticks
Pipe on frosting using the Wilton icing pouch
Cut a small piece of the candy string and make a "U" shape in the middle of the cupcake.
Place light sprinkles under the candy string.
Scatter round sprinkles on the cupcake.
Repeat for the next 9 cupcakes.
Arrange cupcakes into a tree shape.
Cut a star shape out of yellow fondant
Place large yellow star on the top cupcake.
Put the 3 candy cane sticks at the bottom of the tree so it looks like a trunk.