Goldfish Bowl Oreos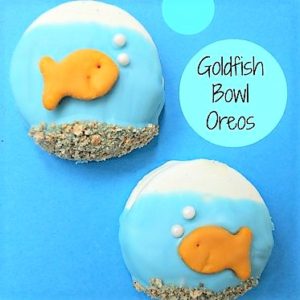 White candy melts
White candy melts
Blue candy melts
Blue candy melts
Oreos
Oreos
Graham Crackers
Graham Crackers
Goldfish Crackers
Goldfish Crackers
Pearl Sprinkles
Melt candy melts to package instructions. I like to pour some into a cup where I can dip the cookies. Lift cookies out with a fork.
Place on parchment paper to dry.
Dip the Oreo about ¾ way into the blue candy melts.
While the blue coating is still wet, dip the end into crushed graham crackers.
While wet, place goldfish cracker in the middle of the cookie.
Place a couple of pearl sprinkles for bubbles on the cookie.