GAME PLAN MINI PEANUT BUTTER CUPS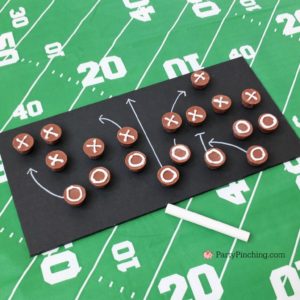 R.M. Palmer Mini Peanut Butter Cups
White Royal Icing
#3 Piping Tip
Disposible Piping Bags
Black foam core board
Chalk or chalk pen
* You may substitute a zipper bag & tip for the piping bag - just snip a small corner off of the bag for piping.
Pipe x's and o's on the mini peanut butter cup
Place the peanut butter cups on the black foam core board to resemble a game plan.
Use the chalk marker to draw arrows for the play.