Blueberry Tangerine Mini Pie Jars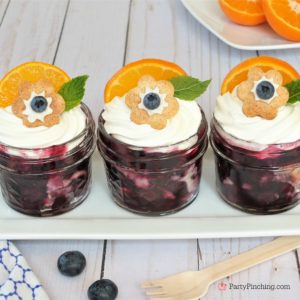 2 cups fresh blueberries (save a few for garnish)
2 (21 oz.) cans blueberry pie filling & topping (I use Comstock Duncan Hines)
3 Tablespoons fresh tangerine or orange juice
1 teaspoon fresh grated tangerine or orange peel
3 pie crusts (your favorite recipe or store-bought refrigerated)
1 teaspoon cinnamon
3 Tablespoons granulated sugar
Cool whip or whipped cream
12 (4 oz.) mini mason jars
In a large bowl, mix the cans of pie filling, juice and peel together.  Fold in the fresh blueberries.
Press a pie crust in the bottom of an ungreased pie dish.
Scoop in the filling.
Top with another crust, crimp crusts together.
Cut slits in the top of the crust.
Bake pie at 425 degrees for 40 minutes with edges covered in foil.  (Take off foil the last 15 minutes).
In a small bowl, mix cinnamon & sugar together
Cut out flower shapes using a cookie cutter (or any shape)
Place flower shapes on a baking sheet lined with parchment paper
Sprinkle with cinnamon sugar mixture.
Bake at 425 degrees for about 5 minutes or until golden brown.
Scoop out pie, crust and all using a large spoon and place in a small mason jar.
Pipe whipped topping on top.
Pipe a small amount of whipped topping in the middle of the pie crust flower and place a fresh blueberry in the middle.
Top each pie jar with a pie crust flower and tangerine slices.