Bunny Oreo Cookies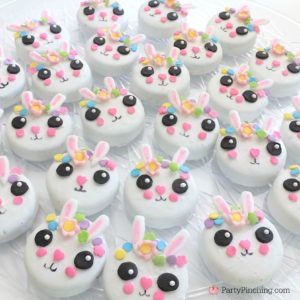 Oreos
Oreos
White candy melts
White candy melts
White fondant
White fondant
Black fondant
Black fondant
Pink fondant
Pink fondant
Pink food marker
Pink food marker
Black food marker
Black food marker
3" Daisy cutter
3" Daisy cutter
Mini flower cutter
Mini flower cutter
Mini circle cutter
Mini circle cutter
White pearl sprinkles
White pearl sprinkles
Flower, heart & round confetti sprinkles
Flower, heart & round confetti sprinkles
Toothpick
Toothpick
Fondant roller
Fondant roller
Parchment paper
Melt candy coating according to package instructions.
Dip Oreos in the melted candy coating.
Lift Oreo out of the candy coating with a fork and tap on side of bowl to remove excess.
Place on a cookie tray lined with parchment paper to dry.
Roll out white fondant and use Daisy cutter to cut out shapes for ears. Separate the petals for the ears. Let dry and color inside of ears with pink food marker.
Roll out pink fondant and use mini flower cutter to cut out flower.  Place a yellow confetti sprinkle in the middle of the flower. Add ears,  flowers and sprinkles to the top of the cookie using a toothpick with melted candy coating to attach.
Roll out black fondant. Cut out round shapes (I only had a mini teardrop shape so I had to make it round by cutting twice) Push a white pearl sprinkle in the black fondant circle for eyes.
Attach eyes with melted candy coating.
With a toothpick dipped in candy coating, attach heart nose and round cheeks.
Draw on mouth with black food marker.