FLUFFY WATERMELON PIE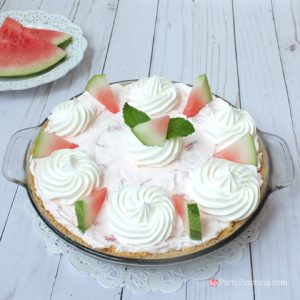 You will need:
1 (3 oz.) package watermelon Jello
¼ cup water
2 cups watermelon cut in small cubes
2 (8 oz.) tubs Cool Whip
1¼ cups graham cracker crumbs
¼ cup sugar
⅓ cup melted butter
**  You may use a pre-made store bought graham cracker crust if desired
Mix graham cracker crumbs with sugar in a bowl.
Add melted butter an mix to combine.
Press graham cracker crumbs into pie dish for crust.
Boil water and add watermelon Jello.
Stir until Jello is dissolved. Cool completely on counter.
Pour Jello into large bowl.
Mix in 1 and a half tubs Cool Whip into Jello liquid. (save ½ tub Cool Whip for garnish)
Fold in watermelon cubes.
Spoon mixture into the graham cracker pie crust.
Refrigerate for at least 3 hours.
Decorate top of pie with remaining Cool Whip and watermelon slices.