Strawberry Lemonade Cupcakes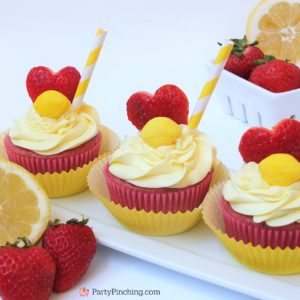 1 (16.25) oz. box white cake mix (I used Betty Crocker)
1 (3 oz.) box strawberry Jell-o
2 (16 oz.) cans lemon frosting (I used Betty Crocker)
1 (16 oz.) container frozen sliced strawberries in sugar
4 eggs
½ cup canola oil
¼ cup water
1 lemon
*OPTIONAL: fresh strawberries, lemon drop candies & paper straws
Thaw and puree frozen strawberries, set aside.
Combine dry cake mix and jello in a large mixing bowl.
Add the pureed strawberries, eggs, oil & water to the dry ingredients.
Beat on low for minute, then on medium for 2 minutes.
Line 24 muffin tins with cupcake liners. Fill liners with batter (about ⅔) of the way full.
Bake at 350 degrees for 15 minutes or until inserted toothpick comes out clean.
For frosting, empty both cans of lemon frosting in a bowl.
Grate the zest of half a lemon in the bowl.
Add the juice of ½ lemon in the bowl (more or less according to your taste).
Stir to combine the frosting ingredients.
Frost cooled cupcakes with lemon frosting and garnish with fresh sliced strawberries, lemon drop candies and paper straws cut in half if desired.
Makes 24 cupcakes.