DIPLOMA CUPCAKES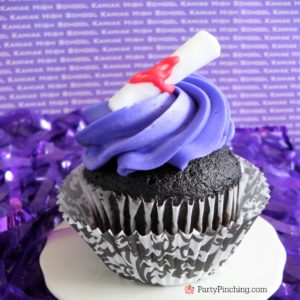 Frosted Cupcakes (homemade or store-bought)
Frosted Cupcakes (homemade or store-bought)
Store-bought white rolled fondant
Store-bought white rolled fondant
Fondant rolling pin
Fondant rolling pin
1 ½" circle cookie or fondant cutter
1 ½" circle cookie or fondant cutter
1 (.68 oz.) red writing icing tube (not gel)
Roll fondant flat to approximately ⅛" thickness.
Using the circle cookie cutter, cut out circle shape out of the fondant.
Starting at one edge of the circle, roll the fondant to the other end.
Lightly squeeze the middle and gently pull on each end to elongate so it resembles a diploma.
With the red writing icing pipe on a small red bow in the middle of the diploma.
Let dry overnight.
Place on top of frosted cupcake.