STRAWBERRY ANGEL DESSERT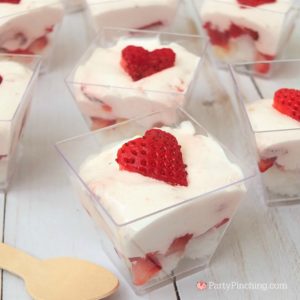 1 envelope unflavored gelatin
¾ cup cold water
½ cup sugar
1 tub of 10 oz. frozen sliced strawberries in sugar, thawed
1 tub of 8 oz. Cool Whip, thawed
5 cups angel food cake cut into cubes.
In pan, combine gelatin and cold water and let stand 5 minutes to soften.  Heat and stir over low heat until gelatin dissolves.
Remove from heat and add sugar, stir until dissolved.
Stir in undrained strawberries and chill until partially thickened.
Fold in whipped topping.
Place cake cubes in mixing bowl and pour mixture over cake.  Mix gently.
Spoon into individual cups, layer in a trifle bowl with fresh strawberries, or simply pour into an ungreased 8" square baking dish.