MINI PIES IN A JAR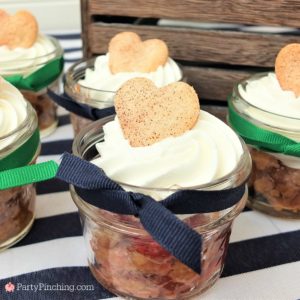 12 - 4 oz. mason jars
9" fruit pie, store bought or home made
1 (8 oz.) tub Cool Whip
1 disposable icing bag
1 large piping tip (#1M)
1 box refrigerated pie crust
1 tsp. cinnamon
3 Tb. sugar
Scoop out pie (including some crust) and fill each jar about ¾ full.
Unroll pie dough and cut small heart shapes using cookie cutter.
Mix sugar & cinnamon together.
Place small hearts on cookie sheet lined with parchment paper and sprinkle sugar & cinnamon mix on top.
Bake at 375 degrees for about 5 minutes or until lightly golden.
Pipe Cool Whip onto the top of each jar before serving (I did this about an hour before the party).
Top with pie crust hearts.