Arctic Fox Cookies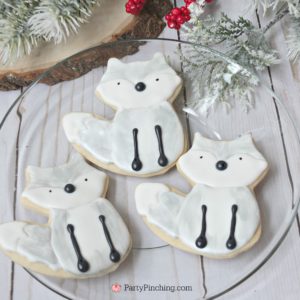 Your favorite sugar cookie recipe
Your favorite royal icing recipe
Fox cookie cutter
Wilton Silver Food Coloring Mist
Food safe brushes
Black food coloring
.
Make cookie dough and cut out fox shapes using cookie cutter
Cool and frost cookies with white royal icing let dry overnight.
Spray some of the silver food coloring mist onto a plate until you have a small puddle.
Using a food safe paint brush, dip brush into the food coloring mist and lightly brush silver fur all over the cookie, leaving the bottom part of the face the tip of the tail and a little bit of the stomach white.
Mix black food coloring into a small amount of the royal icing and pipe on eyes, nose and legs.