PANDA PEANUT BUTTER CUP CAKE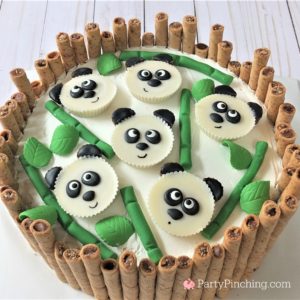 1 box Duncan Hines Classic Dark Chocolate Fudge Cake Mix (plus eggs, oil & water to make cake)
1 box Duncan Hines Classic Dark Chocolate Fudge Cake Mix (plus eggs, oil & water to make cake)
¾ cup chopped Reese's Peanut Butter Cups
¾ cup chopped Reese's Peanut Butter Cups
8 oz. cream cheese
8 oz. cream cheese
1- (14 oz.) can sweetened condensed milk
1- (14 oz.) can sweetened condensed milk
1 cup creamy peanut butter
1 cup creamy peanut butter
12 oz. Cool Whip
12 oz. Cool Whip
Wilton green fondant
Wilton green fondant
Wilton Leaf Icing Decorations
Wilton Leaf Icing Decorations
2- (13.5 oz.) cans Pepperidge Farms Pirouette Cookies
Bake cake in 2 -  9" round cake pans according to package instructions. Let cool completely.
Beat softened cream cheese & sweetened condensed milk together with mixer.
Add peanut butter and mix until thoroughly combined.
Fold in about 6 or 7 ounces of  Cool Whip.
Spread peanut butter filling mixture on top of bottom cake layer.
Generously sprinkle chopped Reese's Peanut Butter Cups on top.
Spread another layer of  peanut butter filling mixture.
Place top layer of cake on top.
Frost the entire cake with the peanut butter filling mixture (you'll probably have leftovers - save this for later.*
Spread the remaining Cool Whip on the top of the cake only (you'll definitely have leftovers of this too so indulge and eat it)
Cut Pirouette Cookies in different lengths.  Place around the cake.
Refrigerate cake.
Roll green fondant in long rope.
Cut fondant in various lengths and make indentations with a toothpick to make it look like bamboo.
Dry fondant completely. (I dried mine overnight).
Decorate top of cake with Panda Peanut Butter Cups, fondant bamboo and leaf icing decorations.
*With leftover peanut butter filling mixture, spread in between a Rice Krispie Treat sliced in half horizontally to make a sandwich.  Wrap in plastic wrap and then wrap in foil. Freeze. Makes an awesome ice cream sandwich!