Panda Peanut Butter Cups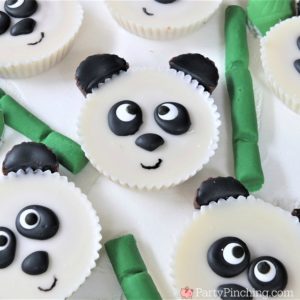 White Chocolate Reese's Peanut Butter Cups
White Chocolate Reese's Peanut Butter Cups
Reese's Mini Peanut Butter Cups
Reese's Mini Peanut Butter Cups
White Cookie Icing (I used Betty Crocker's Cookie Decorating Icing Pouch)
White Cookie Icing (I used Betty Crocker's Cookie Decorating Icing Pouch)
Wilton black food coloring
Wilton black food coloring
Candy Eyes
Candy Eyes
Black edible food marker
Squeeze out the white icing into a bowl and mix with black food coloring.  Add food coloring until icing is a rich black color.
Pour the icing into a disposable piping bag or a plastic zipper bag with the end snipped off.
Squeeze out 2 circles of the black icing onto the white chocolate peanut butter cup.
Place the candy eyes in the center of each black circle.
Using a toothpick, push the eyes into the icing and carefully move them around to make the black spots bigger.
Squeeze out a black circle in the middle of the peanut butter cup and make a small oval with a toothpick for the nose.
Cut a mini peanut butter cup in half.
Using the black icing, attach the halves to the top of the white chocolate peanut butter cup for the ears.
Pipe some icing on top of the ears if desired.
Draw a mouth with the black edible food marker.