CUTE MUMMY COOKIES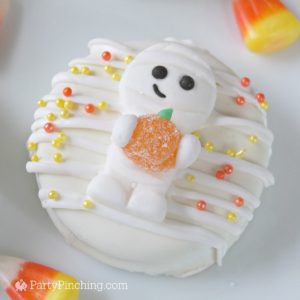 1 (10 oz.) bag of Wilton® Bright White Candy Melts
1 package Wilton® Mummies with Pumpkins Icing Decorations
1 (1.4 oz.) pack of Wilton® yellow nonpareil sprinkles
1 (1.4 oz.) pack of Wilton® orange nonpareil sprinkles
Chocolate sandwich cookies
1 Wilton® Candy Melts Candy Pot* (optional)
Melt Wilton® Candy Melts according to package instructions (I used my Wilton® Candy Melts Candy Pot - it's so awesome!)
Dip chocolate sandwich cookie into the melted candy melts.
Using a fork, turn to coat and lift out tapping on the side of the pot to remove excess candy melts.
Place cookie on parchment paper.
Drizzle candy melts on top of cookie.
Immediately place a Wilton® Mummy Icing Decoration on top of cookie.
While still wet, sprinkle the Wilton® yellow & orange nonpareils on top of cookie.