ADORABLE AUTUMN CROW CUPCAKES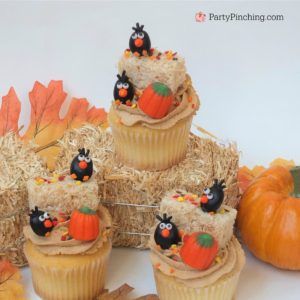 Cupcakes with Whipped Icing - Ask for Whipped at your local grocery bakery when ordering your cupcakes - (I Asked for Whipped Salted Caramel flavor Icing)
Black jelly beans
White Pearl Sprinkles
Rainbow Chip Sprinkles
Halloween Pumpkins Mix sprinkles
Micro leaf sprinkles
Black edible food marker
Pumpkin candies
Marshmallow rice treats
Shredded wheat cereal
Black candy coating
Purchase your cupcakes and Ask for Whipped at your grocery store bakery (I bought mine at Albertsons).
Melt the black candy coating according to package instructions.
Using a toothpick dipped in the melted candy coating, attach 2 white pearl sprinkles to the black jelly bean for eyes.
Attach 1 orange rainbow chip sprinkle to the jelly bean for the nose using a toothpick dipped in black candy coating.
Dip the toothpick into the black candy coating and attach 2 orange micro leaf sprinkles to the jelly bean for the feet.
Using a toothpick dipped in the black candy coating, attach 3 black jimmies sprinkles to the top of the jelly bean.
Using the black edible food marker, make 2 dots for the eyes on the white pearl sprinkles.
Cut a marshmallow rice treat in thirds. Using one third, roll in crushed shredded wheat cereal for the hay bale.
Attach the jelly bean crow to the hay bale with melted candy coating. Place on top of the cupcake.
Add another jelly bean crow and candy pumpkin to the cupcake.
Sprinkle micro leaf sprinkles on top!