Back-to-School Apple Cupcakes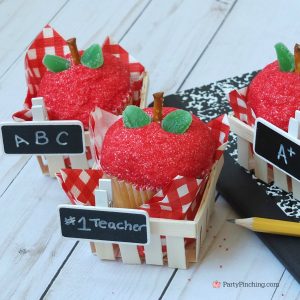 White frosted cupcakes found in the bakery department of your local grocery store
White frosted cupcakes found in the bakery department of your local grocery store
Red sugar sprinkles
Red sugar sprinkles
Pretzel sticks
Pretzel sticks
Green gumdrops
Smooth frosting on top of cupcake with a knife
Turn cupcake upside down and roll in bowl of red sugar sprinkles. Coat all frosted surfaces with the red sprinkles.
Snap pretzel stick in half and push into the center of the cupcake.
Using kitchen shears, cut a green gumdrop in half diagonally for leaves.
Place gumdrop leaves on each side of the pretzel stick.