Easter Rice Krispie Treats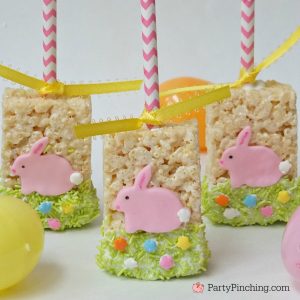 Rice Krispie Treat bars
White candy coating
Green jimmies sprinkles
Flower sprinkles
Pink Fondant
Mini bunny cookie cutter
Pink edible food marker
Black edible food marker
Wilton pop sticks
Ribbon & cellophane bags for wrapping (optional)
Melt white candy coating according to package instructions
Dip one end of the Rice Krispie Treat bar into the melted candy coating, tap off excess.
Immediately coat the dipped part with green jimmies.
Roll out pink fondant and cut bunny shape out with cookie cutter.
Using a black edible food marker, make a dot for the eye on the bunny.
Draw ear and nose using the pink edible food marker.
Attach the bunny to the Rice Krispie Treat using a little of the melted white candy coating.
With a toothpick dipped in melted candy coating, attach flowers to the grass. Attach one white flower to the tail of the bunny.
Push pop stick in the top of the Rice Krispie Treat.
Wrap in cellophane bag and tie with bow if desired.