Easter Egg Hunt Cake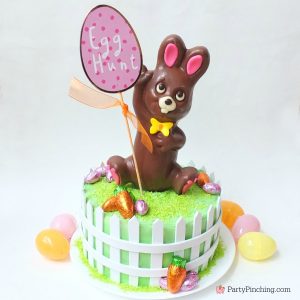 Round 8" double layer cake
Spring green frosting
White fondant
Green candy shreds
RM Palmer Hoppy's Hideout Milk Chocolate Bunny with Double Crisp Chocolate Carrots
Pink Fondant
Yellow Fondant
Confetti sprinkles
RM Palmer Milk Chocolate Pretzel Eggs
Egg hunt sign
Frost cake with spring green icing.
Roll out white fondant and using a cutter or knife (I use a pizza cutter) make 24 pickets for the fence about 4" tall and ½" wide. Then cut 2 long strips about ½" wide to wrap around the cake.
Place fondant pickets evenly around the cake.
Wrap the 2 long fondant strips around the cake to make it look like a picket fence. Secure with a little water.
Sprinkle green candy shreds on top of the cake.
Isn't this the CUTEST? RM Palmer's Hoppy's Hideout Milk Chocolate Bunny is cute enough to eat on it's own. AND it comes with delish Double Crisp Milk Chocolate Carrots!
Roll out some pink fondant and with a small heart cutter, cut 2 hearts out and with a small icing piping tip, cut 6 small holes for the paws. With a small egg shaped cutter, cut 2 ovals out for the ears.
With a little water, secure the heart shaped pink paws to the bunny's feet. Do the same with pink ovals for the ears.
Shape a bow tie out of yellow fondant and press a confetti sprinkle in the middle of the bow.
With a little water, secure to the bunny's neck.
Place bunny on top of cake and stick a cute "Egg Hunt" in the cake.
Add the Double Crisp Carrots and Milk Chocolate Pretzel Eggs by RM Palmer to the cake!