Rainbow Cake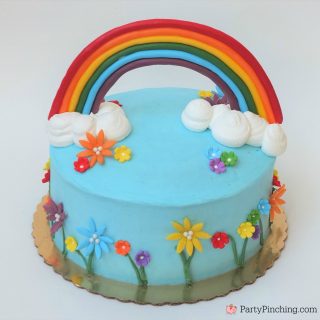 Round cake, any flavor
Round cake, any flavor
Light blue frosting
Light blue frosting
White frosting
White frosting
Red, Orange, Yellow, Green Blue & Purple candy melts
Red, Orange, Yellow, Green Blue & Purple candy melts
White sugar pearls
White sugar pearls
⅓ cup Light corn syrup
⅓ cup Light corn syrup
Wilton flower icing decorations
Wilton flower icing decorations
Candy Clay Creations Book
Frost cake with light blue icing
Pipe on clouds with white icing.
Melt green candy coating according to package instructions. Pipe green stems onto parchment paper. Let dry completely.
Carefully peel the stems off of the parchment paper and place on the side of the cake.
Next make the candy clay by melting a bag of candy coating. Stir and let cool to 91 degrees Fahrenheit then add light corn syrup. Stir until incorporated and knead until smooth.
Beth of Hungry Happenings taught me how to make Candy Clay and let me tell you it was LIFE CHANGING. So much better tasting than fondant and easy to use. You can get her book on Amazon and it comes with cute recipes along with step by step instructions!
Roll out candy clay and cut flower shapes using a daisy cookie cutter.
Push in sugar pears in the middle of each flower.
Cut open a paper towel tube and line with parchment paper. Place candy clay flowers in the middle to dry overnight. This gives a nice curve to the flower blossoms.
Roll out candy clay into long tubes. Press together the rolls to make a rainbow and let dry for 24 hours.
Place flowers on cake. Add some small flower icing decorations too!
Place the rainbow on the clouds.