ROOSTER MARSHMALLOWS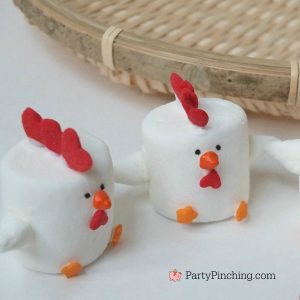 Marshmallows
Black edible food marker
Orange Rainbow Chip sprinkles
Jumbo heart sprinkles
Regular heart sprinkles
Mini marshmallows
Orange flower sprinkles
White Candy Melts
Using the black food marker, make 2 dots on the marshmallow for eyes.
Melt candy coating according to package instructions. Attach the orange rainbow chip in the middle of the marshmallow using the melted candy coating.
Dip the ends of the jumbo heart sprinkles into the melted candy coating and place on top of the marshmallow.
Using a toothpick dipped in melted candy coating, attach the red heart sprinkle upside down under the beak.
Cut the mini marshmallows in half diagonally for wings and secure to the side of the marshmallow with melted candy coating.
Attach the orange flower sprinkles at the bottom of the marshmallow for feet using the melted candy coating.