MOUSE KING MARSHMALLOW POPS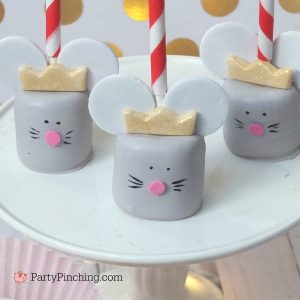 marshmallows
white candy melts
black candy melts
Necco wafer candies
white fondant
gold food color spray
pink confetti sprinkles
black edible marker
lollipop sticks
Melt a bag of white candy coating and about a ⅓ cup of black candy coating according to package instructions.
Mix a small amount of melted black candy coating into the melted white candy coating, a teaspoon at a time to get a light gray color.
Push a lollipop stick into a marshmallow and dip into the gray candy coating. Tap the stick on the edge of the glass to remove excess. Place dipped marshmallow flat on parchment paper.
While marshmallow is still wet, pick out 2 of the light purplish/gray Necco wafers and hold in place on top of the marshmallow until set.
Roll out fondant and cut out small crowns with a knife or small cookie cutter.
Spray crowns with gold food color spray.
Attach crown and pink confetti sprinkle nose to marshmallow with melted candy coating.
Draw on eyes and whiskers with a black edible marker.