SWEET PENGUIN SNOW SCENE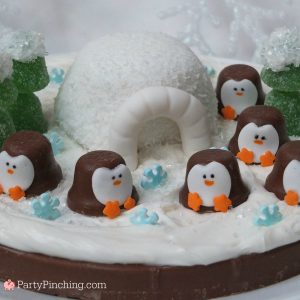 1 pound RM Palmer Belgian Milk Chocolate Mega Coin
white frosting
clear sugar sprinkles
green gumdrops
snowball snack cake
white fondant
RM Palmer Milk Chocolate Holiday Bells
black & orange edible markers
orange flower sprinkles
Jumbo snowflake sprinkles
Unwrap the RM Palmer Belgian Milk Chocolate Mega coin.
Frost the coin with white frosting.
Sprinkle the top with clear crystal sugar sprinkles.
Roll some white fondant and use a toothpick to make lines for the front of the igloo.
Attach the fondant to the side of a snowball snack cake.
To make penguins, gather your RM Palmer Milk Chocolate Holiday Bells, the edible markers, fondant & sprinkles.
Unwrap bells and roll out white fondant. Cut out small circle with a mini cookie cutter (I used a frosting piping tip).
Make a small indent into the fondant circles with a toothpick.
Press fondant onto the side of the chocolate bell.
Make penguin faces with the edible markers.
Attach penguin feet using a little frosting and orange flower sprinkles.
Place chocolate penguins, igloo & gumdrop trees (skewer 2 green gumdrops with a toothpick and frost top) onto the frosted chocolate coin. Add snowflake sprinkles if desired.