SNOWMAN BARK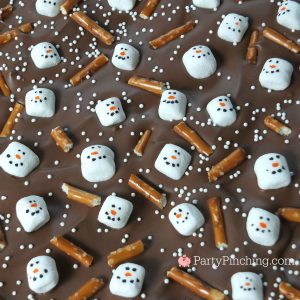 RM Palmer 1 pound Belgian Milk Chocolate Bullion Bar
2 cups mini marshmallows
black edible marker
orange edible marker
1 cup pretzel sticks
white nonpareils sprinkles
Using the edible markers, make a snowman face on the mini marshmallows.
Snap the pretzel sticks into small pieces.
Melt the RM Palmer Belgian Milk Chocolate Bullion Bar over a double boiler until smooth. Pour onto a cookie sheet lined with parchment paper and IMMEDIATELY top with the marshmallows, pretzel sticks and sprinkles.
Put in refrigerator to harden - about 20  minutes.  Once completely set, break into pieces.  You can wrap them up in cellophane bags or put them in a pretty tin as a gift too!
Now you have an adorable treat for Christmas! Super fun to make on a snow day with the kiddos too!